Machine Nano Brows | DAELA Portland
Your artist, utilizing a machine tool, will create ultra-precision hairstrokes.
Machine Nano Brows-the perfect solution
Provided by expert DAELA Portland artists, Machine Nano Brows bear a striking resemblance to the hairstroke-like effect achieved with Microblading, but they employ a machine-based technique, operating in a shallower skin layer whereas Microblading (aka Nanoblading) utilizes a hand-held, non-motorized tool.
Why does this matter to you? The Machine Nano Brow technique has opened new doors for those with sensitive, thinner or oily skin, who may have been turned down for microblading in the past. 
Because the Machine Nano Brow technique operates on a shallower depth of skin, it also tends to fade quicker than traditional Microblading, allowing for refresh appointments every 1-2 years, if desired. 
Machine Nano Brows are a most excellent addition to the line-up of brow tattoo techniques offered at DAELA. Our staff is always available to talk through all brow options to ensure you get the result you want!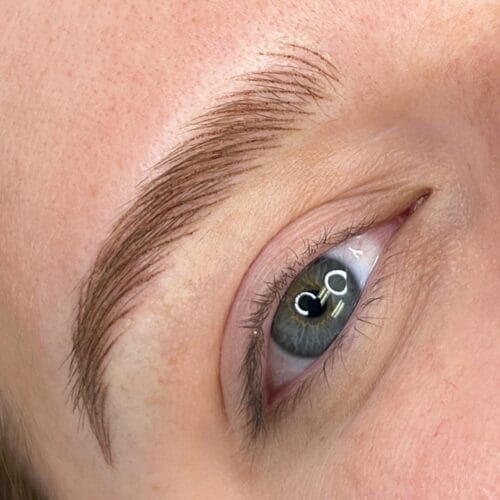 Erica Co-Founder of Daela
Initial Appointment:
Touch-Ups:
Touch-Up @ 6-12 Weeks $100

Best choice for best result!

Touch-Up @ 13-20 Weeks $150

Available if 6-12 Weeks is inconvenient for you!
Refresh Program
Refresh Program is comprised of optional refreshes at your discretion, you may repeat the Refresh Appointments every 6 to 12 months. 
4-Month Refresh $200 (one time)

6-Month Refresh $450

7-24 Month Refresh $700
A non-refundable $250 deposit is required for initial appointments and refresh appointments. Rescheduling is allowed one time, but failure to show up for your appointment will result in the deposit being forfeited.
$50 refundable deposit is required for touch-up appointments. If you feel you do not need your touch-up, please contact us no less than 7-days before your scheduled appointment.
Refresh Appointment timeframes begin after the Touch-Up. If you opt-out of your touch-up, refresh timeframes start at the initial appointment.
Machine Nano Brows is an intricate process, allow 3 hours for your initial appointment.
What's the difference between microblading and machine nano brows?
The machine and fineness of hairstrokes.
Microblading vs. Nano Brows
Both techniques create unbelievably realistic 3D hairstrokes.
The difference between the two lies in the tool used.

Microblading, uses a handheld tool with micro or nano needles.  
Nano Brows utilize a machine, which allows a hairstroke depth a bit shallower which is so fine and precise that it is ideal for those with thin or oily skin.

Nano Brows are a bit costlier because they require more time to complete. But they are perfect for everyone, including those with thin or oily skin that may have been turned down for microblading in the past.
Both microblading and Nano brows can also be used in conjunction with machine shading, which creates a soft powdered effect.
There are multiple brow techniques: Read about all brow techniques here!
Do nano brows hurt?
Numbing creams & numbing gels
Keep pain to the bare minimum.
We make your comfort our top priority during the nano brow process. We start by using a  numbing cream to ensure you experience minimal discomfort. 
During the process, we continue to apply a numbing gel to keep you as comfortable as can be. We work hard to provide a pain-free experience.
Most people are pleasantly surprised to find that nano brows are less painful than they expected. 
But everyone's pain tolerance is different, and getting your brows tattooed is a unique experience. If you have any concerns about pain, just give us a heads-up in advance, and we'll be more than happy to accommodate you. 
How long do nano brows last?
The results will last for 2-3 years!
But lifestyle impacts longevity.
Results from nano brows can vary in duration for each individual. On average, you can expect to enjoy the full results for around 2-3 years before they start to fade. 
The staying power of your fabulous brows can be influenced by a few factors. Your unique skin type, lifestyle choices, and how much you soak up sunshine can all have an impact on how long your brows stay on point.
To make those results last as long as possible, try thses simple steps: sun protection for your brows is a must! Trust us, it'll help preserve that beautiful pigment and give your brows the extra mileage they deserve.
Even with sun protection, brows can fade over time. So, when you feel like your brows need a little refresh, reach out to us. We're here to help. 
Do nano brows ruin your natural eyebrows?
Nano brows do not ruin your brow hairs!
Nano browswon't harm your natural brow hairs or delicate skin. 
It is however important that you see a skilled artist. They will perform the procedure with precision, minimizing any potential risks or negative effects on your brow hairs or skin.
Hygiene is also important. Our artists follow strict standards to ensure a safe and successful experience for you.
Your safety and satisfaction are top priorities. 
Can nano brows be done over previous brow tattoo?
Yes. Maybe...
Consultations are required for previous tattoo coverage!
Yes, it is possible to use a brow tattoo technique over previous work.
Please submit photos via email or text or schedule a consultation if you'd like us to assess your unique situation.
It's important to note that the success and outcome of the procedure will depend on various factors, including the condition of the existing tattoo, its color, saturation, and how well it has aged.
During the consultation, we can assess the current state of your previous brow tattoo and provide personalized advice on the best course of action. In some cases, a touch-up or correction may be sufficient to refresh the existing tattoo. In other instances, it may be necessary to incorporate different techniques, such as color correction or blending, to achieve the desired result.
Who can get nano brows?
Almost everyone!
Here is a short list of those that may want to fluff up their brows:
Nano brows are great for everyone and especially great for those with sensitive, oily or thin skin.
If you are concerned about your skin type and the effectiveness of permanent brows, please call us for a free consultation!
How long does a nano brow appointment take?
Less time than you'll spend applying brow makeup!
Nano brow appointments last about 3 hours.
The duration of a nano brow appointment can vary depending on several factors, including the artist's technique, the client's desired outcome, and the initial consultation process.
On average, a nano brow appointment can take anywhere from 3-3.5 hours to complete.
You will have a touchup session as well, which could be slightly shorter.
Is there downtime after nano brows?
Nope. None.
There is no downtime after nano brows!
After a nano brow appointment, there is no physical downtime, meaning you can resume your daily activities without major restrictions. Read all about the healing process here.  However, it's important to follow the provided aftercare instructions to ensure proper healing and the best possible results.
How much do nano brows cost?
$800 to $1300 around the country
When it comes to cost, prices can vary around the country.
The most important factor to determine is what the price includes.
At DAELA Cosmetic Tattoo we believe in four principles that set us apart:
Touchups are included in pricing. We include the touchup in our pricing which may make our pricing appear higher than other studios.

Everyone needs a touchup: Touchups are essential to ensure your brows look their absolute best, so we include it in the pricing so you are fully aware of what the finished product will cost.

Schedule a touchup, before you leave! We will also schedule your touchup appointment before you head out, ensuring that you receive your touchup within the crucial time frame.
Aftercare is paramount: On you way out we will provide the aftercare instructions and ointments you need to keep those brows looking fierce.
Do men get their eyebrows microbladed?
Yes!
Men have the same reasons as women to have their brows microbladed:
Add fullness
Correct shape
Fill in thinning areas
The primary difference for men is that most want to retain the masculine shape of their brow and our artists are experts at it!
Can cosmetic tattoo help people with medical issues?
Yes, we can help.
There are many medical issues that can be visually corrected with multiple cosmetic tattoo services.
We will link some blogs here, so you can research how we can help those with hair loss due to cancer treatments, trichotillomania, alopecia and scars.