Eyeliner tattoo is a fabulous way to enhance your eyes and achieve a long-lasting, smudge-proof eyeliner look.  Say goodbye to the hassle of applying eyeliner and hello to effortless, flawless eye makeup!
Eyeliner Tattoo in Portland, Oregon
Whether you'd like lash line enhancement, classic eyeliner, winged liner, or the soft and dreamy dusty shadow liner, we've got your liner covered.
Eyeliner adds that perfect touch of definition to your eyes, creating a youthful, fresh appearance. You can also start with lash line enhancement and add the extra dimension of the other styles later.
To ensure you get the absolute best outcome, be sure to check out our eyeliner tattoo pre and post care instructions.
to see images of each style.
Touch up included with all new eyeliner appointments. Touch up will be scheduled during your initial appointment for 6-12 weeks after appointment.
We require a $250 non-refundable deposit on all appointment bookings. You may reschedule no later than 48 hours prior to appointment. No-show will result in total loss of deposit.
"My experiences at Daela have been exceptional. I have now seen three talented artists and truly felt like they were all super passionate and caring individuals. Angela is the sweetest human ever and she made me feel comfortable instantly with her gentle approach and touch. I next saw Erica for microblading my brows on the same day. Vivian was my artist for lip blush and I felt as though she took her time to give me the perfect shape. Her calm but positive energy helped ease my nerves. I wouldn't go anywhere else for cosmetic tattooing. From the front desk to the artists, they all had the kindest words to say, and I left the studio feeling confident in myself and in their work. That was such an amazing and cherished feeling!!"
Maria F
Eyeliner, lip blush & eyebrow microblading
"I went in for permanent eyeliner with Angela. The moment I walked in I knew I was in good hands. The studio was immaculate and beautifully decorated, with a calming effect. The girl at the front desk was very friendly and offered me a beverage while I waited. At my first appointment I was a bit uncertain of exactly what style I wanted, but Angela was an absolute angel and went over everything with me and made me feel confident and excited for my new eyeliner. The whole experience was relaxing and enjoyable, which let's be honest.... not something you would expect from having your eyelids tattooed! The pain was minimal, as she numbs you throughout. I would absolutely recommend anyone wanting this done to go see Angela, she is a top notch professional and passionate about what she does."
Samantha A
Eyeliner tattoo
My experience with Angela has been awesome! I initial went in for a lash enchantment and realized I wanted more so we scheduled a full liner with wing appointment. She took so much time and care to draw the liner exactly how I wanted and even helped to push me a little and showed me an option I liked even better than what I thought. I am definitely an attention to detail person and with every adjustment Angela made sure I was truly happy with any changes. She definitely has an eye for detail which is super important for permanent eyeliner! Thank you so much Angela for your patience with me ☺️ So happy how it turned out! Can't wait for my touch up!""
Lena C
Eyeliner tattoo
What is eyeliner tattoo?
Eyeliner 101
Get ready to look fabulous!
Eyeliner tattoo, also known as permanent eyeliner or cosmetic eyeliner, is a cosmetic procedure where pigments are tattooed along the lash line to create the appearance of eyeliner. It is a form of cosmetic tattooing that offers a semi-permanent solution for those who want to enhance the appearance of their eyes without the need for daily makeup application.
During the procedure, our trained professionals use a specialized tattooing technique to carefully deposit pigment into the upper lash line. The pigment is selected to match the client's preferred eyeliner color and is applied with precision to create a defined and enhanced eyeliner effect.
Eyeliner tattoo can range from subtle and natural-looking to more dramatic and bold, depending on personal preference. It can be customized to suit different eye shapes and styles, such as classic eyeliner, winged liner, or a soft dusty shadow liner.
The results of eyeliner tattoo can last for a couple of years, although individual experiences may vary. Over time, the pigments may fade and require touch-up appointments to maintain the desired intensity and shape.
Eyeliner tattoo offers the convenience of waking up with perfectly applied eyeliner and can be a great option for those who have difficulty applying eyeliner or who want to save time on their daily makeup routine.
What is lash line enhancement?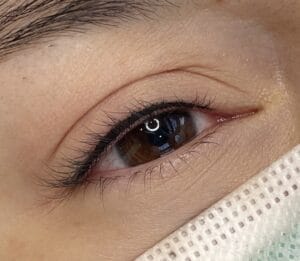 Lash line enhancement is like a secret weapon for your eyes, giving your lashes a darker and more defined edge.
It's so subtle and realistic that it blends seamlessly with your natural lash line.
The artist will delicately tattoo tiny pigment dots right into your lash line, creating the illusion of fuller and darker lashes. It's like having mascara on 24/7 without any smudging or clumping!
Unlike traditional eyeliner tattoos, which sit on the eyelid, lash line enhancement stays right in the lash zone, making it the ultimate in soft and natural-looking liner tattoos. 
So, if you're dreaming of effortlessly glamorous eyes that command attention, lash line enhancement is perfect for you.
Plus you can build on it. You can add winged liner, build up to classic liner, or add dusty shadow at your touch-up appointment. (See pricing menu for add-on pricing)
What is classic eyeliner?
Classic eyeliner tattoo is more dramatic than lash line enhancement.
Classic eyeliner takes your look from "wow" to "WOWZA" by adding a touch of magic to your filled eyelid.
Whether you prefer it thin and subtle or bold and dramatic, classic eyeliner offers a more pronounced look.
You can add dusty shadow or a wing at your touchup if you'd like. (Please see pricing menu for add-on prices)
What is winged eyeliner?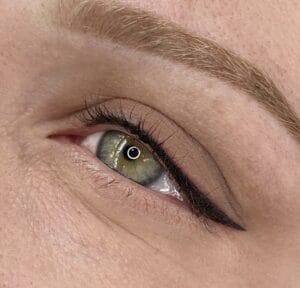 Get ready to unleash your inner winged warrior and take your eyeliner game to soaring heights with our fabulous winged liner!
This technique is here to emphasize your eye shape and give you that "made up" look effortlessly every single day.
Picture this: a tiny flick that extends beyond the lash line, transforming your eyes into captivating masterpieces. With a simple wing, you can achieve a look that's both fierce and flirty, making your eyes pop like never before. 
Whether you want a subtle and delicate wing or a bold and dramatic one, winged liner adds a touch of drama to your eyes.
You can add dusty shadow liner to winged liner at your touch up. (See pricing menu for add-on prices)
What is dusty shadow eyeliner?
The appearance of eyeliner & eyeshadow combined.
By applying a liner and gently dusting it into the lid, you achieve that soft shadow effect that you've always desired.
Want a cat eye look? Just add a wing for that extra flair.
Prefer a more subtle touch? Keep it simple with a lightly applied shadow.
The best part is that this technique is completely customizable. You can build up the intensity to your liking, and our touchup service ensures that you can add even more if desired.
How long does an eyeliner tattoo appointment take?
2-3 hours
We want to make sure we have enough time to create the perfect look for you, so please allow 2-3 hours for your appointment. We believe in giving each client our undivided attention and ensuring that every detail is just right.
For touchup appointments, you can expect a slightly shorter session, typically lasting around 1.5 hours. It's a great opportunity to refresh your eyeliner and make any necessary adjustments.
When you book your appointment, our knowledgeable staff will discuss with you the specific type of eyeliner you choose and provide you with a better estimate of the appointment length. We want to make sure you have a clear idea of what to expect and feel comfortable throughout the process.
What are the benefits of eyeliner tattoo?
Many benefits.
Here's why it's a game-changer:
Thicker, Fuller Lashes: Eyeliner tattoo creates the illusion of thicker and fuller lashes, making your eyes stand out and enhancing their natural beauty. Say goodbye to sparse or thin-looking lashes and hello to gorgeous, defined eyes!

Effortless Beauty: Imagine waking up in the morning and already looking like you have perfectly applied eyeliner. With eyeliner tattoo, you can skip the daily struggle of trying to achieve the perfect wing or precise line. It saves you time and effort, giving you more freedom to enjoy your mornings or get ready for any occasion with ease.

Customizable Looks: Whether you prefer a subtle lash line enhancement, a classic eyeliner, dusty shadow liner, or a bold winged liner, eyeliner tattoo offers a range of customizable options to suit your personal style and preferences. 

Long-Lasting Results: One of the greatest benefits of eyeliner tattoo is its long-lasting nature. Unlike traditional makeup that needs to be applied and reapplied throughout the day, eyeliner tattoo stays put. It can last for years, allowing you to enjoy beautiful, defined eyes day in and day out.

Confidence Booster: Eyeliner tattoo can give you a boost of confidence by enhancing your natural features and creating a more polished look. You'll feel effortlessly put together and ready to take on the day with confidence and grace.
Does eyeliner tattoo hurt?
About a 2-3 out of 10
During the eyeliner tattoo procedure, a topical numbing cream is typically applied to the area beforehand to help minimize any discomfort. Additionally, our artists use a numbing gel throughout the process to ensure your comfort.
While pain tolerance can vary from person to person, many individuals report that the eyeliner tattoo procedure is relatively painless or less uncomfortable than expected. It's important to communicate with your artist about any concerns you may have regarding pain, as they can adjust the numbing process to suit your needs.
Remember, everyone's experience may be different, but rest assured that measures are taken to prioritize your comfort during the eyeliner tattooing process.
Why don't you do bottom eyeliner tattoo?
The Daela Way
At our studio, we prioritize the safety and long-term well-being of our clients. That's why we have made the decision not to offer bottom eyeliner tattoo.
Here's why:
Safety Concerns: Applying eyeliner to the bottom lash line involves working in close proximity to the delicate eye area. The risk of irritation or potential damage to the eye is higher when compared to working on the upper eyelid. Our primary concern is to ensure the safety and comfort of our clients, which is why we choose not to offer this service.

Aging Considerations: Over time, the skin around the eyes can undergo natural changes, including loss of elasticity and thinning. Creating a dark area on the bottom eyelid through tattooing may not age gracefully and could potentially create an unflattering appearance as the skin changes. We want to ensure that our clients continue to feel confident and satisfied with their eyeliner tattoo for years to come.

Stunning Look: By focusing on the upper eyelid, we can still achieve beautiful, defined eyes while minimizing potential risks and considering long-term aesthetics. Our skilled artists can work with you to create stunning eyeliner looks that enhance your eyes without compromising safety or aging concerns.
Remember, your safety and satisfaction are our top priorities. We are committed to providing you with exceptional services that prioritize your well-being and deliver long-lasting results.
How do I prepare for my eyeliner tattoo appointment?
We kindly request that you remove your false eyelashes before the eyeliner tattoo service. This allows our artists to have a clear and unobstructed view of the eyelid area, ensuring precise application and optimal results.
To prepare for your appointment, we recommend reviewing our comprehensive list of before care and aftercare instructions. These guidelines will help you understand how to properly care for your eyeliner tattoo before and after the procedure, ensuring the best healing and long-lasting results.
In addition, we encourage you to take some time to explore our different eyeliner styles and think about the look you desire. Visual aids, such as photos or examples of your preferred style, can be very helpful during your appointment. This will allow our artists to better understand your vision and tailor the eyeliner design to suit your individual preferences and desired aesthetic.
If you have any further questions or need assistance, please feel free to reach out to us. We're here to help you achieve the eyeliner look you've always wanted.
Can I wear contact lenses to my eyeliner tattoo appointment?
Wear them in!
But bring your glasses with you.
If you normally wear contact lenses, no worries, we've got you covered. Just remember to bring a handy container to store your lenses during the appointment. We're all about safety and hygiene. If you forget, we have disposable containers ready to keep your lenses cozy and secure.
Now, for the first day after your eyeliner tattoo, we suggest rocking your coolest glasses. It's a great opportunity to show off your stylish frames while your eyes take a little break. But don't worry, after day one, you can safely pop those lenses back in without any major risks. There might be a slight chance of mild irritation, but that's nothing compared to the fabulous eyeliner look you'll be flaunting!
Can I wear lash extensions to my eyeliner tattoo appointment?
Sorry, but no.
We apologize for the inconvenience, but for the best results and to ensure the safety of your eyes, we require that lash extensions be removed one week prior to your eyeliner tattoo appointment.
This allows for a clean and optimal surface for the tattooing process.
After your touch-up appointment, you can have lash extensions reapplied after a two-week healing period.
This allows the tattooed area to fully heal and ensures that the lashes won't interfere with the healing process.
We appreciate your understanding and cooperation in following these guidelines to ensure the best outcome for your eyeliner tattoo. If you have any further questions or concerns, please don't hesitate to reach out to us.
How often does eyeliner tattoo need to be redone?
So glad you asked!
Generally, the boldness of eyeliner tattoo can last between 2 to 3 years...
Depending on factors such as lifestyle, skin type, and aftercare.
To assess if a touch-up appointment is needed, we kindly ask you to email photos of your existing liner to us around the 2 to 3-year mark, or whenever you feel there is substantial fading.
Please note that we only go over existing work as a refresh if it was originally booked with our studio.
Our team will carefully evaluate the photos and provide you with personalized recommendations based on your specific situation.
Ensuring the longevity and freshness of your eyeliner tattoo is our priority, and we look forward to assisting you in maintaining your beautiful look.
Can I add on to my eyeliner tattoo?
Yes!
This appointment is your chance to take your classic or lash line eyeliner to the next level!
Whether you want to thicken your liner, add a wing, or go for a soft dusty shadow effect, we've got you covered.
Please note that this service is an additional charge and is exclusively available to existing clients who are within the first year of their original tattoo.
To book this exciting appointment, give us a call. Please remember that this service cannot be booked online. Our friendly team will be thrilled to assist you and help you achieve the eyeliner look of your dreams. Don't miss out on this opportunity to enhance your eyes and make a statement!
How is eyeliner tattoo done?
Let's take a journey into the world of eyeliner tattooing!
Picture this:
You walk into our studio, ready to transform your eyes into captivating works of art. Our tattoo artist, armed with a steady hand begins the process.
First a consultation to determine exactly what you want.
Then a numbing cream is applied to ensure your comfort throughout the process. Once numb, your tattooist delicately creates precise lines along your lash line. 
Using the finest inks and tools, we weave the ink into your skin, creating a perfectly applied eyeliner look.
The process is relatively quick, and numbing will be applied multiple times. Before you know it, you'll be gazing into the mirror, admiring your stunning new eyeliner that will stay with you day and night.
What are the risks of eyeliner tattoo?
Let's explore the risks of eyeliner tattooing:
While eyeliner tattooing is generally safe, there are a few things to keep in mind. 
First, let's talk about infections. There's a slight risk of infection if proper aftercare isn't followed. With diligent care and the guidance of our experienced artists, you'll keep those risks at bay.
Next, there's the possibility of an allergic reaction to the tattoo ink. Everyone's skin is unique, and occasionally it may have a response to certain ingredients. If you have allergies, we can perform patch tests to minimize any surprises.
Lastly, there's the potential for discomfort during the process. We've got numbing gels and creams and techniques to keep you comfortable.
Remember, knowledge is your most powerful weapon. Research, ask questions, and trust in DAELA's seasoned artists to guide you through this journey.
How long is the healing process for eyeliner tattoo?
A fairly simple journey
The healing process for an eyeliner tattoo takes a few weeks. 
If you're curious to learn more about the specifics of the healing process, we invite you to explore our before & aftercare FAQ's. There you'll find a deep dive into all the information you need to know about healing your eyeliner tattoo to perfection. Let us guide you through the journey and ensure your eyes look their best!
How much does eyeliner tattoo cost?
$700-$1200 across the country.
At DAELA Cosmetic Tattoo, we have four principles that set us apart:
Touchup included in pricing: Because our pricing includes a touchup it can make our prices appear higher than other studios. So as you are comparing prices, please check to see if the touchup is included.
Everyone needs a touch-up: We understand the importance of touch-ups, that's why we include a touch-up in our pricing. 
Schedule your touchup before you leave: Our staff will schedule a convenient time for your touchup before you leave, ensuring that you have it during the optimal time frame.
After care is so important:  We'll provide you with all the aftercare instructions and ointments you need to keep your eyeliner looking irresistibly fabulous.
Ready for a fresh look?
3-Ways to contact us:
Give us a call! (971) 357-1649

(9:30AM-5:00PM)

Fill out this form right here.

Book online by clicking BOOK NOW! 
We love to answer questions and we return phone messages and emails in less than 24 hours.