A kiss from the sun, or a Daela artist, who will know? 
Faux Freckles in Portland, Oregon
About Faux Freckles & Beauty Marks
Faux freckles are tiny tattoos that replicate natural freckles or beauty marks. This fun service gives you a summer-y, sun-kissed glow all year round. We can add to the freckles you have or give you the freckles you never had for a fresh, make-up free look.
Safe for everyone and will enhance the look of laying out in the sun, without the risk of sun damage.  
Why would you get beauty marks or freckles? Basically because they are fun.  Think of some iconic models and movie starts that have freckles or beauty marks. They just look good. You can always test it out for yourself at home with a makeup pencil and look at a lot of before and after pictures of our artists work!
Please click here to review  faux freckle and beauty mark pre and post care instructions.
Faux Freckles & Beauty Mark Menu
Faux Freckles | $385 per hour
This service is booked by the hour. Most freckle appointments do not require more than 1 hour, but please submit a photo of what you'd like to info@www.daelacosmetictattoo.com if you want a full face of freckles.
Beauty Marks | $205
Beauty Marks are a shorter appointment than freckles. Anything greater than 5 marks is considered freckles.
We require a $100 non-refundable deposit on all freckle and beauty mark appointments. You may reschedule no less than 48 hours prior to appointment. No-show will result in total loss of deposit.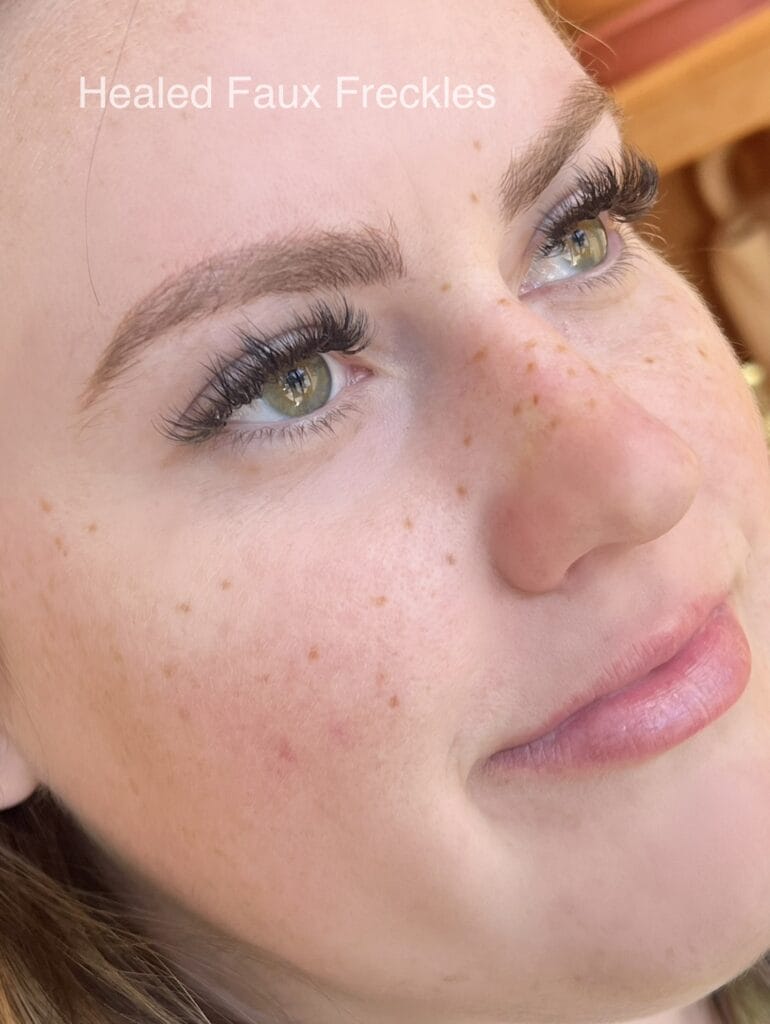 "Daela does not mess around! Kind, welcoming staff and absolute professionals who care a great deal about their work and their clients - and it really shows! I'm a first time cosmetic tattoo client, I was a little nervous at first but everyone here is very thorough, patient and downright super good at what they do!"
Jordie B.
Multiple Services
How long do they last?
The length of time will vary due to skin types but on average, you will see your freckles last 6 months before you see them fade fully away.
What skin types work best with faux freckles?
All skin types work with faux freckles, however, since we are working on heavy oil producing areas, extremely oily skin types may not be ideal. This can cause lack of retention; therefore, we cannot guarantee results on extremely oily skin.
How do you choose color?
Natural freckles are very warm so we always use very warm blonde, red or brown tones depending on your undertones. The darkness and depth is decided by your artist depending on your overall skin tones and chosen to be a soft, natural healed look. It's a custom color for you.
How many freckles can I get?
The amount is very customizable. Anywhere from a little to a lot is possible. You will discuss this with your artist, as well as placement. They will be able to guide you to the look that works best for you and your lifestyle.
Does it hurt?
Expect minimal discomfort. Numbing is applied for the procedure, and the procedure is relatively quick.
What if I have freckles and want more?
We are happy to add to what you have. Faux freckles blend beautifully with your natural ones.
Ready for a fresh look?
3-Ways to contact us:
Give us a call! (971) 357-1649

(9:30AM-5:00PM)

Fill out this form right here.

Book online by clicking BOOK NOW! 
We love to answer questions and we return phone messages and emails in less than 24 hours.