Portland Permanent Makeup & Cosmetic Tattoo
Enhance your natural beauty at DAELA Cosmetic Tattoo.
Embrace a naturally flawless look as if you've just applied subtle lip blush, eyeliner, and perfected brows. Experience the freedom of being your fabulous self, effortlessly beautiful without makeup.
Discover cosmetic tattooing at our permanent makeup studio in Portland, where we redefine and enhance your lips, brows, and eyes. Say goodbye to the daily mirror routine and hello to a streamlined beauty regimen.
Discover what sets us apart!
Indulge in a truly unique experience at DAELA Cosmetic Tattoo.

We offer microblading, lip blush tattoo, eyeliner tattoo, ombre powder brows, and more. You can experience all of our services in one trusted location.
Where luxury and meticulous attention to detail take center stage. For added tranquility, our studio features private and semi-private treatment rooms. These thoughtfully designed spaces allow you fully immerse yourself in your personalized treatment.
At DAELA, we prioritize our clients' satisfaction and strive to provide unparalleled customer service. Our dedicated team goes above and beyond to ensure that every individual feels valuable.
With over 1000 glowing 5-star reviews, DAELA Cosmetic Tattoo is amongst the highest rated cosmetic tattoo studios in the USA. Discover why our clients rave about their experiences with us.
Our local, nationwide, and international clients all understand what it means to be a DAELA customer. Discover for yourself how we take customer service to the next level.
Our captivating service line-up!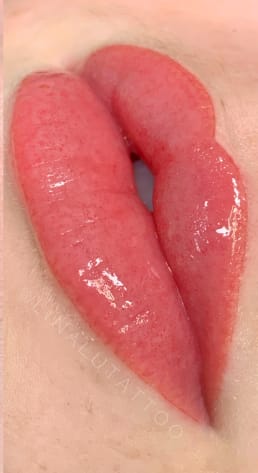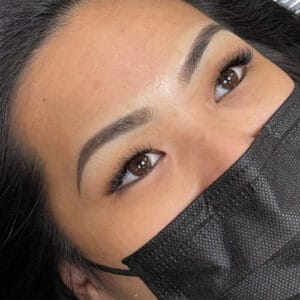 Ombre Powder Brows & Combo Brows
Faux Beauty Marks and Freckle Tattoo

Microblading/Nanoblading
Fill and shape your natural brows and embrace freedom from time-consuming daily routines with nanoblading and microblading. Imagine stepping out of bed each morning feeling and looking effortlessly perfect. At our Portland Studio, you'll be in the care of professional master artists at the top of their industry to achieve this goal with ease.
Learn more about Nanoblading/Microblading in Portland »


Lip Blush Tattoo
Rejuvenate and enhance your natural radiance with lip blushing in our Portland studio. You'll restore confidence, regain time, and embrace natural color and vibrance.
This service is a fantastic option for individuals with cosmetic allergies. Our master artists can't wait to collaborate with you to achieve a natural, maintenance-free look.
Learn more about lip blush tattoos in Portland »


Ombre Powder Brows & Combo Brows
Enhance the appearance of your eyebrows and save hours of precious time with ombre powder brows. Your brows will appear flawless throughout the day.
Our expert artists will produce a stunning gradient effect that looks natural every time. Are you interested in microblading services? Consider combo brows, which incorporate both techniques for stunning, delicate style.
Learn more about Ombre Brows in Portland »


Eyeliner Tattoo
Bring out your natural beauty and watch those eyes pop with eyeliner tattoos that eliminate daily makeup maintenance.
Our delicate master artists are trained in the latest techniques from around the world. This alternative to daily eyeliner application will save you time and stress while bringing out your gorgeous natural features.
Learn more about eyeliner tattoos in Portland »


Faux Beauty Marks and Freckle Tattoo
Faux beauty marks and freckles are tiny tattoos that add natural character and make you appear sunkissed year-round! This safe, professional procedure allows you to embrace a beachy look without risking sun damage or UV exposure. Our expert artists can add to your existing freckles or give you the sunny smattering you always wanted.
Learn more about faux beauty marks and freckle tattoos in Portland »


Areola Restoration
Our talented master artists will go above and beyond to help you regain confidence, disguise scarring, and embrace your beautiful body. You'll experience a stress-free, trauma-informed procedure in our calming, comfortable Portland studio.
Our respectful artists will ensure they achieve the natural, realistic results you want through thoughtful collaboration.
Learn more about restorative nipple tattoos in Portland, Oregon »


Scar Camouflage
Paramedical tattoos can help you feel at home in your body. Our welcoming, experienced artists will help cover and disguise scarring in our relaxing studio space.
Close collaboration means you'll always be in control of the final results. For many individuals, scar camouflage and paramedical tattooing is critical for physical and psychological recovery after illness or trauma.
Learn more about scar camouflage in Portland »


Brow Lamination
Lamination allows you to show off thicker, darker brows with great shape and definition—without tattooing or blading. We'll tint and tame your existing brows to help you achieve a fuller and lower maintenance everyday look.
This non-tattoo styling service allows you to feel your best with a minimum of effort or stress. It's also a great accompaniment to a microblading or ombre powder service.
Learn more about brow lamination in Portland »


Lash Lift and Tint
Fall in love with fuller, longer lashes and brighter eyes. You'll love the way you look after a quick, easy, and pain-free lash lift in our Portland studio. Think of this simple service as a perm for your existing lashes.
There's no need to curl your lashes or apply mascara to achieve effortless daily lift and volume.
Experience our studio and meet our master artists.
"We have hand-picked every artist and customer service person on staff. Our outstanding team of artists have traveled and trained extensively to perfect their techniques. Their passion and commitment allows us to  proudly offer the best results in the industry.
We use top-of-the-line products and tools, and we proudly create highly realistic and natural results for our clients. Our reputation and client satisfaction are paramount. As we expand nationwide, it is our commitment to retain the very essence of our studio."
Erica & Lina | Co-Owners, Mothers & Best Friends
My experiences at Daela have been exceptional. I have now seen three talented artists and truly felt like they were all super passionate and caring individuals. All three ladies explained the process of each service and aftercare thoroughly which I really appreciated. I wouldn't go anywhere else for cosmetic tattooing. From the front desk to the artists, they all had the most kind words to say and I left the studio feeling confident in myself and in their work. That was such an amazing and cherished feeling!!
Maria F.
Lips, Brows, Eyeliner
"I receive constant compliments on my eyebrows by Chloe and my lips by Lina. Believe me, they are worth the wait, but the entire team seem very well trained and professional. I've had a great deal of tattoo work done, and I honestly didn't know it could be such a pleasant experience. Can all tattoo studios aim to be as inclusive, clean, and high quality? Worth every cent. Friendly, clean, professional."
Heather J
Brows & Lip Blush
"I highly recommend Daela Cosmetic Tattoo for cosmetic tattooing. The staff is professional and welcoming, and the studio itself has a clean and relaxed atmosphere. I have had my eyebrows microbladed and they are absolutely amazing! It has minimized the time it takes to do my makeup and I feel much more confident just going without makeup."
Katherine R
Eyebrow Microblading
Permanent Makeup Training
Master the art of cosmetic tattooing in Portland at our premier training academy.
DAELA Training Academy is the premier destination for aspiring artists seeking to master their craft.
Our esteemed team of master artist trainers awaits, ready to guide you through the intricacies of cosmetic tattooing. You'll excel at eyebrow microblading, velvet lip blush tattoo, eyeliner tattoo, teeth whitening, tooth gems, scar camouflage, and areola restoration. Training begins in our cutting-edge training studio in the vibrant heart of downtown Vancouver, Washington.
Join us at DAELA Training Academy and embark on a transformative journey. You'll find yourself honing your artistic abilities in the realm of Permanent Makeup (PMU).