Ombre Powder Brows Guide: What It Is, How It Works & The Benefits
Enhance the look of your eyebrows with Ombre Powder Brows. Here's everything you need to know about getting semi-permanent Combo and Ombre Brows.
Options to Enhance Your Eyebrows
Ombre Powder Brows are a great option for those who love the look of powdered brows and those who have had microblading in the past.
This cosmetic tattoo brow procedure creates beautiful brows that have a soft powdered look instead of the petite hair strokes of micro or nano blading. The following is a complete guide to Ombre and Combo eyebrows.
Ombre Powder Brows is a cosmetic tattoo technique, using natural pigments, that creates a gradient effect on your eyebrows, giving them a soft powdered look.
This technique offers a very soft to bold-look, allowing you to have manicured, full brows without having to apply makeup every day!
If you are unsure of how bold you want them,  you can go soft to start and bolden them at your touchup.
Combo Brows is a semi-permanent tattoo technique that combines microblading with shading to create a natural-looking eyebrow with hair-like strokes and a soft powdered finish.
The artist adds fine hair strokes to the front of your brow and fills the rest in with pixelated dots creating a beautiful, soft powdered finish.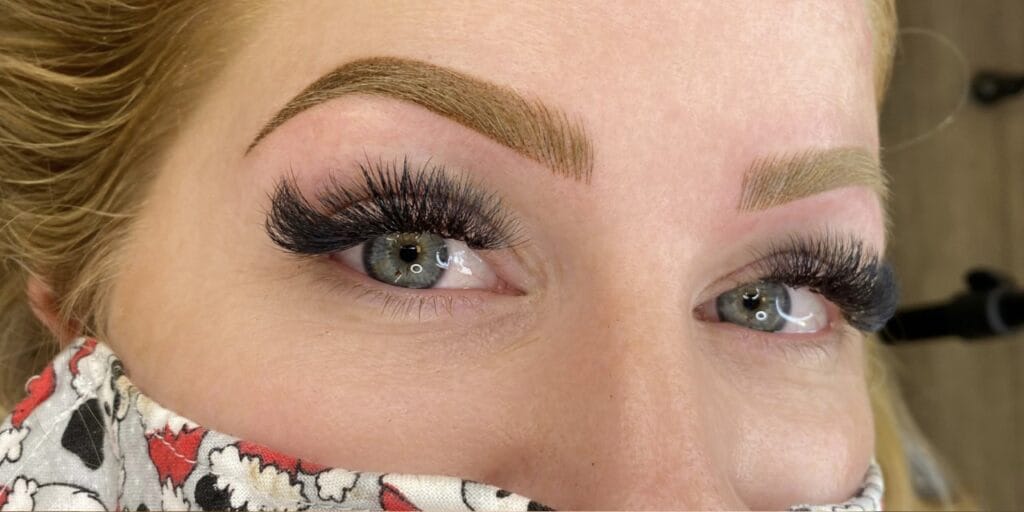 What are the Benefits of Ombre Brows?
Are you tired of filling in your eyebrows every day? Powdered Ombre Brows could be your solution.
Say goodbye to traditional brow makeup and enhance your beauty effortlessly.
The benefits of Ombre Powder Brows include:
Minimally invasive, minimal pain
Creates a very full and defined look
Creates shape and definition
Can be done on previously microbladed brows
Ombre Powder Brows work on those with oily skin
Can be done on those with thinner skin, a perfect option for mature skin
Who Is a Good Candidate for Ombre Powder Brows?
Almost everyone over the age of 18 is a good candidate for Ombre Powder Brows.
This technique works on many different skin types, including mature skin. You can also utilize this technique if you've had your brows microbladed in the past.
How are Ombre Powder Brows Done?
Ombre Powder Brows are created by a cosmetic tattoo artist using a handheld machine tool that creates tiny pixelated dots.
The artist uses all-natural pigments to create a soft look or very bold look.
How Long Do Ombre Brows Last?
Ombre Brows can last quite some time, though they do fade. You may notice some fading after 18-36 months.
Touch-ups can be done as often as every 6 months for those who want to maintain a perfectly manicured brow.
Others may have them touched up every 2-3 years.
How to Prepare for an Ombre Brows Appointment?
Proper preparation is key to achieving the best results from your Ombre Brow appointment.
Preparing for Powder Ombre Brows is essential because it can help prevent complications or issues during the procedure.
Proper preparation also ensures your eyebrows are in optimal condition, which leads to a longer-lasting outcome.
Prepare for your Ombre eyebrow treatment with these simple steps:
No caffeine day of
No alcohol 24 hours prior
No blood thinners or painkillers within 24 hours
No fish oil or vitamin E one week prior
No filler or injections 3 weeks prior
No chemical peels in brow area 2 weeks prior
No antibiotics 2 months prior
How Long Do Ombre Brow Sessions Take?
An Ombre Brow appointment will take about 2 hours.
This will include consultation, color choices, shape drawing, and client approval.
The actual tattoo process will involve topical numbing creams to alleviate almost all discomfort.
Ombre Brows Aftercare: How to Care for Ombre Brows
After your Ombre Brow appointment, let your eyebrows relax for 24 hours, making sure to keep them dry.
After 24 hours, you can wash them gently each morning and evening. Also, apply a supplied aftercare cream.
Until they are completely healed, you will want to avoid the following. Also, consult with your artist for other do's and don'ts.
Applying makeup to the brows
Scratching and picking the brows
Use of exfoliants
Avoid sweating for 10 days
Avoid swimming and saunas for 10 days
UV exposure or tanning beds
Ombre Powder Brows Before and After
Compare the Ombre Powder Brow before and after photos.
See the dramatic transformation and natural-looking results you can achieve with this popular beauty treatment.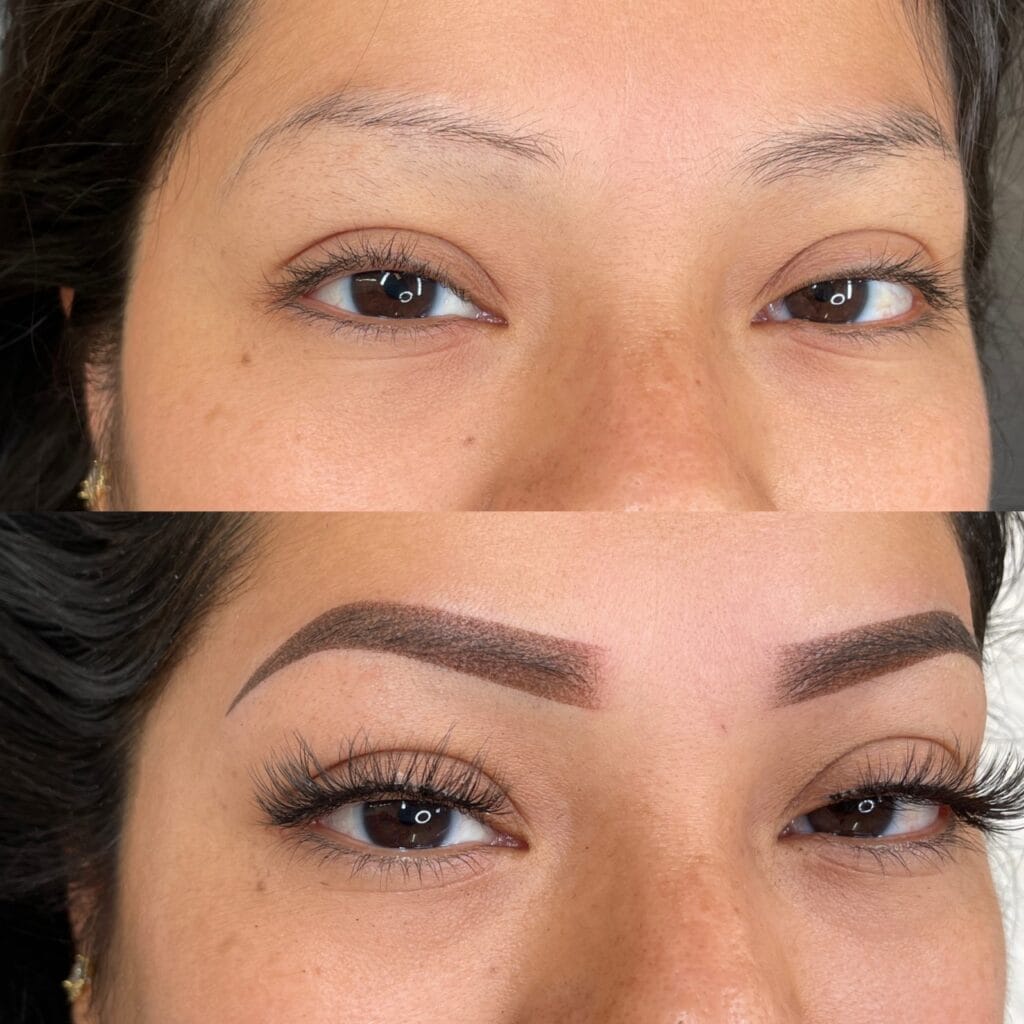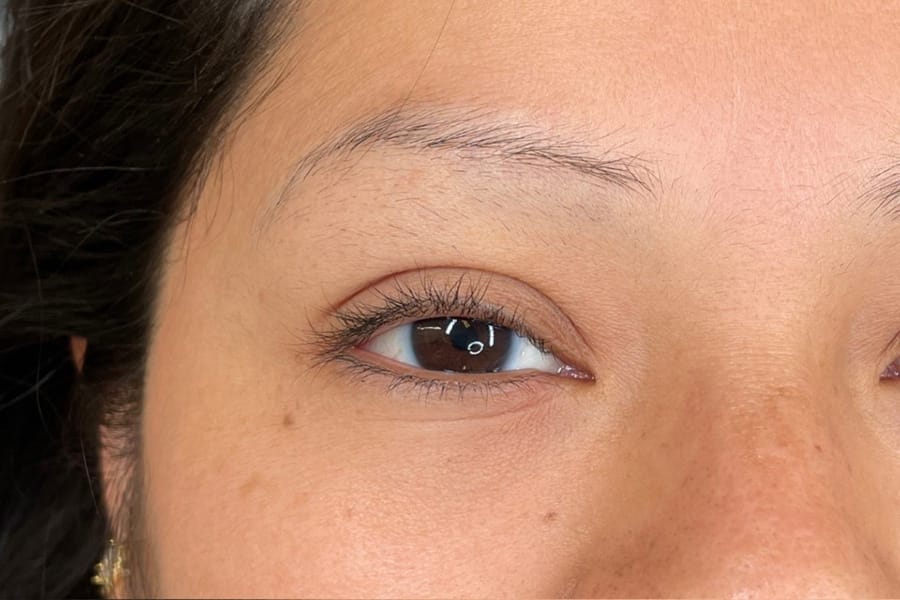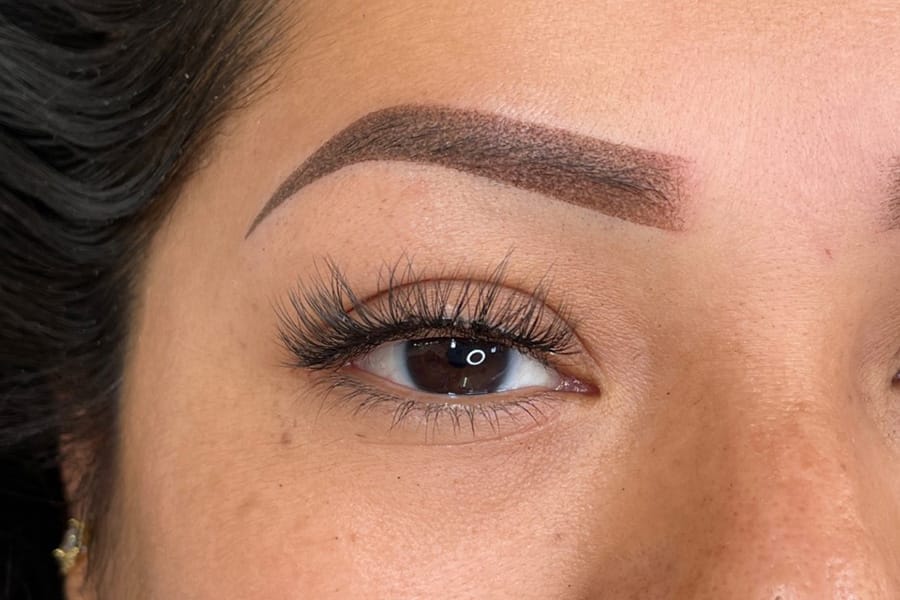 Ombre Powder Brows vs Microblading: What's the Difference?
Ombre Powder Brows and Microblading use different techniques, yielding different looks.
However, they are both excellent options for enhancing your brows.
Ombre Powder Brows are cosmetic tattoos that offer a soft to bold powdered look.
The artist uses a machine tool to create pixelated dots.
The best Powder Ombre Brows are achieved using all-natural pigments suited in color to your skin type.
Microblading AKA nanoblading is a technique using a very fine needle with a handheld wand or machine tool.
This technique creates a very fine, realistic hair stroke that mimics the look of real hair.
An experienced microblader can create a look of hair, undetectable to the eye of someone you are chatting with.
How Much Do Ombre Brows Cost?
Powdered Ombre Brows will range from $600 to $1000.
The price range can be dependent on the state as well as the skill level of the artist.
Where to Get Ombre Powder Brows Done?
Get the perfect eyebrow look with our trusted Ombre Powder Brow and Combo Brow services.
With multiple Daela Cosmetic Tattoo studios to choose from, you can trust our team of skilled artists to help you achieve your desired look!
Check out our locations to see the nearest Daela Cosmetic Tattoo Studio and reserve your appointment.
Why Choose Daela Cosmetic Tattoo?
DAELA Cosmetic Tattoo's trusted artists and services offer several benefits to our clients:
Outstanding customer service: You will be well cared for before, during, and after your procedure.
Full-service studio: You can have all your cosmetic tattoos done by trusted artists.
Training: All of our artists are master artists or trained by master artists.
Natural products: We use natural products with pigments chosen for endurance and lack of color change.
Financing: We accept all major credit cards. We offer financing through a third-party provider and an easy in-house prepayment plan free of interest or other fees.
Find answers to common questions about our ombre powder eyebrow services.
Are Ombre Brows Worth It?
Yes! All cosmetic tattoos are worth the investment.
You will save time every day, and your brows will look manicured 24 hours a day.
Shapely brows create a more youthful appearance, something everyone wants!
Yes, they are very safe. The procedure is minimally invasive and almost pain-free.
Ombre brows do not hurt. To minimize pain even further, artists use topical numbing.
The process is fun, with instant gratification and no downtime.
Do Ombre Brows Look Natural?
Ombre brows offer a soft powdered look, mimicking the look of powder makeup applied to your brows.
How Long Does It Take for Ombre Brows to Heal?
The healing process offers minimal peeling and flaking.
The bulk of the healing will be done within 10 days.
However, all tattoos take a full 30 days to be considered completely healed.
What Are the Potential Side Effects of Ombre Brows?
There are no long-term side effects.
However, after the procedure, you may experience these temporary side effects:
Redness
Irritation
Flaking
Slight swelling
Darker color, which will heal lighter
How Many Ombre Brow Sessions Do You Need?
A touch-up follows the initial session within 6-12 weeks. 
You can refresh your Ombre Brows as often as every 6 months.
However, they will last for a long time before they are significantly faded.
When Can I Wash My Face After Ombre Brows?
Wait 24 hours before washing your brows. Use the cleanser supplied by your artist.
Do Ombre Brows Fade Completely?
Ombre Brows fade slowly over time.
Some people may experience complete fading after many years.
However, it is possible they may never fade completely.
How Often Do You Touch Up Ombre Brows?
You can touch-up Ombre Brows as often as every 6 months, but it isn't typically necessary.
Some people like to keep them extremely bold.
If you prefer a softer look, you can touch them up whenever you think it's necessary.
Do Ombre Brows Damage Natural Brow Hair?
No, the Ombre Brow technique causes no damage to future hair growth or existing hairs.
Does Daela Offer Ombre Brow Training?
Yes! DAELA Academy offers online and in-person Ombre Brow training.
Immerse yourself in our state-of-the-art facility and learn from our master artists.
Become a cosmetic tattoo artist in an industry that allows you to express your artistic talent while achieving high satisfaction with a healthy work-life balance.
Learn More About Ombre Powder Brows