DAELA Cosmetic Tattoo is coming to The Uncommons in Las Vegas!
Experience the epitome of luxury and personalized care at our full-service cosmetic tattoo studio in the fabulous Uncommons. Our studio will feature private rooms and meticulously trained master artists. Immerse yourself in our warm and welcoming environment where customer service is priority. Embrace the freedom of effortlessly starting your day with subtle lip blush, flawless brows, captivating eyeliner, and an array of other transformative enhancements. Discover the true freedom of waking up feeling confident and radiant.
Cosmetic Tattoo At It's Finest
Las Vegas area customers can feel confident knowing they'll receive the finest quality permanent makeup imaginable, all while experiencing exceptional customer service and utmost care for their safety and well-being.
At DAELA, we believe in the power of artistry and the importance of attention to detail. You can expect nothing less than outstanding results. Our artists bring their unique talents and expertise to create stunning permanent makeup that enhances your natural beauty.
But it's not just about the artistry – we value our customers' satisfaction above all else. Our friendly and knowledgeable team is committed to providing a warm and welcoming environment, making your experience with us truly enjoyable. We listen to your desires and work closely with you to achieve the look you've always dreamed of.
Safety is our top priority. We go above and beyond to ensure stringent safety and health precautions are followed at every step. From the use of high-quality materials to maintaining hygienic practices, we leave no stone unturned in guaranteeing your well-being throughout the process.
Daela has:
Served over 16,000 customers. 
Received more than 1000 5-Star reviews on Google & YELP 
You are in good hands.
Microblading & Nanoblading
Microblading, a semi-permanent tattoo technique, artfully recreates natural hair strokes with realistic pigments. It's the perfect solution for reshaping, defining, and filling gaps in eyebrows. Whether you have naturally full brows and desire shape and definition, or you need help covering scars, hair loss, or restoring your brows completely, microblading is the ideal cosmetic service for you.
Transform your lips with the exquisite Velvet Lip Blush tattoo, enhancing both their color and shape. Experience the illusion of fullness as our skilled artists add a touch of vibrant color. This process offers a youthful look with minimal discomfort, quick healing, and no downtime. Whether you desire a subtle reshaping, added volume, or a natural hue, our artists are here to fulfill your velvet lip dreams. Get ready to flaunt your perfect pout!
Our areola restoration is a 3D tattoo procedure that replicates the areola and nipple, benefiting those who have undergone mastectomy, breast reconstructive surgery, or augmentation. We are proud to support the Trans Community for top surgery reconstructions and feminization surgeries, helping individuals regain a natural appearance and boost their confidence.
Nanoblading hair strokes eyebrows offer a semi-permanent makeup solution, utilizing a specialized tattoo machine with an ultra-fine needle to deposit pigment into the dermis layer of the skin. This technique meticulously creates lifelike, individual hair-like strokes, mimicking the appearance of natural eyebrow hairs. Ideal for enhancing your existing brows or filling in gaps, nanoblading is particularly suitable for those with sensitive skin, as the hypoallergenic pigments ensure irritation-free results. Achieving optimal outcomes with nanoblading hair strokes requires the expertise and proficiency of an experienced artist who can deliver precise, refined results.
Immerse yourself in the trend of faux freckles, delightful tiny tattoos that beautifully mimic natural freckles or beauty marks. This playful service grants you a perpetually sun-kissed, summer-y glow, regardless of the season. Enhance your existing freckles or embrace freckles you've always desired, all for a fresh, makeup-free appearance that exudes natural charm.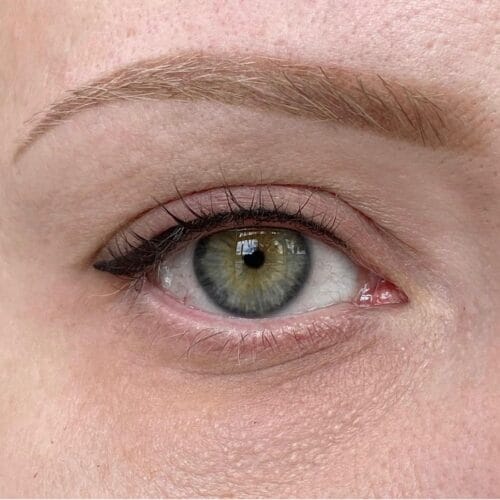 Eyeliner tattoo offers a lasting solution for beautifully defined eyes. This cosmetic tattooing technique involves depositing pigment along the lash line, creating the illusion of perfectly applied eyeliner. Say goodbye to smudging or uneven lines, as eyeliner tattoo provides a flawless and long-lasting result. Whether you prefer a subtle enhancement or a more dramatic look, our skilled artists can customize the thickness, shape, and style to suit your preferences. Wake up every morning with stunning, ready-to-go eyes and enjoy the convenience and confidence that eyeliner tattoo brings.
Scar camouflage is a transformative technique that aims to conceal the appearance of scars, restoring confidence and enhancing the natural beauty of your skin. Through the skillful application of specialized pigments, our expert artists meticulously blend the colors to match your skin tone, effectively minimizing the visibility of scars. Whether caused by injury, surgery, or other factors, scar camouflage offers a personalized solution that helps diminish the prominence of scars and create a more even complexion.
Achieve the ideal shaded brow with our exceptional ombre powder brows service. Through a meticulous process, we reshape your brows and utilize a specialized machine to create a soft, powdered effect or a fuller appearance, based on your preference. This technique involves the application of pixelated dots in the brow, resembling the gentle application of makeup rather than individual hair strokes. The result is a captivating shadow brow look that is minimally invasive and suitable for all skin types, effortlessly covering any previous work.