Brow Lamination Guide: What It Is, How It Works & The Benefits
Enhance the look of your natural eyebrows with brow lamination. Here's everything you need to know about getting your eyebrows laminated.
Achieve a fuller, more defined look
Laminated brows are a fantastic option if you want thicker, darker brows with great shape and definition. Simply enhance the brow hairs you already have!
Eyebrow lamination is a relaxer for your brows. You will have manicured, fuller brows by tinting and taming those unruly brow hairs. You will also spend less time in front of the mirror messing with your eyebrows.
Brow lamination is a non-invasive beauty treatment that uses a chemical relaxer to soften and straighten your brow hairs. This perm procedure redirects unruly eyebrow hairs upward to create a fuller, more defined look.
This easy, painless service often includes brow tinting to give the existing hair a bolder, enhanced look. The process is suitable for all brow types and can last up to eight weeks.
What Are the Benefits of Brow Lamination?
Are you tired of struggling with unruly or sparse brows? Eyebrow lamination might be the solution for you.
This popular beauty treatment creates a fuller and more defined look. The top brow lamination benefits include:
Non-invasive and pain-free
Creates a bold, thick, fluffier look
Can be done on microbladed brows
Who Is a Good Candidate for Brow Lamination?
Eyebrow lamination is a safe, non-invasive treatment. However, not everyone is a good candidate.
We do not recommend eyebrow lamination if you:
Have downward-growth brows
Have very thin or short eyebrow hairs
Are pregnant or breastfeeding
If you don't fit in one of those three categories, you are a good candidate for brow lamination!
How Is Brow Lamination Done?
The brow lamination process is simple and non-invasive.
The artist achieves those perfect, defined brows in seven simple steps:
Cleanse and prepare your brows.
Apply a brow-safe perm solution to straighten your brow hairs temporarily.
Brush your brow hairs upward in a uniform vertical direction.
Apply a setting lotion to fix the hairs in place.
Tint your brows to enhance their color and shape.
Tweeze or wax stray eyebrow hairs.
Nourish the brows with oil to complete the treatment.
The entire brow lamination process takes an hour or less to complete.
How to Prepare for a Brow Lamination Appointment?
There is no special preparation for a brow lamination appointment.
To ensure the best results, arrive with your brows free of makeup and adhesives.
How Long Does Brow Lamination Take?
A brow lamination appointment takes 45-60 minutes. The duration may vary if your brows are tinted, tweezed, or waxed.
How Long Does Brow Lamination Last?
Generally, expect your brow lamination results to last 6-8 weeks.
The results will vary based on your natural brow hairs and how well you care for them.
You can also repeat the brow lamination process safely every ten weeks.
Brow Lamination Aftercare: How to Care for Brow Lamination
The brow lamination healing process is easy with no downtime.
Here are a few simple aftercare steps to ensure the best results:
Wait 24 hours before gently washing your brows.
Avoid excessive touching and rubbing for 24 hours.
Avoid makeup for 24 hours. The goal is not to apply makeup to the brow area.
Avoid direct sunlight, tanning beds, saunas, swimming pools, and steam rooms for 48 hours.
Avoid harsh solutions on your brows.
Keep your brows clean, natural, and makeup-free to extend the results.
Brow Lamination Before and After
Compare the eyebrow lamination before and after photos.
See the dramatic transformation and natural-looking results you can achieve with this popular beauty treatment.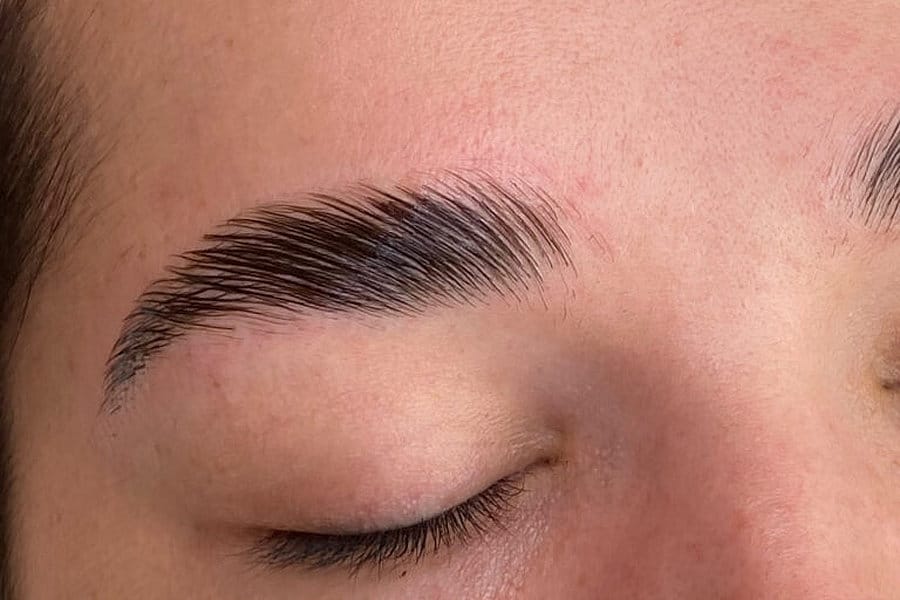 Brow Lamination vs Microblading: What's the Difference?
Both eyebrow lamination and microblading are popular cosmetic treatments to enhance your brows. However, they're quite different.
Here are the top five differences between brow lamination and microblading:
Brow lamination is a temporary treatment, while microblading is a semi-permanent cosmetic tattoo procedure with long-term results.
Brow lamination straightens and shapes existing brow hair, while microblading creates new hair-like strokes.
Brow lamination is non-invasive, while microblading requires a handheld tool using fine needles and pigments.
Brow lamination produces a fuller, defined look, while microblading creates a natural, textured look.
Brow lamination is less painful and requires less aftercare than microblading.
How Much Does Brow Lamination Cost?
Eyebrow lamination costs between $135-$150.
Where to Get Brow Lamination Done?
Enhance your natural eyebrows with our trusted brow lamination services.
You can rely on our team of skilled artists to help you achieve your desired look!
Check out our locations to find the nearest DAELA Cosmetic Tattoo Studio and reserve your appointment.
Why Choose DAELA Cosmetic Tattoo?
DAELA Cosmetic Tattoo is a full-service cosmetic tattoo studio. We have created a warm atmosphere where people feel comfortable and welcome.
Our studios are beautifully maintained and immaculately cleaned. We also provide private rooms.
DAELA Cosmetic Tattoo's specialized artists and trusted services also offer several benefits, including:
Outstanding customer service: You will be well cared for before, during, and after your procedure.
Full-service studio: You can have all your cosmetic tattoos done by trusted artists.
Training: All of our artists are master artists or trained by master artists.
Natural products: We use natural products with pigments chosen for endurance and lack of color change.
Financing: We accept all major credit cards. We also offer financing through a third-party provider and an easy in-house prepayment plan free of interest or other fees.
Find answers to common questions about our eyebrow lamination services.
Is Brow Lamination Worth It?
Brow lamination is totally worth it! You'll have great-looking, manicured brows. Plus, you'll eliminate the hassle of taming those unruly brows every morning.
Brow lamination is safe. However, only repeat the process every ten weeks.
Does Brow Lamination Hurt?
Brow lamination is 100% pain-free. In fact, it's relaxing.
Is Brow Lamination Permanent?
Brow lamination is not permanent. The treatment temporarily relaxes the brow hairs. The results last 6-8 weeks.
Does Brow Lamination Look Natural?
Brow lamination offers a natural, full, fluffy brow look.
Does Brow Lamination Ruin Your Brows?
Brow lamination does not ruin your eyebrows. However, we do not recommend the treatment if you have damaged, thin, or short eyebrow hair.
How Long Does Brow Lamination Take to Heal?
There is no healing time. Brow lamination is an entirely non-invasive esthetic service.
What Are the Potential Brow Lamination Side Effects?
Those with extremely sensitive skin may have a reaction to the solutions used. If you have sensitive skin, consult with your brow lamination esthetician before your service.
How Long After Brow Lamination Can I Shower?
It's best to wait 24 hours before gently washing your brows. Also, avoid contact with direct sunlight, tanning beds, saunas, steam rooms, and swimming pools for 48 hours.
How Often Can You Get Brow Lamination Done?
You can have your brows laminated safely every ten weeks.
Does DAELA Offer Brow Lamination Training?
Yes! Become a professional brow lamination artist through DAELA Academy.
DAELA Cosmetic Tattoo offers an online Brow Lamination Training Course. Please visit our DAELA Academy page to learn more about our in-person and online training courses.