Eyeliner Tattoo Guide: What It Is, How It Works & The Benefits
Get the perfect liner look with permanent eyeliner. Here's everything you need to know about enhancing your eyes with a cosmetic eyeliner tattoo.
Eyeliner frames your eyes
It makes them look brighter, more defined and alert. Yet, applying eyeliner is probably the hardest task of all cosmetics.
It requires good eyesight, a steady hand, and a lot of time and patience. Eyeliner tattooing achieves this look perfectly, enhancing your natural beauty. The following is a complete guide to tattoo eyeliner.
What Is an Eyeliner Tattoo?
An eyeliner tattoo is a cosmetic tattooing procedure. It creates a defined line along the lash line, typically using natural pigment to enhance the appearance of the eyes.
Tattooed eyeliner is meticulously applied using a small tattoo machine with very tiny needles.
The process is safe, minimally invasive, and offers outstanding, perfect results. Tattooed eyeliner is also customizable, offering four distinct styles.
3 Benefits of Eyeliner Tattoos
Achieve perfectly defined eyes without the hassle of applying eyeliner every day. Eyeliner tattoos, or permanent eyeliner, offer a long-lasting solution with natural-looking results.
The benefits of tattooed eyeliner include:
Enhancing your beauty and saving time on your daily makeup routine.
You will wake up every morning, get out of the pool, work out at the gym, and go to bed every night with amazing eyeliner.
It's sheer perfection 24/7 with very long-lasting results.
What Are the Different Eyeliner Tattoo Styles?
Are you tired of the same old eyeliner look? Eyeliner tattoo styles offer a range of options to suit any taste, from subtle enhancements to bold and dramatic statements.
Lash enhancement – Lash line enhancement is an ultra-realistic, subtle tattoo placed only in the lash line for a darker edge to your lashes.
Classic eyeliner tattoo – Classic liner is a lash line enhancement. We continue the drama up the eyelid to create more of a 'makeup' look. Its solid and defined nature makes it a great choice for those who wear eyeliner every day.
Winged eyeliner tattoo – Winged eyeliner extends past the lash line with a tiny flick outward to create a wing, enhancing eye shape and size.
Dusty eyeliner tattoo – The ultimate in flexibility and result, dusty shadow gives the look of eyeliner with a soft application of powder, you can even add a wing.
Who Is a Candidate for Eyeliner Tattooing?
Everyone is a candidate, but there are some reasons a person may not be able to choose from all styles of eyeliner tattooing.
The great news is that almost everyone can do lash line enhancement. The styles that go further onto the eyelid are more difficult to do on those with very thin or vascular skin.
The best way to determine your candidacy is to engage in conversation with a reputable studio. They will let you know what you can do safely with the desired end result.
How Is Eyeliner Tattooing Done?
For classic liner and winged liner, the artist will pre-draw, giving the opportunity to approve, putting nerves at bay.
The actual tattooing process includes topical numbing to reduce or eliminate pain. Your artist will use a small, quiet, lightweight tattoo tool with very small needles.
A first quick pass is made, and another application of numbing serum is applied. Working relatively quickly, the artist applies the tattoo, repeating numbing and checking symmetry often. 
How Long Does Tattooed Eyeliner Last?
Eyeliner tattoos have permanence. However, as time passes, your tattoo will fade, and the need for maintenance will become necessary.
Most people opt to have their eyeliner refreshed every 2-3 years to keep lines sharp and bold in color.
You can also build on permanent eyeliner as soon as the first tattoo is completely healed. If you start with lash line enhancement, you can add classic liner or dusty shadow later.
How to Prepare for an Eyeliner Tattoo Appointment
Proper preparation is key to achieving the best results from your tattoo eyeliner appointment.
Preparing for eyeliner tattooing is essential because it can help prevent complications or issues during the procedure.
Proper preparation also ensures your skin is in optimal condition, which leads to a longer-lasting outcome.
Prepare for your eyeliner treatment with these simple steps:
Lash extensions must be removed at least 2 days prior to the appointment.
No lash enhancement serums for 30 days prior.
No retinol, acids, anti-aging, or acne products on the upper lid 30 days prior.
No caffeine, alcohol, or blood thinners 24 hours prior.
Do not wear makeup to the appointment.
Bring a receptacle for your contact lenses.
If you have a stye or any other sort of eye infection, you will need to reschedule your appointment.
How Long Does an Eyeliner Tattoo Take?
The entire eyeliner tattoo process, including consultation, can take between 2-3 hours.
Tattoo Eyeliner Aftercare: How to Care for Permanent Eyeliner?
The eyeliner tattoo healing process has several stages. Here are a few simple aftercare steps:
Short-term aftercare:
For the first 24-72 hours, you can expect a small amount of swelling and redness. You can relieve this with an ice gel pack and some ibuprofen or Benadryl.
For 14 days:
Do not pick any small scabs or flakes, let them heal naturally
Follow simple cleaning instructions utilizing very gentle, unscented soap
Avoid makeup near the area
Avoid swimming pools, hot tubs, saunas, and tanning beds
Massages, facials, skin treatments
Threading, waxing, or hair removal products
For 30 Days:
Laser light therapy
Exfoliants, retinol, glycolic acids, and alpha hydroxy acids
Anti-acne products
Lightening creams (benzoyl peroxide, salicylic acid, proactive, etc.)
Bleaches, tints, or dyes
Long-term aftercare:
For the long term, always protect your tattoos from sun exposure or exposure to tanning beds. Wear an SPF 50 or higher on your lids whenever exposure will occur.
Avoid using heavy creams or chemical exfoliants. These may cause fading.
Do not laser near your eye. Some lasers may cause a change in the ink color.
The Pros and Cons of Tattoo Eyeliner
If you are sick of eyeliner mishaps putting a cramp in your style and schedule, permanent eyeliner might just be what you need.
So what are the pros and cons of eyeliner tattooing?
The cons are perception issues that are easily overcome by a conversation with a good eyeliner tattoo artist.
Like any tattoo, a tattoo done poorly lasts a long time. As long as you've done your homework, the cons are easily eliminated.
The Pros of Tattoo Eyeliner
Eliminate the hassle of applying eyeliner
Eyeliner tattoos save time every day
Get the appearance of a fuller lash line.
Tattooed eyeliner does not smear or run due to allergies, sweating, swimming, and tear-jerking movies.
Eyeliner tattoos offer a subtle to striking look.
Tattooed eyeliner will last for years.
The Cons of Tattoo Eyeliner
Fear factor: It's a bit nerve-wracking to have a tattoo done near your eyes, but it is actually a very common and safe procedure.
Pain: Many people are afraid it will be painful. The pain is lessened dramatically using topical numbing and the pain experienced is temporary and easily manageable.
Permanent: What if you don't like it? You can start small with lash line enhancement if you are cautious, you can always build on it.
Eyeliner Tattoo Before and After
Compare the tattoo eyeliner before and after photos.
See the dramatic transformation and natural-looking results you can achieve with this treatment.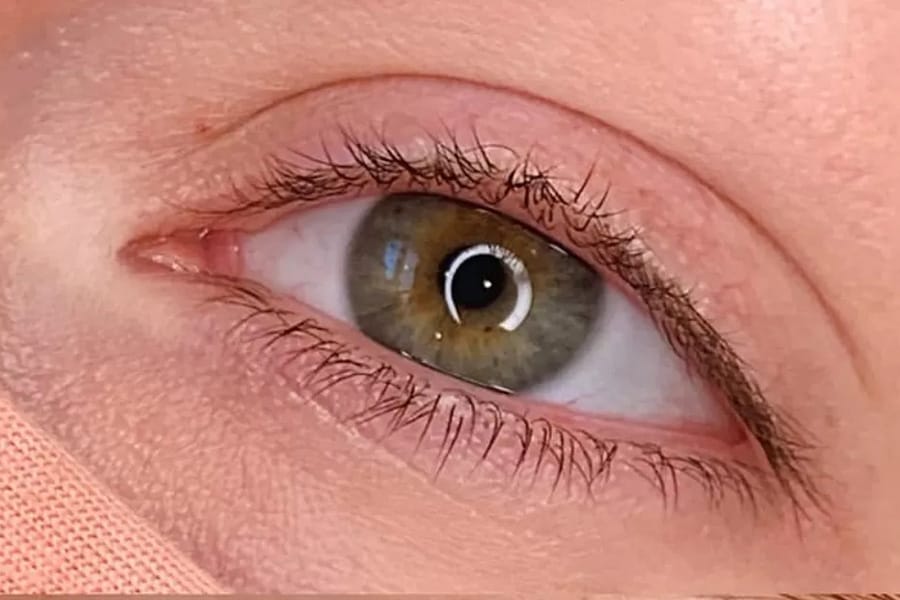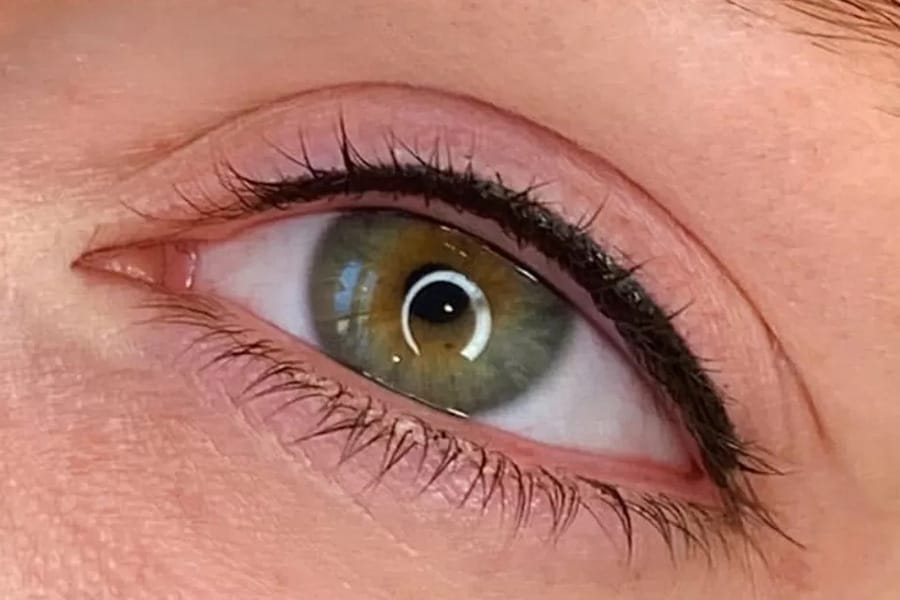 How Much Does Tattoo Eyeliner Cost?
On average, you can expect to pay between $600 to $1000 for eyeliner tattoos.
Where to Get Eyeliner Tattoo Done?
Get the perfect liner look with our trusted tattoo eyeliner services.
With multiple Daela Cosmetic Tattoo studios to choose from, you can trust our team of skilled artists to help you achieve your desired look!
Check out our locations to see the nearest Daela Cosmetic Tattoo Studio and reserve your appointment.
Why Choose Daela Cosmetic Tattoo?
DAELA Cosmetic Tattoo's trusted artists and services offer several benefits to our clients:
Outstanding customer service: You will be well cared for before, during, and after your procedure.
Full-service studio: You can have all your cosmetic tattoos done by trusted artists.
Training: All of our artists are master artists or trained by master artists.
Natural products: We use natural products with pigments chosen for endurance and lack of color change.
Financing: We accept all major credit cards. We offer financing through a third-party provider and an easy in-house prepayment plan free of interest or other fees.
Find answers to common questions about our eyeliner tattooing services.
Is Tattoo Eyeliner Worth It?
Eyeliner tattoo is completely worth it! The process is minimally invasive and painful and allows for years of relief from applying eyeliner.
If you spend 10 minutes a day applying eyeliner, you'll save 180+ hours in 3 years, that's 22 days of freedom.
Eyeliner tattoo is safe when applied by a reputable artist.
Does Tattoo Eyeliner Hurt?
Eyeliner tattoo, like any tattoo, is not completely free of pain. But eyeliner tattoo artists use topical numbing to dramatically reduce any pain, leaving it around a 2-3 on the pain scale.
The best thing about any cosmetic tattoo is that as soon as the procedure is done, the remaining pain is reduced to only a slight discomfort that lasts only a couple hours.
Is Tattoo Eyeliner Permanent?
Eyeliner tattoos will look their boldest for 2-3 years, then fading can occur.
You can refresh your eyeliner tattoo every 2-3 years. You can also build on lash line enhancement with classic liner, winged liner, or dusty shadow liner as soon as the lash line enhancement is fully healed.
Does an Eyeliner Tattoo Look Natural?
Eyeliner tattoos can range from completely natural with a lash line enhancement to very dramatic with winged eyeliner.
Lash line enhancement looks completely natural, making your lashes pop without looking like you've applied any makeup.  The other styles just look like you are a pro at applying eyeliner.
How Long Does It Take for an Eyeliner Tattoo to Heal?
Eyeliner tattoo heals completely within 6 weeks. Dusty Shadow Liner will heal completely within 8-12 weeks.
What Are the Potential Eyeliner Tattoo Side Effects?
Side effects from eyeliner tattoo happen when the tattoo is applied by someone who does not understand eye anatomy.
It is critical that the eyeliner tattoo is not applied near the tear ducts or with too much pressure. Like anything, 'who' you choose to do the work is the single most important choice you will make.
You should never make your choice based on price, your choice should always be made based on who and where.
How Long After an Eyeliner Tattoo Can I Wear Makeup?
We suggest you wait about 14 days until you apply eye makeup, and you should wait 30 days before you use lash serums.
How to Remove Eyeliner Tattoo?
You can have eyeliner tattoo removed with laser technology. Much of the safeness of removal will depend on the laser's energy and the skill of the technician.
Does Daela Offer Eyeliner Tattoo Training?
DAELA Academy offers online and in-person eyeliner training. 
Our Master Artist, Angela, is a perfectionist in everything she does. She understands human eye anatomy, contraindications, technique, bedside manner, professionalism, and follow-through.
There is possibly no better training for eyeliner tattoos. If you are interested in learning eyeliner tattooing, Angela starts by teaching lash line enhancement and the foundations of tattoo eyeliner.
After you have taken 20 lash line enhancement clients and can prove your skill,  you will have the chance for Angela to teach you classic liner, winged liner, and dusty shadow liner.
Learn More About Eyeliner Tattooing