You've likely heard someone on Instagram talking about how they just got their eyebrows microbladed or seen someone who always has the same subtle shade of lipstick on even after eating or drinking, or perfect eyeliner all the time. It may have left you wondering: is that permanent makeup? And if so, what is permanent makeup?
WHAT IS PERMANENT MAKEUP?
Permanent makeup is cosmetic tattooing that can replace or enhance regular makeup. Highly trained artists use many of the same tools that tattoo artists use, as well as hand tools, to achieve very fine lines and smooth, soft shading. Depending on the type of service done and proper day-to-day care, permanent makeup can last anywhere from two to three years.
Permanent Vs Semi-Permanent Vs. Cosmetic Tattoo: Permanent Makeup is Semi-Permanentish. While this procedure has been widely called permanent, the results are technically semi-permanent because of the depth at which the pigment is placed and using diluted pigments in areas with rapidly regenerating facial tissue. This has always been a tricky conversation. If someone is told a procedure is semi-permanent, then they are upset if the results last longer than they consider semi-permanent should. If it is called permanent, they feel upset when the results fade. The reality is that everyone experiences different longevity for their permanent makeup. This is exactly why we like to call it cosmetic tattoo, because that is what it is, and the lifespan of the cosmetic tattoo can range dramatically from person to person and can be directly impacted by lifestyle.
WHY CHOOSE PERMANENT MAKEUP?
While many people may enjoy applying makeup each morning, others are simply busy and don't want to spend the time and money each day putting on makeup. Others who are especially active or often participate in outdoor activities don't want to think about refreshing their makeup or worry about it sweating off. Some people suffer from trichotillomania or hair loss due to cancer treatments, medications, and aging. These people may also seek out permanent makeup to achieve a realistic result.
You may be thinking, "What is permanent makeup good for beyond lifestyle choices?" For those who have allergies or sensitive skin and don't respond well to products, permanent makeup can be a great option. Others with vision or dexterity problems who can't apply makeup themselves find that permanent makeup makes wearing makeup every day possible.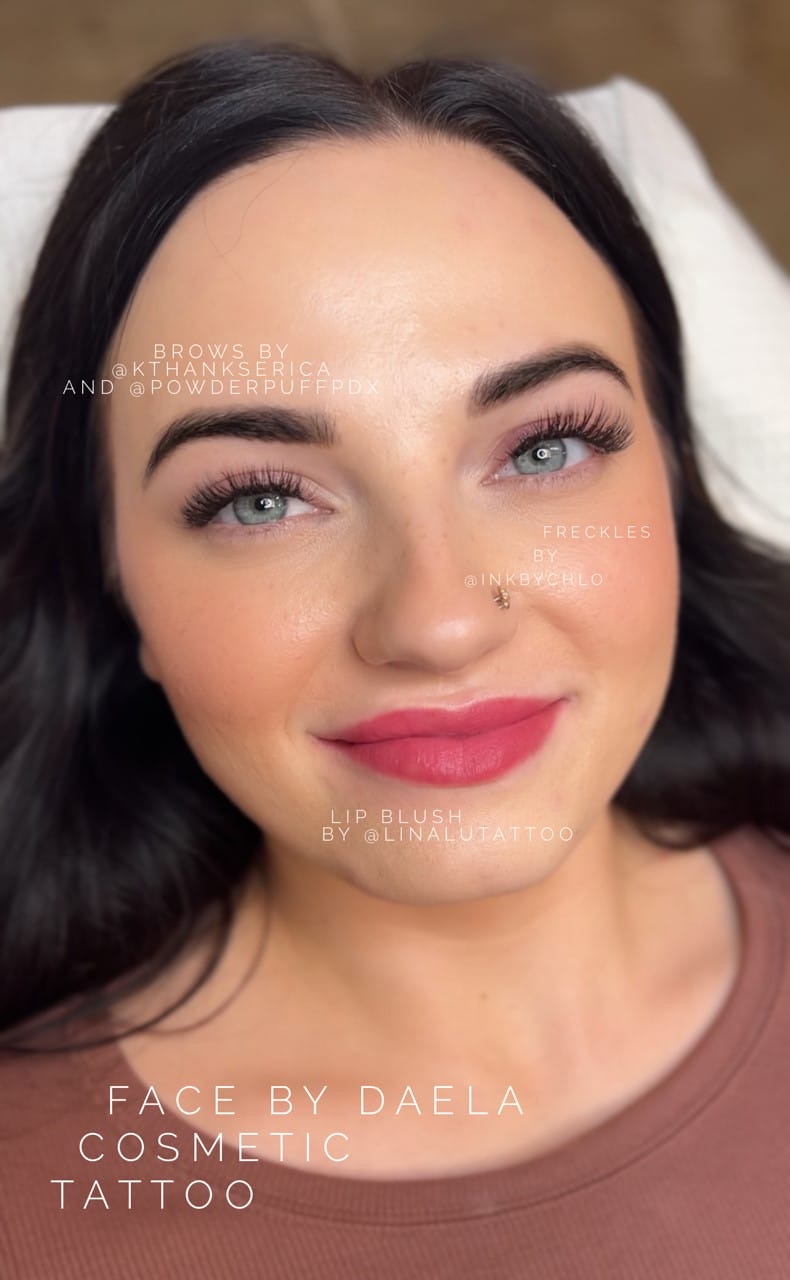 5 TYPES OF PERMANENT MAKEUP
1. Cosmetic Brow Tattoos
Cosmetic brow tattoos enhance shape, fullness and your entire face.
There are 4 Primary Styles of Brow Tattoos
There are 4 primary styles of brow tattoos that are all relevant choices, all current, all beautiful. The decision of which to choose can be determined by the simple choice of which appeals to you most, or in other cases, when your master artist suggest a style or styles that are most suitable to your skin type. What should be most important to the artist (and you) is that you end up with the very best result you can have. This is one very strong reason to go to a studio that has master artists who specialize in each style, this ensures you will be partnered with the best artist for you.
Microblading.
Also referred to as nanoblading or eyebrow embroidery, microblading is a semi-permanent solution for anyone who wants to gain fullness, improve shape, and is a great way to cover up scars, gaps, or hair loss with a realistic technique. Modern microblading techniques replicate individual hair strokes and hair color for a natural look. The effects of microblading last 2-5 years.
Ombre Powder Brows.
This technique utilizes a machine tool that effectively shades the brow area, replication a soft, powdered makeup look.  Ombre Powder Brows are also effective at creating a fuller, shapelier look and are great for those with thinner or oily skin. The effects of Ombre Powder Brows last 2-3 years and can be refreshed. Ombre Powder Brows are also an effective solution to cover previous microblading work (when skin changes may not allow for microblading again).
Machine Nano Brows.
Machine Nano Brows create a strikingly similar look to microblading or nanoblading using a small machine tool instead of a handheld tool. While the naked eye may not see a difference, this technique opens doors for those with thin, oily or sensitive skin. Why? because the fin, machine needles do not go as deep into the skin as the handheld tool. The effects may fade a bit more over time than microblading or nanoblading, but they can be refreshed. Machine Nano Brows will last 2-3 years and also involve a shading counterpart that allows machine nano brows to cover previous work.
Combo Brows
Combo Brows refer to all of the above brow styles, they just involve shading and hairstrokes to achieve a combo effect.
2. Cosmetic Eyeliner Tattoos
There are 4 styles of eyeliner tattoo.
All 4 styles of eyeliner tattoo are beautiful, relevant choices. The decision is almost entirely up to you, but again, your skilled master artist will suggest the eyeliner tattoo style that is best suited to your eye shape.
Lash Line Enhancement Tattoo
Lash line enhancement is an ultra-realistic and subtle tattoo placed only in the lash line for a darker edge to lashes. It does not sit on the eyelid making it the most realistic and soft form of liner tattoos. You can build on Lash Line Enhancement, adding classic, winged or dusty at your touchup.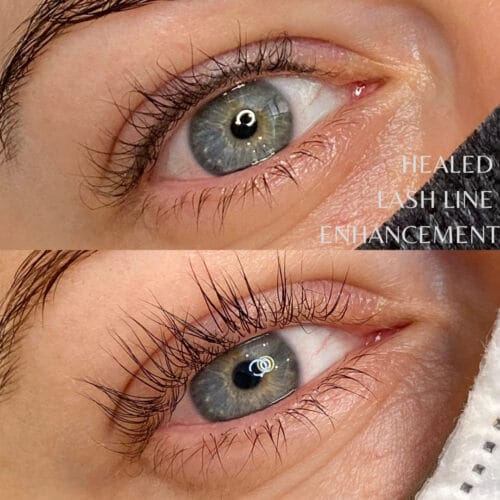 Classic eyeliner is the next step up after lash line enhancement by adding color topically to the filled eyelid. It can be thin or thick in size based on preference.
Winged liner can emphasize eye shape and help you to achieve that made up look daily without any hassle. This liner extends past the lash line with a tiny flick outward to create a "wing". This look can be extremely attractive, especially for those hoping to enhance eye shape and size.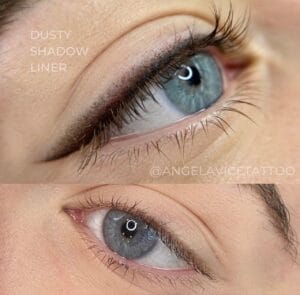 Dusty Shadow Eyeliner Tattoo
This Eyeliner and Shadow combo can replace the need to apply eyeliner and shadow on a daily basis. This dusty shadow look is meant to replicate your daily makeup without use of any products! By applying a liner and then dusting it into the lid, you are given that everyday soft shadow look you always want to achieve, make it a cat eye look by adding a wing or keep it simple with a more lightly applied shadow. This technique is entirely buildable and includes a touchup so that you can add more if desired.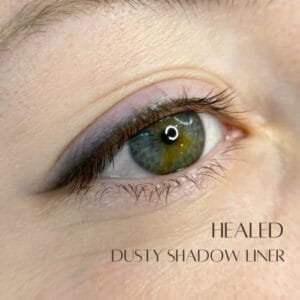 3. Cosmetic Lip Tattoos
Lip Tattoos, AKA Velvet Lip Blush, Lip Blush Tattoo and Lip Blushing, enhance natural lip color and shape by adding a subtle layer of color. This smooth and even layer creates a healthy glow of color and a velvety appearance that also gives the illusion of greater volume and fullness. Lip blush tattoo is completely customizable in color and saturation. You can come in with your favorite lipstick and it can be matched by a master artist who understands color. You can also take the advice of your artist, who may see a color choice that would better enhance your look! You can also choose from a sheer look to a denser, more lipstick like look. Regardless, the result is naturally stunning. Lips blush tattoo lasts for 2-3 years and can be refreshed as often as every 6 months…and you can make color changes.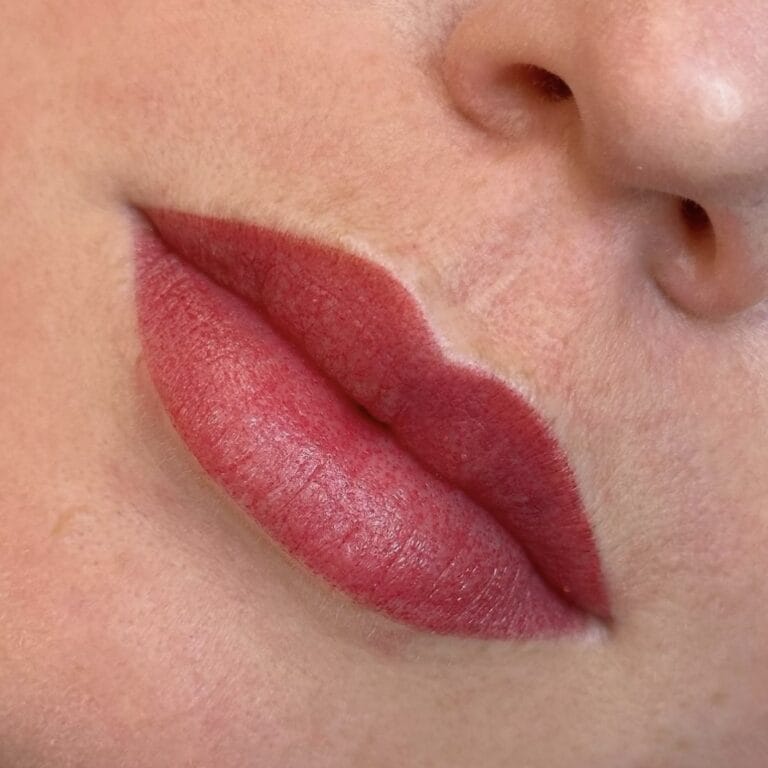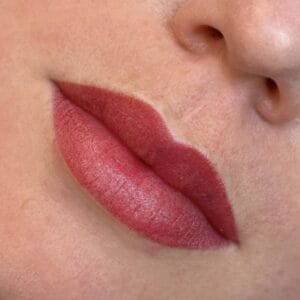 4. Freckles and Beauty Marks
Freckles and Beauty Marks are fun and the most temporary of the cosmetic tattoos. These little cuties will fade at about 1 year, at which point you can refresh. Freckles are fun and flirty while beauty marks can make a dramatic statement!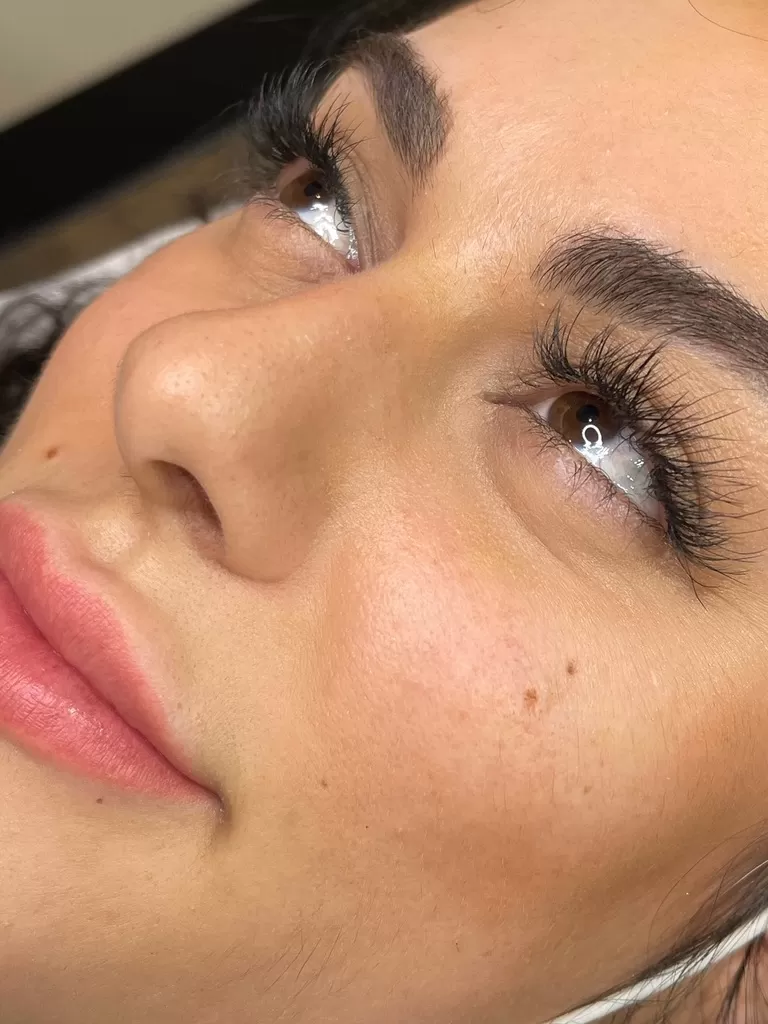 5. Paramedical Tattooing
Permanent makeup also touches the world of paramedical tattoo. Paramedical tattoo helps those effected by various medical conditions, recovering from cancer treatments, top surgeries, or who have scarring from surgeries or accidents, regain a sense of wholeness again.
There are two types of paramedical Tattoo:
Scar Camouflage Tattoo is another example of permanent makeup that can serve a wide variety of needs. Scars that are flat, white in color, and healed can be tattooed to match the surrounding skin's tone if the surrounding skin is darker than the scar itself.  Many people find that permanent makeup is the best way to cover up surgery scars since it adds both pigment and texture to scar tissue.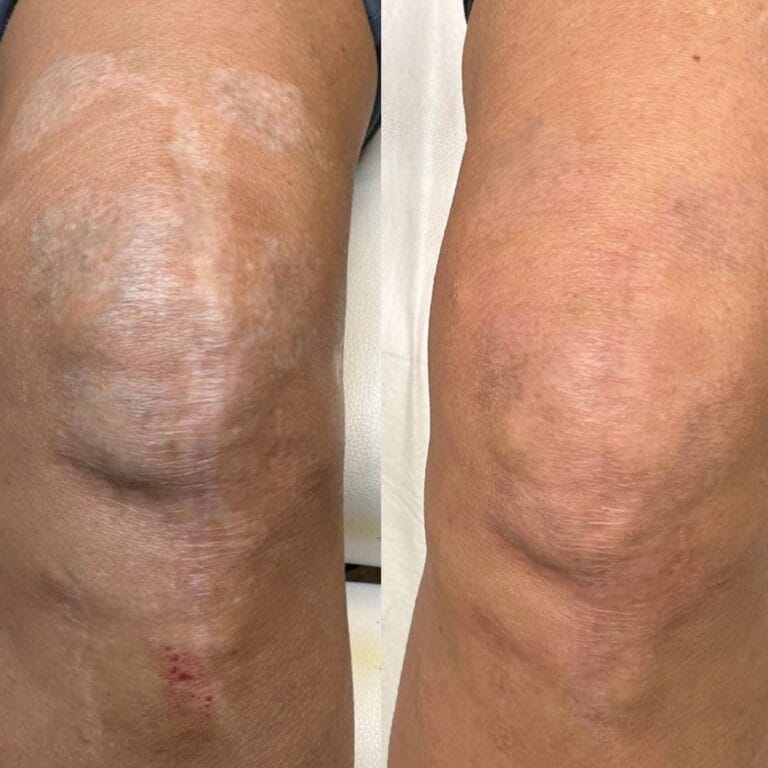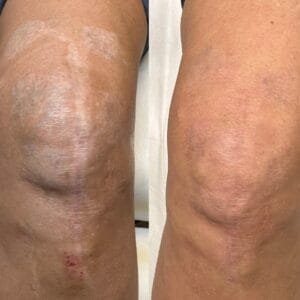 Areola Restoration & 3D Nipple Tattoo
Areola Restoration is a 3D tattoo procedure that replicates the areola and nipple. This technique is ideal for anyone who has experienced total loss, irregularity, or inconsistency after any type of breast reconstruction surgery.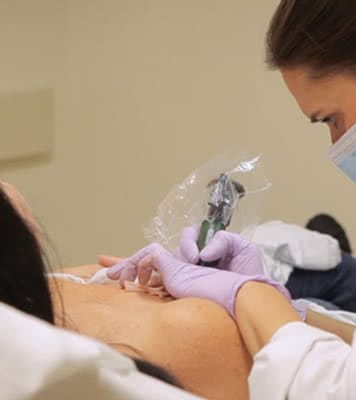 PERMANENT MAKEUP PRICES
At DAELA Cosmetic Tattoo, we have competitive prices that reflect the quality of our work. Our permanent makeup service prices all include touchups, ensuring timeliness of touchup and the fabulousness of the final result. If you are price shopping (which may not be the best thing to do for your face) make sure to check the initial price and touchup price. Oftentimes we are perceived as being more expensive, but in most cases we aren't. What we do is provide the best permanent makeup in the industry while offering outstanding customer service and impeccably clean studios.
At DAELA Cosmetic Tattoo services such as microblading, ombre brow, nano brow, combo brow and lip blushing range from $750-$1050. Eyeliner tattoos range from $750-$950. Areola Restoration Tattoo ranges from $850-$950 and scar camouflage services the largest price range $250-$1750 because scarring can vary based on the size and work needed. All of our prices include a touch-up within 12 weeks of the original date to ensure that you are satisfied and have healed well. We also offer touch ups, which can be needed a year or longer after your original work.
If you are curious to hear more about before & aftercare for permanent makeup or what permanent makeup is available at DAELA Cosmetic Tattoo, please reach out to us! We would love to discuss how we can enhance your look and your life through the magic of permanent makeup.