Enhance your natural beauty.
It's you, looking like you just applied subtle lip blush, eyeliner and just naturally have perfect brows; your own fabulous self, make-up free.
Cosmetic tattoo is a subtle approach to enhancing your look and reducing the amount of time you spend in front of the mirror every day. Cosmetic tattoo is perfect for those who wear no make-up as well as people who don't even let their dog see them without makeup. If you have loss of color on your lips, thinning brows, or don't like applying eyeliner, you will love cosmetic tattoo!
DAELA Cosmetic Tattoo is a full-service studio offering a serene, warm atmosphere and private treatment rooms. Our artists are extensively trained and are dedicated to exceptional results.
Feel the freedom of cosmetic tattoo. It's liberating!
DAELA Cosmetic Tattoo is a small-big studio. Locally owned and operated by sisters, Chloe & Haley. You will be sure to meet one or both when you visit. They are dedicated to their clients, staff and community. Hailing from DAELA Cosmetic Tattoo in Portland Oregon, they have personally earned over 300 5-star reviews on Google & Yelp and they translate that same, excellent customer service to the Scottsdale-Phoenix-Tempe area.
DAELA Cosmetic Tattoo strives to be the highest rated cosmetic tattoo studio, everywhere we go. Watch DAELA Scottsdale as they duplicate the same customer experience and top-notch rating as their sister studios. 
Over 15,000 customers have received cosmetic tattoo at DAELA studios. Become a treasured client at DAELA Scottsdale and be beautiful all DAELA.
Microblading, nanoblading, eyeliner tattoo, velvet lip blush, ombre powder brows and a few freckles and beauty marks? No problem. Laminated brows? Yes. Want to get a matching tiny tattoo…with your mom? Bring it on. We also lovingly serve clients in need of paramedical tattooing from Areola Restoration to Scar Camo. Everyone is welcome and everyone is treated with respect and kindness.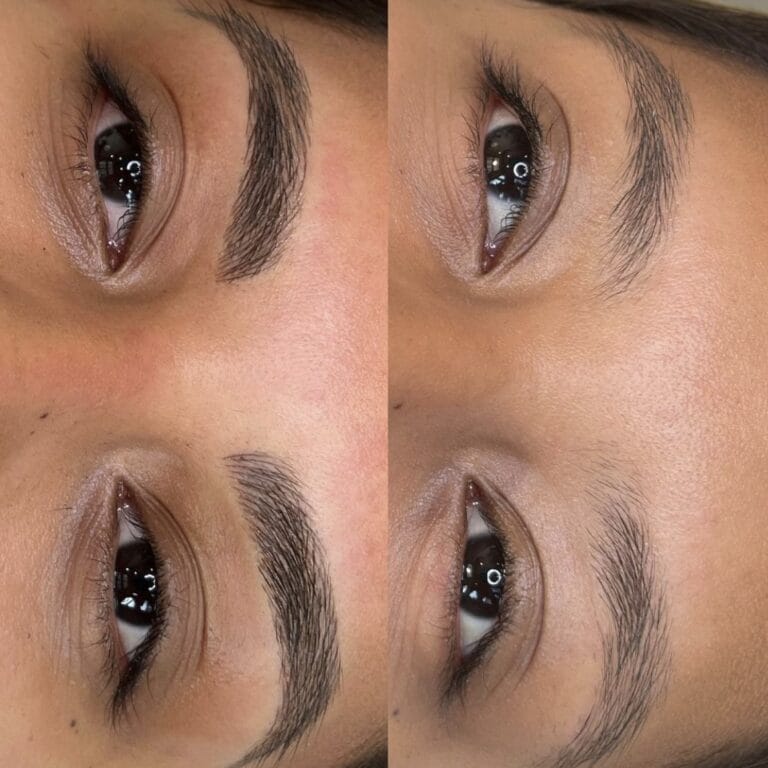 Microblading & Nanoblading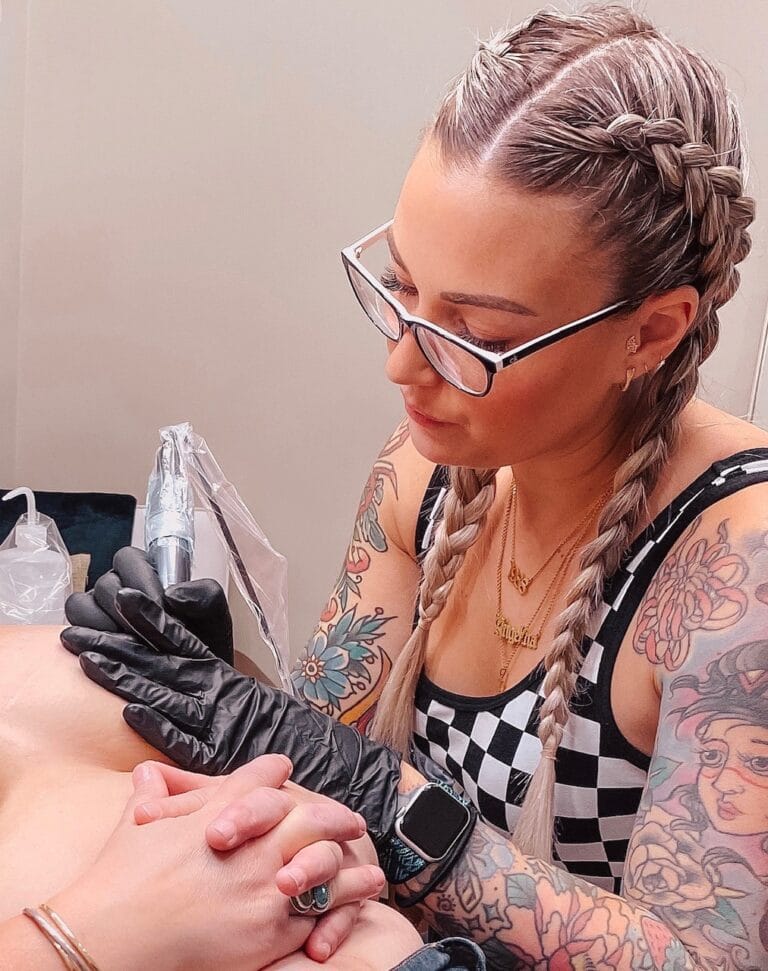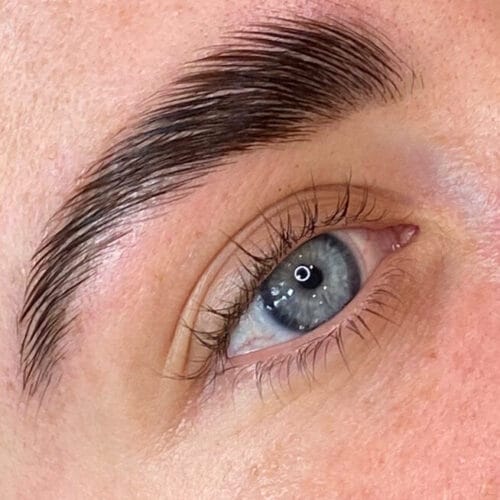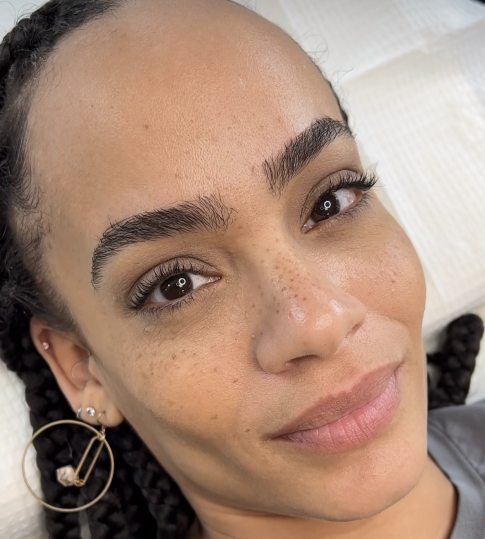 My experiences at Daela have been exceptional. I have now seen three talented artists and truly felt like they were all super passionate and caring individuals. All three ladies explained the process of each service and aftercare thoroughly which I really appreciated. I wouldn't go anywhere else for cosmetic tattooing. From the front desk to the artists, they all had the most kind words to say and I left the studio feeling confident in myself and in their work. That was such an amazing and cherished feeling!!
Maria F.
Lips, Brows, Eyeliner
"I receive constant compliments on my eyebrows by Chloe and my lips by Lina. Believe me, they are worth the wait, but the entire team seem very well trained and professional. I've had a great deal of tattoo work done, and I honestly didn't know it could be such a pleasant experience. Can all tattoo studios aim to be as inclusive, clean, and high quality? Worth every cent. Friendly, clean, professional."
Heather J
Brows & Lip Blush
"I highly recommend Daela Cosmetic Tattoo for cosmetic tattooing. The staff is professional and welcoming, and the studio itself has a clean and relaxed atmosphere. I have had my eyebrows microbladed and they are absolutely amazing! It has minimized the time it takes to do my makeup and I feel much more confident just going without makeup."
Katherine R
Eyebrow Microblading
Visit our studio & meet our master artists.
"We have hand-picked every artist and customer service person on staff. Our outstanding team of artists have traveled and trained extensively to perfect their techniques, proudly offering the best results in the industry. We use top-of-the-line products and tools, and we proudly create highly realistic and natural results for our clients. We are focused on our reputation and client satisfaction, and we are so excited to serve the Scottsdale-Phoenix area! "
Haley & Chloe | Co-Owners and sisters 
Learn cosmetic tattoo at DAELA Academy
Daela Training Academy, nestled in the heart of downtown Vancouver, Washington, is home to our master artist trainers. You can learn or perfect the art of eyebrow microblading, velvet lip blush tattoo, eyeliner tattoo, teeth whitening and tooth gems as well as scar camo and areola restoration all in our state-of-the-art training studio.
Give us a call at 602-809-9405 and we will get you booked. If it's too late to call, click on the button below, drop us an email or navigate your way through our wonky online booking system. If you call and get our answering machine, leave a message, we will call you back! Our entire staff is trained to answer any and all questions you may have.