Lip Blushing: What It Is, How It Works, Before & After
Enhance the color and shape of your natural lips with lip blushing. Here's everything you need to know about a semi-permanent lip blush tattoo.
enhance your natural lip color and shape
Lip Blush Tattooing is possibly the singular beauty treatment with the most positive immediate effects.
Look younger, brighter, and energized with our tattoo lip blush procedure. The treatment is quick, long-lasting, and requires zero downtime. Take a long lunch, get your lips done, and go back to work, it's as easy as that!
Lip blushing is a cosmetic tattooing procedure that uses colorful, natural pigments to enhance your lips' natural color, shape, and definition.
A lip blush tattoo helps enhance your natural lip color and shape by creating the illusion of fullness. This soft tattoo technique works by adding color to the skin for a healthy flushed look, adding a youthful appearance to the lips.
The lip blush process involves minimal pain, easy healing, and no downtime. Whether you want a slight reshape, more volume, the look of naturally blushed lips, or a lipstick appearance, our artists will make your velvet lip dreams come true.
5 Benefits of a Lip Blush Tattoo
Lip Blush is beneficial for so many reasons. Not only does lip blush help you feel refreshed and youthful, but it also brightens your eye color and can even help teeth to appear lighter.
Here are a few of our favorite benefits that often go unnoticed:
Lip blush adds color to the lips: Create a healthy, flushed look without pesky lipstick!
Lip blush technique builds collagen: When applying lip blush, the microneedling technique helps build collagen and elastin naturally back into the skin while adding color.
Lip blush reshapes and redefines: Reshape and redefine the edges of the lips, making them appear balanced, symmetrical, and larger if desired.
Lip blush is minimally invasive: This tattoo technique is relatively painless and only takes a few days to heal. Enjoy all the benefits of lip color longer term (up to 3 years) and no downtime.
Lip blush minimizes scars, pigment loss, pigmentation issues, darkening of the lips: All can be corrected with lip blush. This fun service helps those in need from dog bites, accidents and even those hoping to complete facial feminization. 
Who Is a Candidate for Lip Blushing?
Most people think lip blushing is for 20-somethings, but this is not the case.
Sure, lip blush is a fun addition to your look if you're hoping to add volume, shape, and color with or without fillers.
However, lip blush is also amazing for those whose lips are fading or thinning due to age.
A good candidate for lip blush may meet one or all of the following criteria:
Clients of all ages who'd like to add color back into their lips, so they appear healthy and full.
Mature clients hoping to reshape and redefine their lips for a youthful look.
Anyone hoping to cover discoloration, scarring, or asymmetry.
Clients with filler who have lost their natural shape and color.
Clients who may wish to have a bold lip color and ditch the makeup!
Clients in the service industry who are far too busy to apply lipstick all day.
Clients with busy schedules who want to wake up and look refreshed daily. 
How Is Lip Blushing Done?
A lip blush tattoo is done with a small, quiet, handheld tattoo machine using a super tiny needle. 
Most artists spend the beginning of the appointment walking you through the step-by-step process. You will complete the consultation ready to take charge of your lip destiny.
An average lip blush tattoo appointment looks like this: 
Check-in: Sign a waiver or consent form, and the artist takes before photos.
Consultation: The artist will answer questions and explain the process.
Color Selection: The artist will work with you to ensure the color selection matches exactly what you'd like while guiding you away from a bad decision. Artists should be honest and not use a color on a client that doesn't suit their skin tone or will age poorly.
Shape Drawing: Your artist will physically draw the shape onto your lips for check before tattooing. This is typically drawn on with a bright and bold color so that no detail is missed. Once the client and artist approve, a white pencil may be placed around the bold pencil to act as a bumper/border.
Numbing: Topical numbing is applied for 20 minutes and then removed.
Petite Outline: This is the world's smallest edge to define the shape. It will heal away entirely. Not to worry, we would never tattoo "lip liner".
Shading: This takes three passes of color. We apply small and delicate lip color for each pass, requiring three passes to build the proper density of color selected. Lip density can range from sheer to lipstick.
Aftercare: When the appointment is complete, you will check out and receive aftercare products and instructions.
Touch-up: You'll want to schedule your touch-up for 6-8 weeks to ensure perfect color and density! Each lip blush tattoo artist should include a touchup for proper long-term results.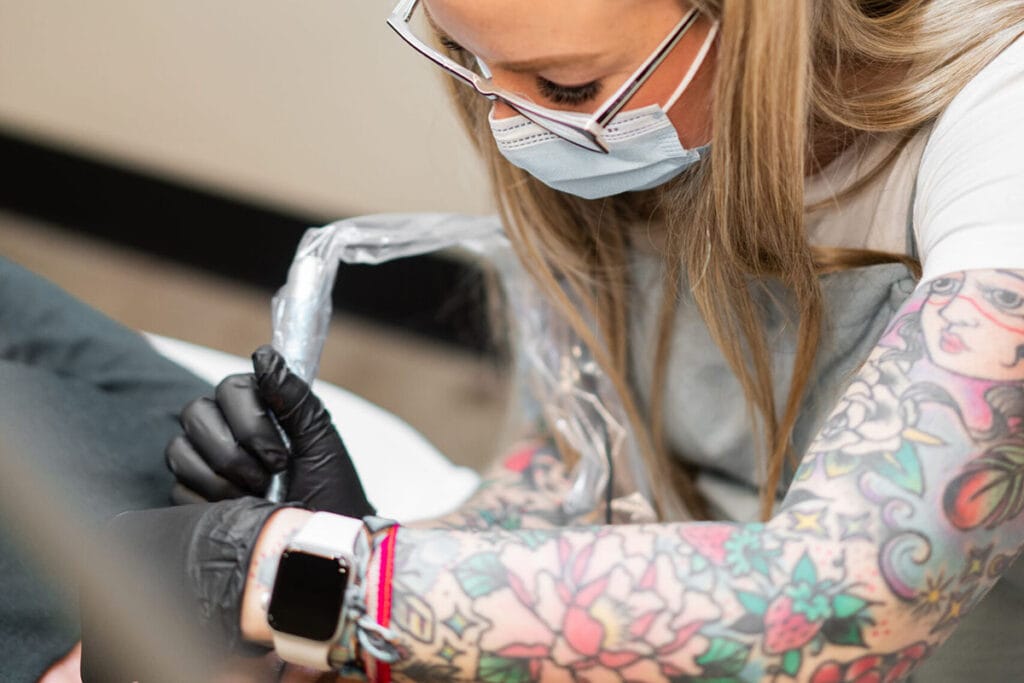 How to Prepare for a Lip Blushing Appointment?
Proper preparation is key to achieving the best results from your lip blush tattoo appointment.
Preparing for lip blush tattooing is essential because it can help prevent complications or issues during the procedure.
Proper preparation also ensures your lips are in optimal condition, which leads to a longer-lasting outcome.
Prepare for your lip blushing treatment with these simple steps:
Hydrate and exfoliate a few days prior.
24 hours prior, stay away from alcohol, caffeine, and other blood thinners. This is important as they can cause excessive bleeding, which can stop the pigments from setting. 
You should be free of antibiotics for 4 weeks and not pregnant or breastfeeding.
Fillers or Botox should both be healed at least 4 weeks prior.
If you are prone to cold sores, please talk to your doctor for a  prescription cold sore medication before and after the appointment.
How Long Does a Lip Blush Tattoo Take?
A lip blush tattoo appointment will take 2 to 2 ½ hours from start to finish. This includes consultation and shape drawing.
How Long Does Lip Blushing Last?
A lip blush tattoo cared for properly will last anywhere between 1-3 years.
Lip blush tattoos are not completely permanent because our lips constantly regenerate. This is a good thing because as our lifestyles change, so do our lip color preferences.
For example, if you go from red hair to blonde, you may wish to change the undertones of your lips! 
You can apply a lip blush tattoo every 6 months after your initial appointment. A touch-up allows the ultimate flexibility for color direction or sheerness level. 
Lip Blush Aftercare: How to Care for Your Lip Blush Tattoo?
The lip blushing healing process is easy, with no downtime. Here are a few simple aftercare steps:
Make sure your hands are clean before you touch your lips and wash them.
Wash your lips before bed with lukewarm water and unscented soap or cleanser.
Apply the aftercare given to you by your artist in a thin layer after cleaning.
Repeat in the morning and evening for 5 days.
Please remember this is a new tattoo and should be cared for like an open wound. Do not over-saturate with healing balm. Also, do not let the lips get too dried out.
No application of any lip makeup for 1 week other than the healing balm given to you.
No scratching, picking, or licking of dry skin or flakiness.
No spicy foods during the first 24 hours.
No foreign body fluids in or around the lips for 5 days.
No activities that will cause extreme sweating for 5 days.
No swimming pools, hot tubs, or other bodies of water for 5 days.
No UV exposure (including tanning booths) for 5 days.
No laser light therapy. It can darken, lighten, or distort the pigment of your lip color.
No exfoliants, retinol acids, glycolic acids, or alpha hydroxy acids on the area for 30 days after the appointment (these cause premature fading).
No massages, facials, or skin treatments for 5 days.
Why Did My Lip Blush Go Away?
While a lip blush tattoo can last for 1-3 years, lifestyle and skin type can impact how long the effects last. 
Things like smoking, sun exposure, excessively oily skin, exfoliation, and iron deficiencies can speed up the loss of color.
Also, those with dark lips or deep purple undertones may need refreshers more often to keep the color strong. In these situations, having your lip blush tattooed every 6-12 months will keep those lips constantly beautiful.
The Pros and Cons of Lip Blushing
Like any service on the market, there are pros and cons.
The pros include adding color, fullness, defining shape, and adding youthfulness.
The only cons we can come up with is to maintain your lips blush. Even if you don't come back for more blushing, the color will last 1-3 years. It will fade away naturally, leaving no permanent color change. 
Some ask, "What if we don't care for the color?" The good news is it can be changed so easily!
If you ask our clients, they'd have a hard time coming up with cons other than the initial cost, which is no comparison to nails, hair, and other monthly self-care expenses.
10/10 clients would tell you it's 100% worth the cost. 
The Pros of Lip Blush Tattoos
There are several pros of lip blush tattoos, including:
Adds color and fullness
You will look fresh and healthy
Create a youthful appearance
Adds shape and symmetry
Builds collagen and elastin
The Cons of Lip Blush Tattoos
While the pros heavily outweigh the cons, here are some considerations:
Initial investment
Requires refreshing to maintain the color
Some people are prone to cold sores, and a lip blushing tattoo can trigger one. However, it's not a problem if pre-treated with a cold sore prescription.
Lip Blushing Before and After
Compare the lip blushing before and after photos. See the dramatic transformation and natural-looking results you can achieve with this popular beauty treatment.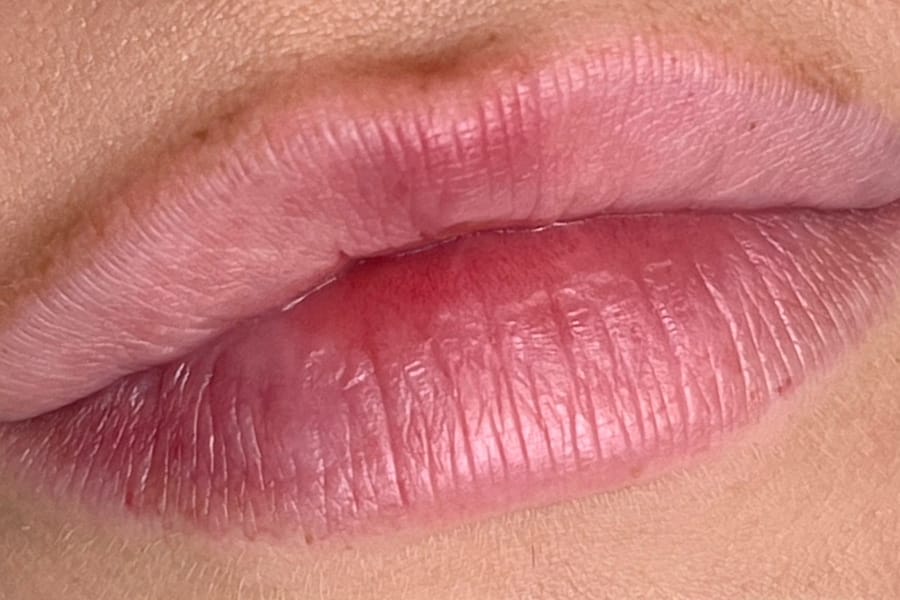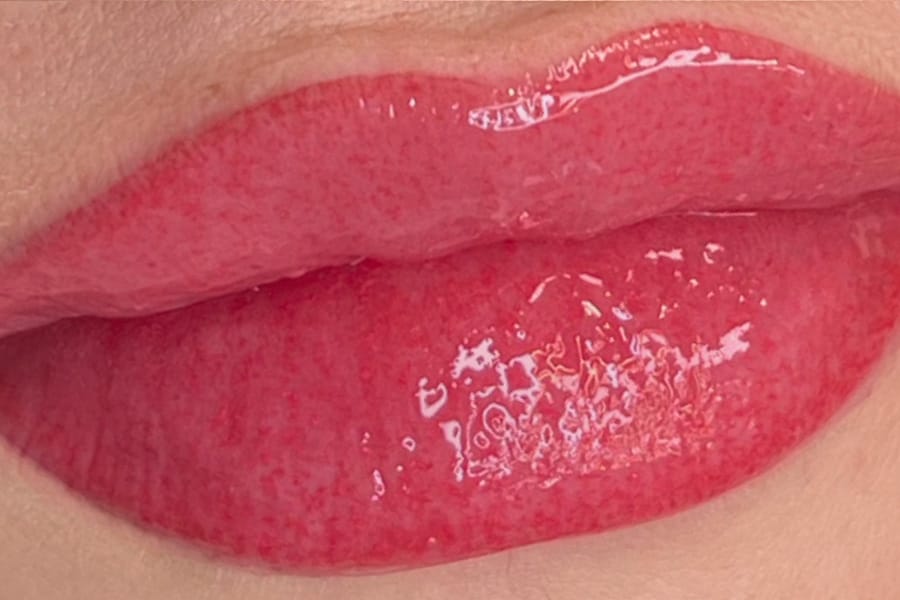 How Much Does Lip Blushing Cost?
Average lip blush tattoo pricing will fluctuate based on the artist's experience and the area you live.
However, you should plan on spending $700-$1200, including a touch-up.
It's not uncommon for people to travel quite a distance to have their lips done by a highly regarded artist. 
Where to Get a Lip Blush Tattoo?
Enhance the color and shape of your natural lips with our lip blush tattoo services.
With multiple Daela Cosmetic Tattoo studios to choose from, you can trust our team of skilled artists to help you achieve your desired look!
Check out our locations to see the nearest Daela Cosmetic Tattoo Studio and reserve your appointment.
Why Choose Daela Cosmetic Tattoo?
DAELA Cosmetic Tattoo's trusted artists and services offer several benefits to our clients:
Outstanding customer service: You will be well cared for before, during, and after your procedure.
Full-service studio: You can have all your cosmetic tattoos done by trusted artists.
Training: All of our artists are master artists or trained by master artists.
Natural products: We use natural products with pigments chosen for endurance and lack of color change.
Financing: We accept all major credit cards. We offer financing through a third-party provider and an easy in-house prepayment plan free of interest or other fees.
Find answers to common questions about our lip blush tattooing services.
Is Lip Blushing Worth It?
Yes! Lip blush has many benefits, including perfect lips 24/7 and significant time savings to your daily routine.
Is a Lip Blush Tattoo Safe?
Like any tattoo, lip blush is safe as long as you go to a licensed and insured artist with education. Also, look for a large gallery of work and positive reviews.
Is Lip Blushing Permanent?
Lip blush is technically a permanent tattoo. The pigment is distributed but is considered semi-permanent because it does fade before the 10-year mark almost entirely.
Of course, this all depends on how much you get and what color. For instance, light colors fade in 2-3 years while dark colors may last 8-10 years.
Does a Lip Blush Tattoo Hurt?
Most clients describe their lip blush pain level as 3/10. The pain only lasts for the actual application time of about 30 minutes.
The pain eases almost immediately after the appointment. Also, expect some swelling that goes away in a few hours.
How Long Does Lip Blush Take to Heal?
The entire lip blush healing cycle is 4-6 weeks. There may also be minimal flaking, like chapped lips lasting around 7 days.
Does a Lip Blush Tattoo Look Natural?
Lip blush can be customizable. You can choose from a subtle look to a lipstick appearance. This is all in the hands of the client to decide.
Will a Cold Sore Ruin My Lip Blush Tattoo?
No, it will not cause permanent damage to the tattoo. However, we recommend taking medication to help prevent breakouts.
If you get a cold sore, it's best to leave it be and continue the medication to ensure proper healing. If you pick the cold sore, you run the risk of healing poorly.
Does Lip Blushing Make Your Lips Look Fuller?
Yes! Lip blush allows us to redefine and reshape the lips, often adding fullness if desired. A little color can also go a long way.
When Can You Wear Lipstick After Lip Blushing?
7 days after lip blush, you can resume normal lipstick and lipgloss wear.
What Are the Potential Side Effects of Lip Blushing?
Lip blush can result in a cold sore if you are prone. Please remember to take medication before getting lip blush. Also, 24-hour swelling can occur, which is normal after getting a tattoo.
Does Daela Offer Lip Blush Tattoo Training?
Yes! Become a professional lip blush artist through DAELA Academy.
Leave ready to work as an expert in machine technique, lip shape, and anatomy.
Whether you desire to improve your skills or are entering the cosmetic tattoo industry, we're here to help make your transition into this amazing network possible. 
Lip blushing is taught by Master artist and owner Lina Anderson. Lina uses an original single-needle technique to implement the perfect blush color into the lips with little pain and no downtime.
Lina also has internationally trained artists. She formed her own unique and successful lip blush technique.
Lina is a leader in the industry for lip blush tattoos, dark lip neutralization, men's lips, color theory, and facial scarring.
She uses top-of-the-line products and tools to create highly realistic and natural results.
Daela also offers an online course for those master artists looking to continue their education and learn Lina's ways. 
Learn More About Lip Blush Tattooing