Why get Lip Blush Tattoo
The Real Real by Lina Anderson.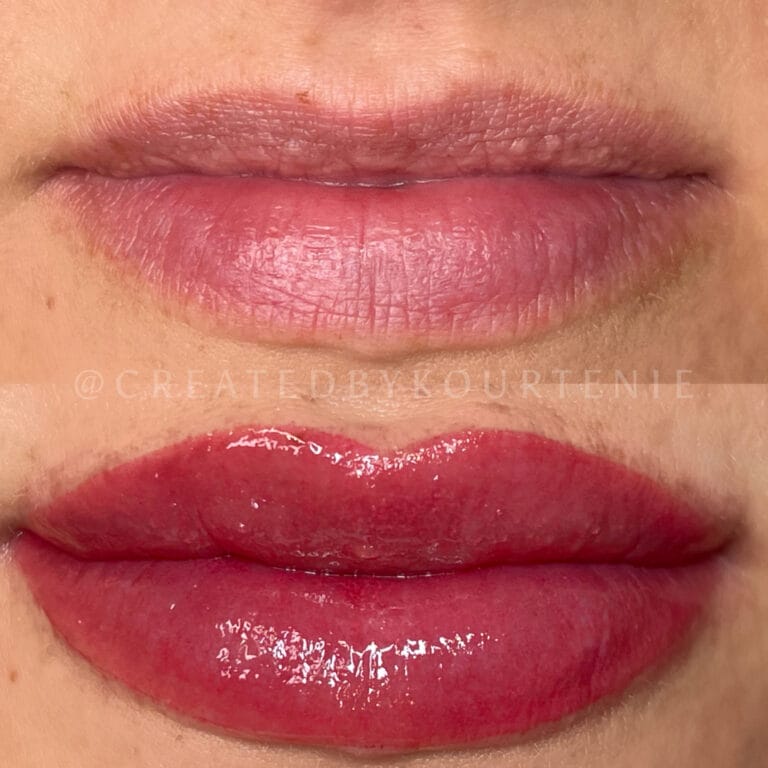 OK, there is so much information on the Internet, but how do you figure out the real deal with a Lip Blush?
Why do you need it or want it and why should you get it?
I have been an artist of lip blush tattoo for over 5 years and I have tattooed the lips of 1000+ fabulous women and men. The results are amazing, I love this cosmetic tattoo procedure.
Top 5 Reasons to get Lip Blush Tattoo
Fresh look color on their lips 24/7.
Pair with Filler? Yes! My clients love to pair lip blush tattoo with filler!
Lip blush tattoo defies aging by bringing back color and definition.
Lip blush tattoo redefines the lips borders and interiors.
No more hassle. You can still wear lipstick if you choose, but if it wears off, no problem. Your lips will look fabulous with or without lipstick.
3 Common Reasons People Don't Want Lip Blush Tattoo?
They don't actually not want lip blush tattoo, seriously, everyone who finds out about it the first time always says the same thing: "I want that!"
There are just a few concerns:
The most common concern is pain. But here is the truth about the pain involved with any cosmetic tattoo procedure:

Cosmetic Tattoo artists use numbing creams and gels, before and during the procedure. Reducing pain to a bare minimum.
The minimal pain involved is easily tolerated and only lasts while the procedure is actually taking place.

The second most common concern is price. If you want some excuses to indulge yourself on something fairly practical, here you go:

You will save so much time!
Is there someone in your life that would like it if you were ready faster? Maybe they should buy lip blush tattoo for your birthday?
Some women who won't leave the house without lipstick, with lip blush tattoo that inconvenience is kicked to the curb.
We are all so busy, why should we have worry about whether or not our lips look good?
Financing is now available for all cosmetic tattoo procedures.

Some people are susceptible to cold sores. But there is a solution for that as well:

You can ask your doctor to prescribe cold sore pills. They work as a preventative and you can take them in advance of your appointment and for a few days after.
4 Reasons Lip Blush Tattoo is Perfect for Everyone
More importantly let's discuss why lip blush works so well for almost EVERYONE!
Lip blush can be preformed on almost any skin type and any age unlike most cosmetic tattoos (unless it's just gotten far too thin but we're talking 75+)! I tattoo 70 year old women day to day and they look fabulous.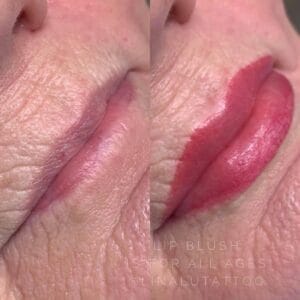 2. Because lip blushing is preformed by micro needling the color into the skin with a single needle technique called "whip shading", we actually help the body to rebuild collagen and elastin while healing color. It's a win-win!
3. In additional to being able to tattoo most everyone and anyone, lip blush is 100% customizable from shaping the cupids bow (the peaks and valley located in the center of your top lip), choosing a sheer, medium or lipstick coverage look and choosing the right color for you. There is a touchup included so you can ensure a killer result by starting subtle and really going for it upon return if need be.
4. Lip Blush can cover scars. A surprisingly high number of people have scars on their lips from dog bites to tousles with their siblings. Lip Blush Tattoo can make a huge difference.
5. But what if I have dermal filler? Lip blush can change the look for fillers entirely by reshaping those soft "blown out" edges, yes, I said it. Lip fillers stretch the skin making it sheer and almost unnoticeable, not the look we are going for in most cases. Most people get fillers to emphasize their lips, not make them disappear. Well have I got news for you, that's where lip blush comes in!! It can also create the perfect shape for your injector to follow and define! Here's a few examples of how lip filler looks over long term with lip blush and you can clearly see why it's worth it!
So long story short, don't put lip blush in a box of "80s lipstick" or "lip liner" it's SO much more than that and I bet you didn't know over half the Celebs on the red carpet are sporting Permanent Makeup. That's the point! It's so discreet in some instances, they'll wonder why you're so perfect 😜
Lina Anderson
Co-Owner DAELA Cosmetic Tattoo