Modern medicine has made breast reconstruction easier and safer, while delivering far more natural results. But for all the leaps in medical technology which have helped make these surgeries less arduous, breast reconstruction generally does not involve reconstructing a person's areola. Luckily, people who have had mastectomies and top surgeries with loss of Areola and Nipples, still have the option to have their areolas restored after the fact with tattoo. As double mastectomy rates have risen in recent years, more people than ever may need areola restoration and 3D Nipple tattoo. But what is areola restoration, and do areola tattoos hurt?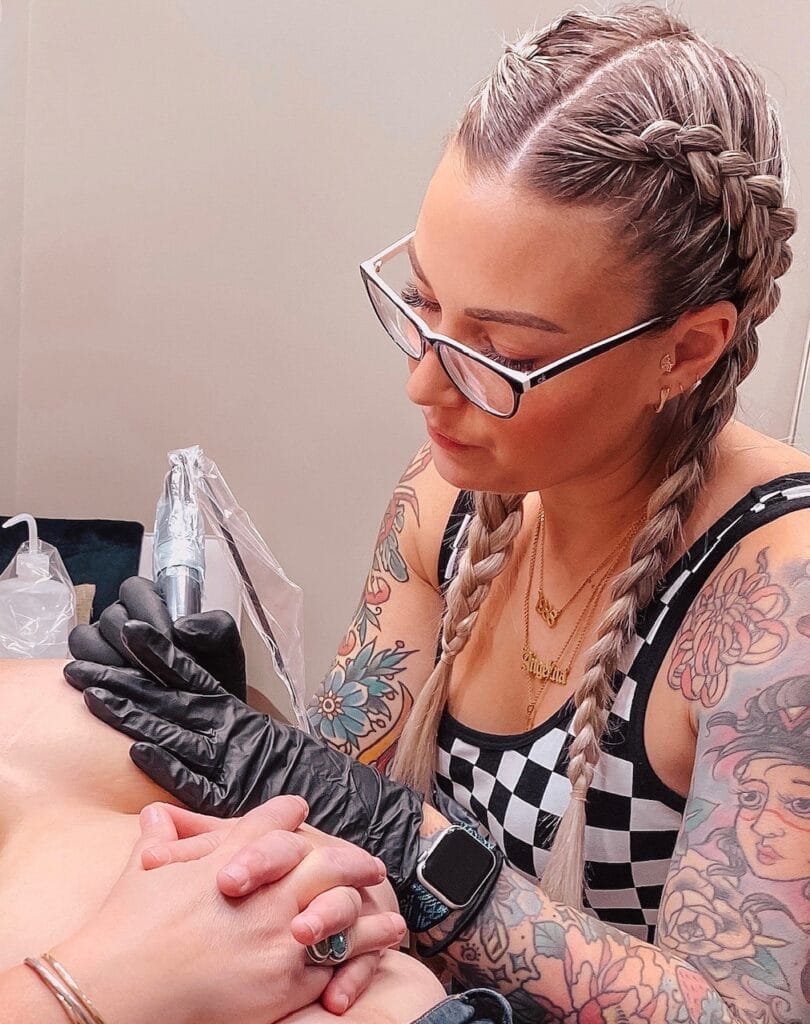 WHAT IS AREOLA RESTORATION?
Areola restoration and 3D Nipple tattooing is a fairly straightforward procedure. Like a conventional tattoo, this technique embeds pigment into your skin using a tattoo machine and needle. A skilled artist will create a hyper-realistic areola and nipple which, while only two-dimensional on your skin, looks as 3D as the real thing. It's a great option to help disguise scarring, correct an irregular shape, or create an entirely new areola in ink. Your artist will draw shape directly on you for size and placement approval and then help you choose the color that best matches your skin or previous areola and nipple.
As with any tattoo procedure, one of the biggest questions on your mind is probably "do areola tattoos hurt?" It may be surprising, but the answer is often no. Because reconstructed breast tissue loses most sensation, the pain of an areola tattoo is usually relatively mild. If you haven't undergone breast reconstruction surgery or still have a good amount of sensation in your breast tissue, your pain level may vary. In either case, Numbing cream is applied for comfort. Most people experience about a two to three on a pain scale of 10. If you're concerned about discomfort, the best thing to do is talk to your areola restoration specialist about what to expect.
HOW TO CARE FOR YOUR AREOLA TATTOO
Your areola tattoo aftercare is not unlike the aftercare for a regular tattoo. The initial healing process lasts 7-10 days, during which you can expect to see a little bit of excess ink leave the area, soft peeling, and dryness. All you need to do is regularly clean the area and apply an antibiotic ointment that is provided for you for the first few days and then switch to an unscented lotion to moisturize after the peely stage. No working out for 3 days prior and make sure that you are wearing clean garments over the area. Avoid any soaking the area, saltwater or chlorine until your tattoo heals completely. When in the dry stage, there is no itching, picking or rubbing the tattoos. By following these simple steps, you'll be enjoying your new areola tattoo for years to come. Areola tattoos can last up to 10 years before needing a refresh.
MORE THAN JUST A TATTOO
While the effect of an areola restoration is only aesthetic, it's about so much more than that. Breast reconstruction can be a difficult emotional journey. For many, areola restoration tattoo, lies at the end of a cancer diagnosis, life changing transformation or the result of many other serious medical issues. An areola restoration can help soothe the memories of a difficult time, helping all people with reconstructed breasts to feel whole and more comfortable in their bodies.
No matter what effect you're looking for from your areola tattoo, Daela Cosmetic Tattoo is here to help. We're Portland's top studio for areola restoration, with experts ready to talk to you about precisely what kind of effect you'd like from your new tattoo.
As Portland's number one studio for cosmetic tattoos, we have the expertise you can trust. For more information or to book an appointment, call (971) 337-5401 or fill out a form online.
Lina Anderson
Co-CEO
Master Artist & Trainer
Daela Co.