Paramedical tattooing is gaining popularity for good reason. When performed by a well-trained artist, the results can be astonishing. But what exactly is a paramedical tattoo? If you do a quick Google search, you'll likely find various definitions claiming to explain the meaning of paramedical tattooing. So, what's the honest answer? Keep reading, and we'll help demystify the confusion surrounding this emerging industry.
What is paramedical tattooing?
All the definitions of paramedical tattooing point to the same thing: it is an advanced cosmetic tattooing procedure designed to replace lost pigment, conceal skin irregularities, and even recreate missing body parts. Skin irregularities can develop due to illness, trauma, or everyday activities, resulting in marks or scars from conditions such as cancer, accidents, self-harm, surgery, pregnancy, weight training, acne, and more. Paramedical tattooing offers a way to reduce the visibility of these skin irregularities. By using skin-tone inks and vitamin serums, paramedical tattoo artists can camouflage scars and create tattoos that resemble natural-looking skin.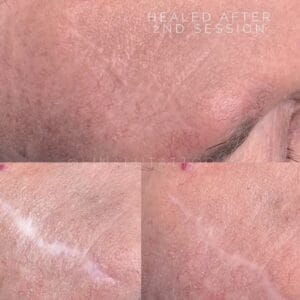 Types of skin changes that can be addressed
Terms like "skin irregularities" and "marks" refer to specific skin changes that paramedical tattoos can address. These changes include, but are not limited to:
Missing areola and nipples
Surgical scars
Injury scars
Stretch marks
For breast cancer survivors and those who have undergone gender-affirming surgeries, well-trained paramedical tattoo artists can create natural-looking 3D areola tattoos. For other skin changes, the focus is on concealing and blending the marks with the skin tone to make them less noticeable.
How does paramedical tattooing work?
The process of getting a paramedical tattoo is similar to getting a traditional tattoo. The main goal is to apply pigment to the dermal layer of the skin, but paramedical tattoo artists specialize in blending ink with natural skin tones to create a seamless and almost unnoticeable result. Experienced artists may use highlights and shadows to create a 3D effect, but it's important to note that some paramedical tattoo services may not require ink. In certain cases, artists may use vitamin serums and a rotary tattoo machine to target and heal specific areas of the skin.
Popular paramedical tattooing services
If you're interested in getting a paramedical tattoo, there are several types of services available. Some of the popular ones offered at DAELA Cosmetic Tattoo include:
Areola tattoo: A 3D tattoo that creates a natural-looking areola and nipple on the chest area.
Scar revision: Using vitamin serums and a rotary tattoo machine, this service triggers controlled trauma to scars and stretch marks, stimulating the body's natural healing process to minimize their appearance.
Scar camouflage: Flesh tone pigments are tattooed onto the skin to conceal areas or scars that have lost or changed their natural skin tone.
Stretch mark camouflage: Pigment matching your skin tone is applied to the area affected by stretch marks to make them less visible.
Determining candidacy for a paramedical tattoo
It's important to understand that wanting a paramedical tattoo doesn't automatically qualify you as a candidate for the procedure. Before getting a paramedical tattoo, it's necessary to consult with a paramedical tattoo artist at DAELA Cosmetic Tattoo to assess your suitability. Generally, paramedical tattoos are suitable in the following situations:
Breast cancer survivors starting breast reconstruction
Individuals who have undergone mastectomy or gender-affirming top surgery
Scars that are at least one year old and fully healed
Fully healed and flat stretch marks that are lighter than the surrounding skin
Scars from breast lift or recent breast augmentation surgery
Scars from medical and cosmetic surgery
This is a brief list of scenarios where you may be a suitable candidate for a paramedical tattoo, but consulting with a tattoo artist at DAELA Cosmetic Tattoo will provide you with the necessary assurance.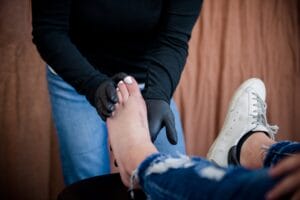 Finding a skilled paramedical tattoo artist
Working with well-trained and reputable paramedical tattoo artists, such as those at DAELA Cosmetic Tattoo, is crucial. Many individuals in the industry lack the proper skills to provide a paramedical tattoo effectively. Partnering with an unskilled or poorly trained artist can result in more issues. Reach out to our team to explore how we can assist you. We'll share our portfolio, customer reviews, and educational resources to demonstrate our credibility, experience, and expertise.
The final step in healing
Paramedical tattooing is about boosting confidence and providing individuals with the security to embrace their bodies, wear the clothes they love, and feel comfortable in their own skin. It's a way to facilitate healing and help individuals feel complete.
Paramedical Tattoo Artist