You've been in the business as an independent artist for a few years, and you have reached, through talent & dedication, a level of artistry that sets you apart. People seek you out, but managing the influx of customers is challenging, time consuming and tough. Your life is about doing your craft, managing your Instagram, replying to messages at midnight, finding clients, ordering supplies, scheduling, rescheduling, paying bills, paying taxes, and repeat. Are you ready to expand into a big business, or big business is ready to expand into you? 
Most entrepreneurs come to the same crossroad: Stay small or grow bigger? Typically, the issue arises when you can't manage 'staying small' because it's too time consuming, and you are forced to make a decision: Get smaller or get bigger.
Expanding your business will also be time consuming, but, if done right, you will be able to earn a residual business income, one that continues when you retire.
You have choices: Start your own larger operation or buy a franchise.
Owning Your Own [BIG] Business:
If you've been operating as an independent, you might think: Why would I want to own a larger studio?  Doesn't that just mean I have all the headaches that go with being an independent contractor, multiplied and compounded by employees and higher financial risk?
Here's the deal: Owning your own studio is the next logical step whether you've been an employee or a sole proprietor. There are multiple reasons to take this next step: Operating a business with multiple artists allows for cost efficiency and the addition of support staff. Also, in a career where your wrists may give out before your desire to earn income does, it makes sense to build a business that can offer you the ability to work less on clients and more on administrative duties or teaching. At some point, if done well, a larger business could offer you residual income when you retire.  Owning your own big business can be the next most logical step for a talented artist who has become a master at their craft.
Important Note: It is important you are honest with yourself. A staggering number of small businesses fail and there is little funding available. The SBA offers small business loans to independent businesses, but requirements are almost impossible to meet when you are just starting so you must have ample funding in place, you will have employees relying on you. Even entrepreneurs willing to work hard, can't always make big business work.  If you are a master artist and a savvy businessperson and like to forge your own path but are not willing to take the excessive loss risk, then franchising risk may be more palatable.
As an independent business owner you will have to:
Make every decision alone

Create processes and policies

Hire marketing companies

Establish marketing plans

Build a website

Source a CRM

Manage your client base

Create an image and ambiance

Figure out how to build pay-plans (and how to make payroll)

Figure out how to pay taxes

Figure out how to create something from nothing 
You will have to do things that you've never done before.
In the end, you are your own council, your own nucleus. It takes a remarkable individual or individuals to create a thriving, successful business. Done on your own, these items will ultimately take time and financial resources, your path to success may take longer, and the risk of failing is greater.
 You also immediately benefit from their vendor relationships, marketing relationships, proven processes, solutions, and brand recognition. You are not in it alone. A good franchise system could offer you success quicker and with less painful life-lessons. The question to ask yourself is: Are you better with them?  A solid franchise company can help you easily overcome the royalty fee, even propelling you to higher profits than you may have if you go it alone, saving you hundreds of thousands of dollars on costly trial and error.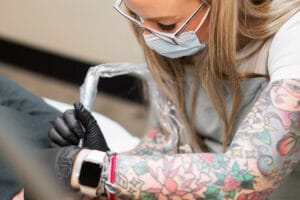 The biggest difference between independent business and owning a franchise is support and knowledge. 
Everyone needs someone who has their back.
Here are some key benefits to owning a franchise
(as well as just some of the areas you will need to develop if you go it alone)
Established Branding

Studio Design

Ability to Attract Artists

Support & Training

Developed Processes & Procedures

Strong Vendor Lists

Continual Business Progress

Franchisors succeed only when you succeed

SBA franchise loans

available for qualified applicants
Not all franchises are created equal. 
If you like the idea of franchising, then take some time to find a franchise that is aligned with your ideas and goals.  The franchise-franchisee relationship should be mutually beneficial and should offer you short term and long-term success options that going it alone will not. We'd love to chat with you. DAELA Cosmetic Tattoo is family owned, unique + boutique opportunity, founded on the principles of collaboration, mutual success, and long-term support. Do some research and then give us a call. We'd love to chat with you!