Aging skin: It comes for all of us.
There is no feeling worse than the first time someone calls you Ma'am. Or says, "You remind me of my mom." (And the person who said it is 30) Ugh. We feel exactly 29 all the time, inside, but outwardly, we age.
There is beauty and strength in 'growing old gracefully'…but that doesn't mean we just lay down and take it. Oh, no.  There are so many lotions, potions, pills, procedures, and surgeries all designed to turn back the hands of time. Love it or hate it, at some point we all say, "Do I need a facelift?"
But there is good news, great news in fact: Cosmetic tattoo can make you look younger, fresher and natural.  Extreme procedures are not for everyone, but anyone can benefit from beautiful cosmetic tattoos. Don't scared. Cosmetic Tattoo is not what it used to be. At the right studio you will have work done by master artists who provide the most realistic and natural results. All with minimal to no pain.
How does cosmetic tattoo help reverse signs of aging?
Following is a list of the most popular cosmetic tattoo services and how they can refresh, revive and add pop to your already beautiful face.
Eyeliner tattoo also saves you the trouble of applying eyeliner every day. Applying eyeliner is hard for anyone, let alone someone with not-so-steady hands…and diminishing eyesight.
Microblading and nano blading add definition to your brow with a natural hair stroke technique.
This process fills in areas where your brows may be thinning and gives a fresh look, shape, and definition to a person of any age. Here again you'll save time in front of the mirror every day!
Ombre Powder Brows are another brow technique that work even on women (and men) with thinner skin.
Thin skin is harder to microblade, but almost everyone can have Ombre Powder Brows, even people who have had microblading in the past! Powder Brows are a precisely shaped and soft color that is tattooed (soft shadow) in the eyebrow. It is done by using a machine and single needle to create a natural look. The cool thing about powder brows is that you can get them done more frequently than microblading and it works well for all skin types and most age groups. This is a wonderful service if you're someone that likes anything from natural soft shading, or a fuller makeup look.
We have to share a Google review with you, our customer says something all of us can relate to.
"With age, my eyebrows just disappeared! I was resigned to penciling on my brows every day, which I did for years. I don't recall a single day that I was happy with the result. They were crooked. They were too light or too dark. They wore off as the day went on. Et cetera. Worst of all, they always looked artificial to me. When my daughter suggested I see Amy at Daela Salon, I was very skeptical, but I was willing to try. This really was a life changing event for me! Amy did an INCREDIBLE job of giving me beautiful new permanent brows and freeing up a good 15 to 20 minutes a day struggling with an elusive goal. Amy is a skilled professional and I wholeheartedly recommend her services to anyone needing a brow correction. Or, as in my case, a total reconstruction!" Victoria Ombre Powder Brows
Lip Blush Tattoo adds definition and shape and color to your lips.
Our lips fade as we get older until some point our face is just all one color.  So young, middle, or older than that, velvet lip blush adds a soft natural blush to your lips and shapes them up. More time saved in front of the mirror, and you will look years younger.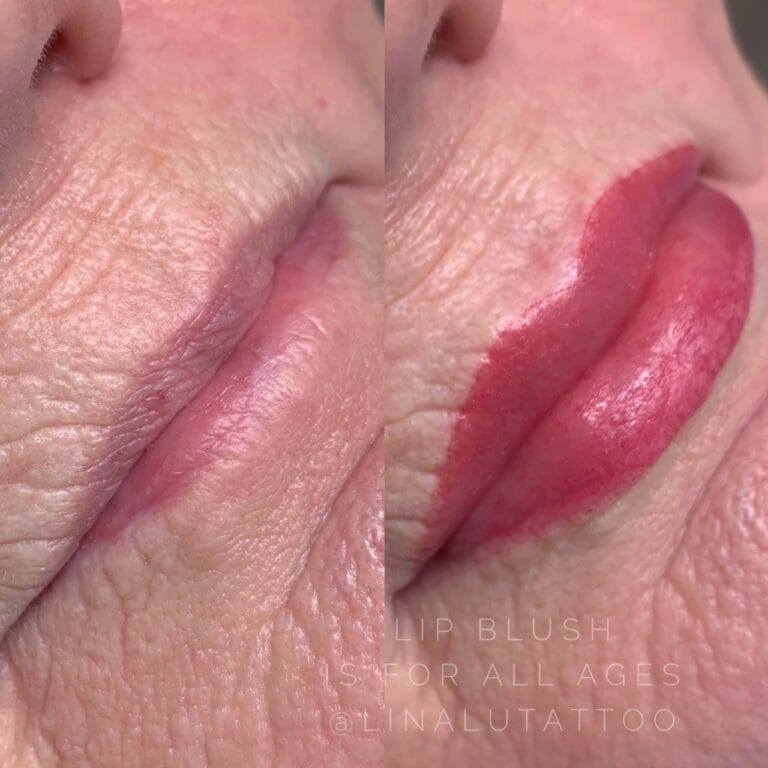 Not ready to try anything permanent?
There are some options that are temporary and give the essence of cosmetic tattoo.
Henna brows are a natural ink process that gives the look of ombre brows by tinting your brows and staining your skin. The results last 6-8 weeks.
Eyebrow Lamination & Tint gets unruly hairs under control and darkens your brow hairs! Brow lamination is a temporary procedure that lasts 4-8 weeks and will give you an inkling of what microblading may look like. Note: Eyebrow tint and lamination go hand in hand with other cosmetic brow tattoos.  You can layer these treatments for an optimal result!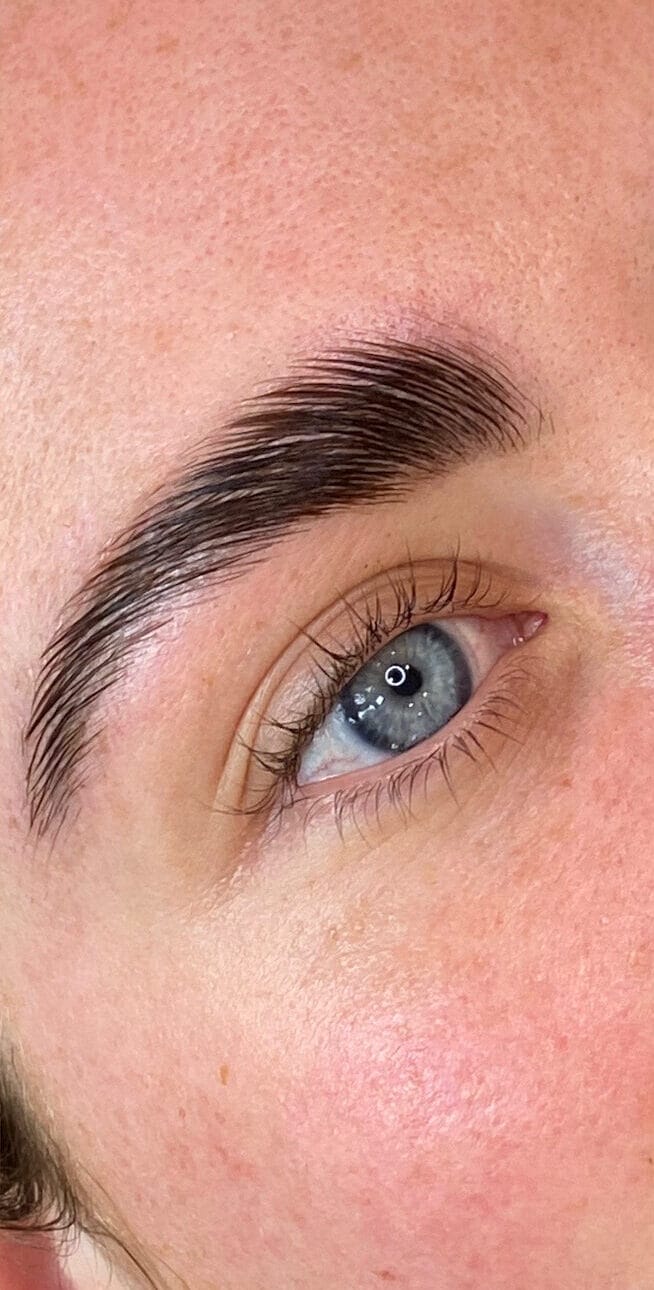 Is everyone a candidate for cosmetic tattoo?
All cosmetic tattoo services are available for everyone 18 years of age and older.  We work with clients all the way into their 70's. So, if you are interested in trying something, please reach out to us.  Not everyone can do every cosmetic tattoo service. Your own skin may dictate what we can and can't do but exploring all your options with our fabulously kind staff is a breeze.
I want to share one more Google review. At Daela Cosmetic Tattoo, sometimes we have to tell a client they can't have a service. Typically, this is related to thinness of skin or texture of skin. It's so hard to do, because people sitting in our chair are so excited for the new look, but we are committed to our clients and their ultimate satisfaction, so we can't perform a service if we know the results won't be favorable. That's why this review touches us:
"Morning of my first appointment I drove in early as I knew parking wasn't going to be easy. The artist took a look at my brows and told me my skin was too textured for the service I had wanted. I appreciate her honesty. She referred me to another Daela artist located in Vancouver WA. A week later I had my appt in Vancouver and was impressed with the welcoming and professional attitudes of the staff. I didn't get the name of the girl that greeted me, but she was very friendly and professional. Amie was the artist that gave me Ombré brows, and I'm very pleased. She is talented and kind. I love the results!" Linda Ombre Powder Brows
Who am I? I am a 56-year-old woman, who feels 29 inside and doesn't like to spend any time in front of the mirror. I had my eyebrows microbladed by Erica 5 years ago and just did Ombre Brows with Amie a few weeks ago because my color hadn't faded enough on my brows to re-microblade, and I needed a pick-me-up. I even just had by eyebrows and eyelashes tinted by Elizabeth to add a finishing touch!  I have velvet lip blush tattoo done by Lina every 2 years and eyeliner tattoo done by Angela. I figure I save at least 30 minutes a day not applying makeup…just enough time to enjoy a glass of wine or jump into the pool with no worries.
Kim Orr
President
Daela Co.
Daela Cosmetic Tattoo artists are licensed & trained to exacting standards. Our studios follow the highest standards of safety and health protocols.