Are cosmetic tattoo procedures good for mature skin? Aging is a natural part of life that touches us all. It's that moment when someone addresses you as "Ma'am" or remarks, "You remind me of my mom" when you still feel like you're 29 on the inside. While there's beauty in gracefully embracing the years, it doesn't mean surrendering to the visible signs of aging. With the plethora of lotions, potions, pills, procedures, and surgeries designed to turn back the clock, the question eventually arises: "Do I need a facelift?"
The good news, or rather, the great news, is that cosmetic tattooing can help you look younger, more refreshed, and all-natural. Extreme procedures aren't for everyone, but the beauty of cosmetic tattoos is that they're accessible to anyone. Gone are the days of outdated techniques; today, you can trust master artists at reputable studios to provide realistic, natural results with minimal to no discomfort.
So, how exactly can cosmetic tattooing help reverse the visible signs of aging? Let's explore the most popular services and how they can rejuvenate and enhance your already radiant face:
Eyeliner Tattoo: With Lash Line Enhancement or Classic Eyeliner, your eyes will pop, and you'll bid farewell to the daily eyeliner struggle.
Microblading: Achieve well-defined brows with a natural hair stroke technique. Microblading may be an option, but if you are over 55, you will want to consult with your artist. A good studio will have multiple services for you to choose from. Even though you may not be able to microblade, one of the other brow services may be a perfect option! Note: nano brows are the gentlest to your skin, those with thinner skin should ask their artist about machine nano brows.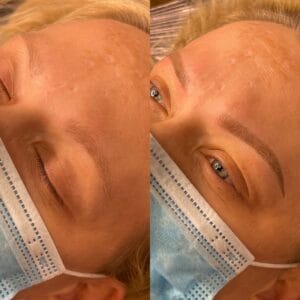 Ombre Powder Brows: Suitable for those with thinner skin, and those who have had previous work. Ombre brow technique uses a soft shadow tattoo to create precisely shaped and softly colored brows. It's versatile and works well for various skin types and age groups.
Lip Blush Tattoo: Lip blushing adds definition, shape, and color to your lips, countering the fading that naturally occurs with age.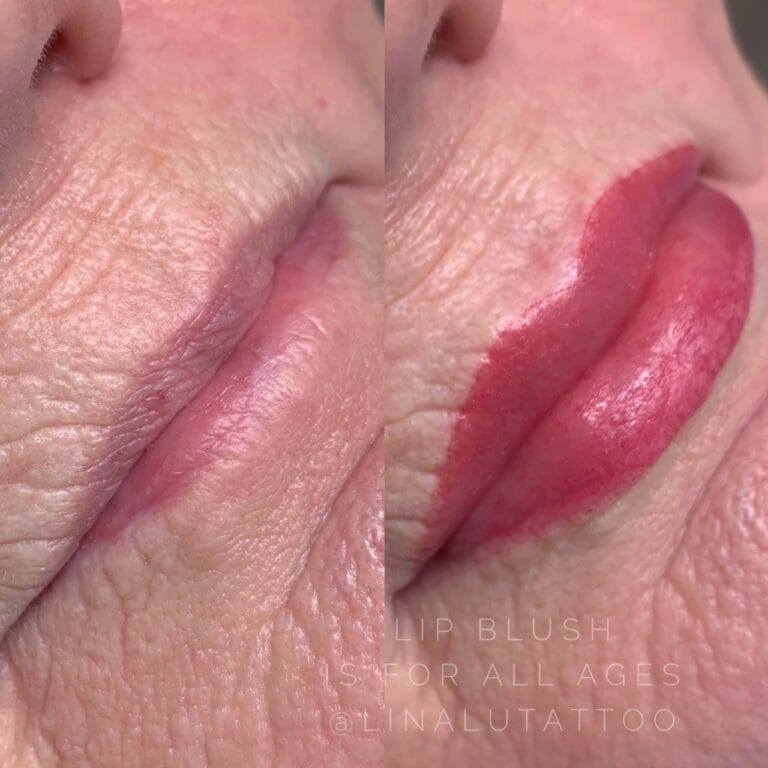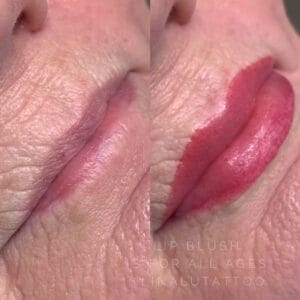 A satisfied customer shares her experience: "With age, my eyebrows just disappeared!… This really was a life-changing event for me! Amy did an INCREDIBLE job of giving me beautiful new permanent brows…" – Victoria (Ombre Powder Brows)
What are the sign of aging skin?
Healthy ageing of skin includes winkling, sagging, thinning, age spots, broken vessels and general changes in texture. Not all of these changes impact whether or not you can have permanent makeup treatments. The biggest issue comes with thinning skin. Mature skin that has become thinner is probably the most sensitive skin to address with permanent makeup. There is good news: The permanent makeup industry is constantly improving techniques, inks, machines and needles. While some people may simply not be able to do certain procedures, there most likely is a procedure that you can do! The newest on the scene are Ombre Powder Brows and Nano Machine Brows.
If you are not a candidate, there are some nice alternatives.
For those not ready for permanent changes, there are temporary options that provide the essence of cosmetic tattooing:
Henna Brows: Henna brows are a natural ink staining process mimics the look of ombre brows and lasts for 6-8 weeks.
Brow Lamination & Tint: Brow lamination controls unruly brow hairs and darken them for 4-8 weeks, offering a glimpse of what microblading can achieve.
It's important to note that all cosmetic tattoo services are available to those aged 18 and above, with options tailored to various skin types and ages. Your unique skin may influence which services are suitable for you, so consult with our knowledgeable staff to explore the possibilities.
As one review heartwarmingly illustrates, our commitment to client satisfaction sometimes means we need to point a customer in another direction:
"Morning of my first appointment I drove in early as I knew parking wasn't going to be easy. The artist took a look at my brows and told me my skin was too textured for the service I had wanted. I appreciate her honesty. She referred me to another DAELA artist located in Vancouver WA. A week later I had my appt in Vancouver and was impressed with the welcoming and professional attitudes of the staff. I didn't get the name of the girl that greeted me, but she was very friendly and professional. Amie was the artist that gave me Ombré brows, and I'm very pleased. She is talented and kind. I love the results!"
Linda Ombre Powder Brows
At DAELA Cosmetic Tattoo, we understand that age is just a number, and our clients, like our 56-year-old friend, feel 29 inside. Having mature skin is just another part of the process we experience and thank goodness there are so many viable options for us! Whether it's microblading, Ombre Brows, lip blush tattoo, or eyeliner tattoo, our experienced artists are here to help you save precious minutes each day, leaving you more time to savor life's pleasures.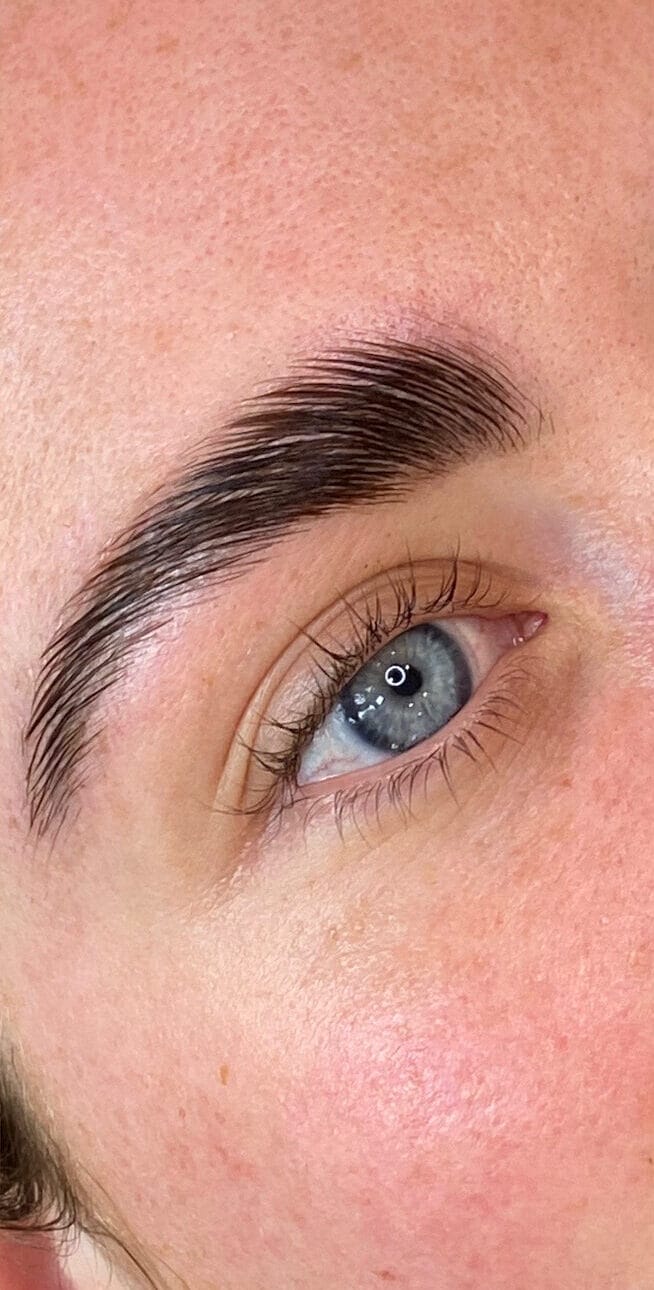 Is everyone a candidate for permanent makeup?
All cosmetic tattoo services are available for everyone 18 years of age and older.  We work with clients all the way into their 70's. So, if you are interested in trying something, please reach out to us.  Not everyone can have every cosmetic tattoo service. Your own skin may dictate what we can and can't do but exploring all your options with our fabulously kind staff is a breeze.
Kim Orr
President
DAELA Co.
DAELA Cosmetic Tattoo artists are licensed & trained to exacting standards. Our studios follow the highest standards of safety and health protocols.