Did you know that 50% to 90% of people have stretch marks? If not, don't let this number surprise you. Stretch marks are incredibly common. Everyone gets them. In fact, you probably pass more people on the street who have stretch marks than those who don't. But just because these scars are so common doesn't mean you have to continue participating in this shared experience.
There are ways to decrease the appearance of stretch marks. And no, laser treatment is not the only answer. While somewhat helpful, the effectiveness of that remedy isn't worth the thousands of dollars you'll pay per session. So, if you really want something that works and is cost-effective, you should consider getting a stretch mark camouflage tattoo.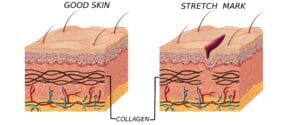 What is a stretch mark camouflage tattoo?
You've probably heard some information about stretch mark camouflage tattoos. These are types of paramedical tattoos that are becoming more and more popular, primarily because they disguise stretch marks.
By using flesh-tone pigment ink, paramedical tattoo artists mask the bands of lines running across your skin, and this method works for almost every skin type and tone. Technicians have a wide range of tattoo inks that resemble different skin colors, so you can get a camouflage tattoo that matches and complements your skin.
What makes you a good candidate?
Although stretch mark camouflage tattoos can blend with any skin tone, it's not a suitable service for everyone. If you have stretch marks, you have to determine whether you're a good candidate for this service, and there are a few factors that can help inform your decision.
For example, you can get a stretch mark camouflage tattoo if the following apply to you:
Your stretch marks are at least two years old
Your stretch marks are lighter than the surrounding skin
Your stretch marks are smooth and flat
Your stretch marks are fully healed
On the other hand, you can't get a camouflage tattoo if you check off any of these boxes:
You're pregnant or breastfeeding
Your stretch marks are dark, red, pink, gray, or skin-tone colored
Your stretch marks are raised and textured
Your stretch marks aren't fully healed
The best way to know whether you're a good candidate is to schedule a consultation with the paramedical tattoo artists at DAELA Cosmetic Tattoo. Any reputable artist will want to see a photo of your stretch marks to know whether they're fully healed and ready for a camouflage tattoo.
If you and your artist decide to hold off, don't get discouraged. You may be able to try another paramedical tattooing service that we offer at DAELA Cosmetic Tattoo called scar serum treatment or scar revision. With this method, the artists at DAELA use a rotary machine to deposit vitamin serums into your stretch marks. This process jumpstarts your body's natural healing processes to help your stretch marks recover, heal, and become less noticeable.
Will a tattoo completely remove your stretch marks?
Perhaps you are a good candidate for a stretch mark camouflage tattoo. In that case, it's essential to have the right expectations going into your treatments.
This camouflage tattoo will not eliminate your stretch marks. Those will still be on your body, and currently, there isn't a solution that can fully remove them, not even expensive laser treatments. However, with a stretch mark camouflage tattoo, your stretch marks will be less noticeable to the naked eye. That means you can be comfortable in your skin without worrying about someone seeing your stretch marks while you're wearing certain clothes or being intimate.
The tattooing and healing process
Once you have the proper expectations and meet the requirements for a stretch mark camouflage tattoo, you can confidently approach the tattooing process. Typically, the treatments require multiple sessions and can last 2-3 hours, but it may take longer depending on the size of the treated area.
Also, during your session, you may receive a topical numbing agent. That's especially true if your stretch marks are in a particularly painful area or you have a low pain tolerance. Still, it's totally possible to get a stretch mark camouflage tattoo without a numbing agent. This tattooing method is only somewhat uncomfortable, and most people do not need a numbing agent.
Another great thing is there's usually no downtime after this treatment. Once you get a stretch mark camouflage tattoo, you can resume work and other daily activities. Just make sure your aftercare process is in tip-top shape to ensure your skin heals properly. Your artist will provide specific aftercare instructions designed for your unique body, but some good strategies to use are the following:
Avoid showering for 24 hours after your appointment
Avoid saunas for a week
Don't swim for two weeks
Stop using sunbeds indefinitely
Don't scratch your tattoo
When in the sun, use SPF of 40+
If you carefully follow your aftercare instructions, you could see a final result in 45-60 days after your last session, but that timeline can vary. Depending on your general health, age, diet, hormones, sun exposure, and overtones, it may take longer to see a finished look. However, once the final result appears, it will be fairly permanent. You may only need touch-ups moving forward.
The best solution to a common problem
Stretch marks aren't something you always have to deal with. Depending on your situation, you can overcome this common problem with a cost-effective solution that genuinely works. So, if you're a candidate for a stretch mark camouflage tattoo, say goodbye to long bands of lines running across your body and hello to clearer, natural-looking skin.
Paramedical Cosmetic Tattoo Artist
DAELA Cosmetic Tattoo