Q&A with Shonna Roberts of Omnis Ink
DAELA: We are so thrilled to have another local Vancouver-Portland Cosmetic Tattoo business owner join our DAELA Team! Please tell us why you have made this decision.
Shonna Roberts of Omnis Ink: It's no secret that DAELA is home to the best artists in the industry. That's why when I decided to learn the art of Areola Restoration, Lina Anderson was the obvious choice. Her mentorship and passion for educating, sharing and collaborating helped me to grow my business, Omnis Ink. To be offered a position with like-minded, highly skilled artists, who are passionate about their work, their clients and creating a space where people come to learn, heal and just feel beautiful, was a pretty easy decision.  I am honored to be a part of the DAELA team and I'm so excited by the larger impact I will be able to make.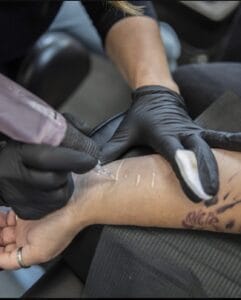 Photo Credit: The Columbian Newspaper
DAELA: Shonna, tell us about the types of scar camouflage work you do.
Shonna Roberts of Omnis Ink: I do scar camouflage, scar revision, radiation marker camouflage and stretch mark camouflage. It's a mouthful, I know.
Scar camouflage is definitely an advanced paramedical tattoo procedure. There are not a lot of artists who do this or do it really well. There is no "one size fits all" approach. Every client's scar, skin tone and goals are different. It can be challenging and that's why I love it!  While nice, white scars yield a near perfect result, I welcome discolored, brown and purple scars. They're typically a lot more work and the outcome may not be as perfect as a white scar, but having borne these types of scars, I know the impact a diminished appearance can have on one's self esteem. A lot of people say, "scars tell my story", and that's true, but whether the scar is from cosmetic surgery, accident, injury, self-harm or illness, not everyone wants to be reminded of that story and I'm happy to be a part of the last chapter.
DAELA: Tell us about Areola Restoration and what this procedure means to you.
Shonna Roberts of Omnis Ink: Areola Restoration is what drew me into the paramedical tattooing world. This paramedical tattoo procedure is performed on the on the chest or breast area where the areola once existed. The purpose is to create a hyper realistic, very natural looking, 3D tattoo that mirrors the shape and design of an areola and nipple. Areola restoration is typically the last step for post mastectomy breast cancer survivors and gender affirming top surgery.  After performing my first areola restoration and seeing the happiness and emotion on my client, I knew this was something I wanted to do. It is a beautiful procedure, restoring confidence to people who have lost something that is a part of them, and is very rewarding.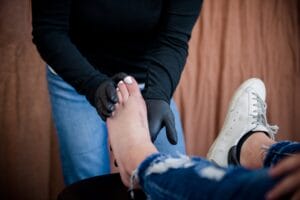 We are so excited to have someone like Shonna join our team. She is caring and passionate about what she does.
You can view Shonna's work and book a consultation with her at DAELA Cosmetic Tattoo.
Articles about Shonna's work: