Freckles & Beauty Marks | DAELA Scottsdale
A kiss from the sun, or a DAELA artist, who will know? 
Dramatic beauty marks or playful freckles...
About Freckles & Beauty Marks
DAELA semi-permanent faux freckle treatment offers a sun-kissed glow all year around. Whether you want to accentuate your existing freckles or sport the freckles you've always dreamt of, our artists can help you achieve a flawless makeup-free look.
Always done naturally, these freckles and beauty marks can add the perfect beachy touch, without the sun damage! Enjoy all of your cosmetic tattoo services from DAELA, a full-service studio staffed by multiple master artists – all skilled in their expertise.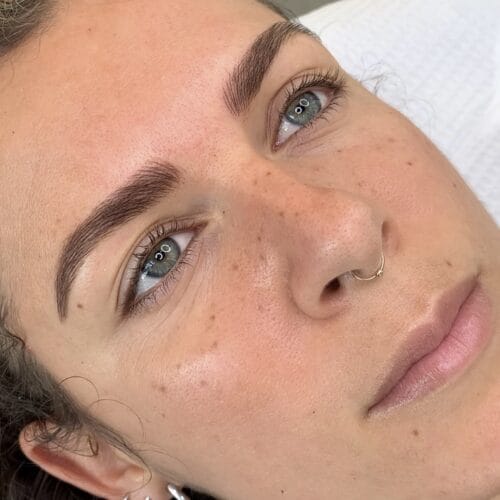 Faux Freckles & Beauty Mark Pricing
Chloe
Freckles $300
This is a one-hour service. Most freckle appointments do not require more than 1 hour. If you want more than a natural dusting of freckles, additional appointments may be required.
Beauty Marks $150
A Beauty mark appointment takes 1/2 hour. Your artists can achieve a few marks in this time frame.  Anything greater than 3 marks is considered a freckle appointment.
Please submit a photo of what you'd like to [email protected] if you want a full face of freckles.
We require a $100 non-refundable deposit on all freckle and beauty mark appointments. You may reschedule no less than 48 hours prior to appointment. No-show will result in total loss of deposit.
How long do freckles and beauty marks last?
Semi-permanent!
Let's talk about the lifespan of these delightful freckles.
On average, faux freckles can last at least six months before they begin to fade. However, it's important to note that the longevity of faux freckles can vary depending on your unique skin type and individual factors.
Factors such as oiliness, exposure to sunlight, skincare routine, and your skin's natural shedding process can influence how long your faux freckles will stay vibrant.
While they may gradually fade over time, the beauty of faux freckles lies in their subtle and natural look. They gracefully evolve, resembling the soft, natural fading of real freckles, leaving a hint of their magic behind.
If you absolutely adore your faux freckles and want to extend their lifespan, there are steps you can take. Protecting your skin from excessive sun exposure, maintaining a gentle skincare routine, and keeping your skin hydrated can help preserve the vibrancy of your faux freckles for a bit longer.
So, while faux freckles may not be permanent, their presence will leave a lasting impression. 
What skin types work best with faux freckles?
Faux freckles can be a fun and trendy way to enhance your natural features or create a playful look.
We can apply freckles and beauty marks to all skin types and tones!
While there are no strict limitations on the type of skin that can work best for faux freckles, certain skin types and conditions may yield different results.
The primary skin condition to consider:
Oily Skin: Oily skin does not preclude anyone from having freckles. It's just important to note that oily skin can cause freckles to fade a bit quicker. You may need multiple sessions to get your desired look.
How do you choose the placement for freckles and beauty marks?
Here are some considerations to help you choose the placement for your freckle tattoos:
Natural Freckle Placement: Take note of where your natural freckles typically appear on your face. Consider enhancing and complementing your existing freckles rather than completely altering their placement.

Beauty Marks are Strategically Placed: Your artist will know exactly how to make your beauty mark look striking and natural. Show them a picture you'd like to mimic or discuss placement at the time of your appointment.
Your artist is an expert: They help decide placement during the consultation portion of your appointment by pre-drawing them on prior to tattooing.
How do you choose color for faux freckles?
Your artist knows best!
Freckles should be very natural looking.
Your artist takes into consideration your undertones and will create a custom color that will result in the most natural look for you.
How many freckles can I get?
So many options!
Let your imagination run wild with the possibilities of beauty marks and freckles!
At our studio, we offer the freedom of customization, allowing you to tailor your look to your heart's desire.
Whether you desire a single beauty mark that adds a touch of elegance or a constellation of multiple beauty marks that create a whimsical pattern, the choice is yours. You are the artist of your own beauty canvas!
How about a light dusting of freckles that adds a playful sprinkle to your cheeks? Or perhaps you're ready to fully embrace the freckle frenzy and go for a few more? 
And guess what? You can even have the best of both worlds by combining beauty marks and freckles to create a truly unique and personalized masterpiece.
Achieving that dreamy, layered look may require multiple sessions by building up the depth and dimension of your freckles and beauty marks. But don't worry, we're here to accompany you on this artistic journey, ensuring that each session brings you closer to your desired result.
Does it hurt to get faux freckles and beauty marks?
Faux freckles & beauty marks are relatively painless.
When it comes to the procedure, you can expect minimal discomfort.
Our skilled artists will apply a numbing gel to the area. This gentle numbing sensation helps create a more pleasant experience.
Once the numbing has worked its magic, the procedure itself is relatively quick, allowing you to enjoy the excitement without dwelling on any potential discomfort. 
What if I have freckles and want more?
Absolutely!
If you already have natural freckles, adding more through faux freckles can create a stunning and harmonious blend.
At DAELA, we're thrilled to enhance what you already have and take your freckle game to the next level.
Faux freckles have a magical way of blending seamlessly with your natural ones, creating a captivating tapestry of whimsy on your skin. Our skilled artists will carefully assess your existing freckles, taking note of their placement, size, and color, to ensure that the faux freckles complement and enhance your natural beauty.
How long does it take to get beauty marks or freckles?
30-90 minutes!
The beauty of choice is in your hands when it comes to the number of beauty marks or freckles you desire!
Our pricing is flexible and based on the time you spend in the artist's chair, allowing you the freedom to get as few or as many marks as your heart desires.
The duration of your appointment will typically range from 1 to 1.5 hours, ensuring that our artists have ample time to create your desired look with precision and artistry. During this time, they will carefully place each mark, bringing your unique vision to fruition.
So, whether you're a fan of minimalism or a lover of abundance, we're here to accommodate your desires. The choice is yours, and our skilled artists are ready to make your beauty mark or freckle dreams a reality.
When can I wash my face after getting freckles?
Clean before, wait after!
When you arrive for your appointment, we kindly request that you come with a freshly cleansed face.
Why is this important, you ask? A clean canvas is essential for our skilled artists to work their magic. By starting with a fresh face, we can ensure that the application of your freckles or beauty marks is seamless and precise.
After the procedure, it's important to wait until before bed, the day of the procedure, before washing your face. This waiting period allows the freckles or beauty marks to settle and adhere properly to your skin, ensuring long-lasting and stunning results.