Areola Restoration | DAELA Scottsdale
Areola restoration is a soft, hyper-realistic and non-invasive work of art.
Areola restoration is a 3D tattoo procedure to replicate the areola and nipple.
This technique, sometimes referred to as paramedical tattoo, is for anyone who may have had mastectomy, total loss, irregularity or inconsistency in their areola and nipples after any type of breast reconstructive surgery or augmentation.
DAELA artists are considered the best in the industry and offer kind, compassionate service from private treatment rooms in our serene studio in Scottsdale, AZ. 
Areola restoration is a soft and hyper realistic, non-invasive permanent work of art that will restore natural beauty.
Why would you want areola tattoos? Many men and women who have had surgeries that leave them without areolas, feel like they are missing something. Imagine if you had no belly button? 3D areola restoration not only restores the look of your areolas, but this process can make you feel whole again. We also assist the Trans Community areola restoration.
Visiting Artist: Lina Anderson
Areola Restoration
$850
One touch-up included within 12 weeks of first appointment.
Single Side Restoration $650
One touch-up included within 12 weeks of first appointment.
Heart Areolas $850
One touch-up included within 12 weeks of first appointment.
Color Correction $850
One touch-up included within 12 weeks of first appointment.
Touch-Up @ 6-12 Weeks $100

Best choice for best result!

Touch-Up @ 13-20 Weeks $150

Available if 6-12 Weeks is inconvenient for you!
About Lina
Lina Anderson, Co-CEO of DAELA Cosmetic Tattoo, Inc is a world renowned areola tattoo artist and trainer. Lina will be travelling to Scottsdale to work exclusively with our clients. Take this rare opportunity to schedule your restoration tattoo with the best in the country, right in your hometown.
Non-Refundable Deposit
Because Lina is travelling, we require a $500 non-refundable deposit for all appointments. You may reschedule no less than 48 hours prior to your appointment. No-show will result in loss of deposit.
KAISER Insurance: Lina does accept Kaiser Insurance, so please let us know if you are a Kaiser patient and we will arrange billing of Kaiser for your service.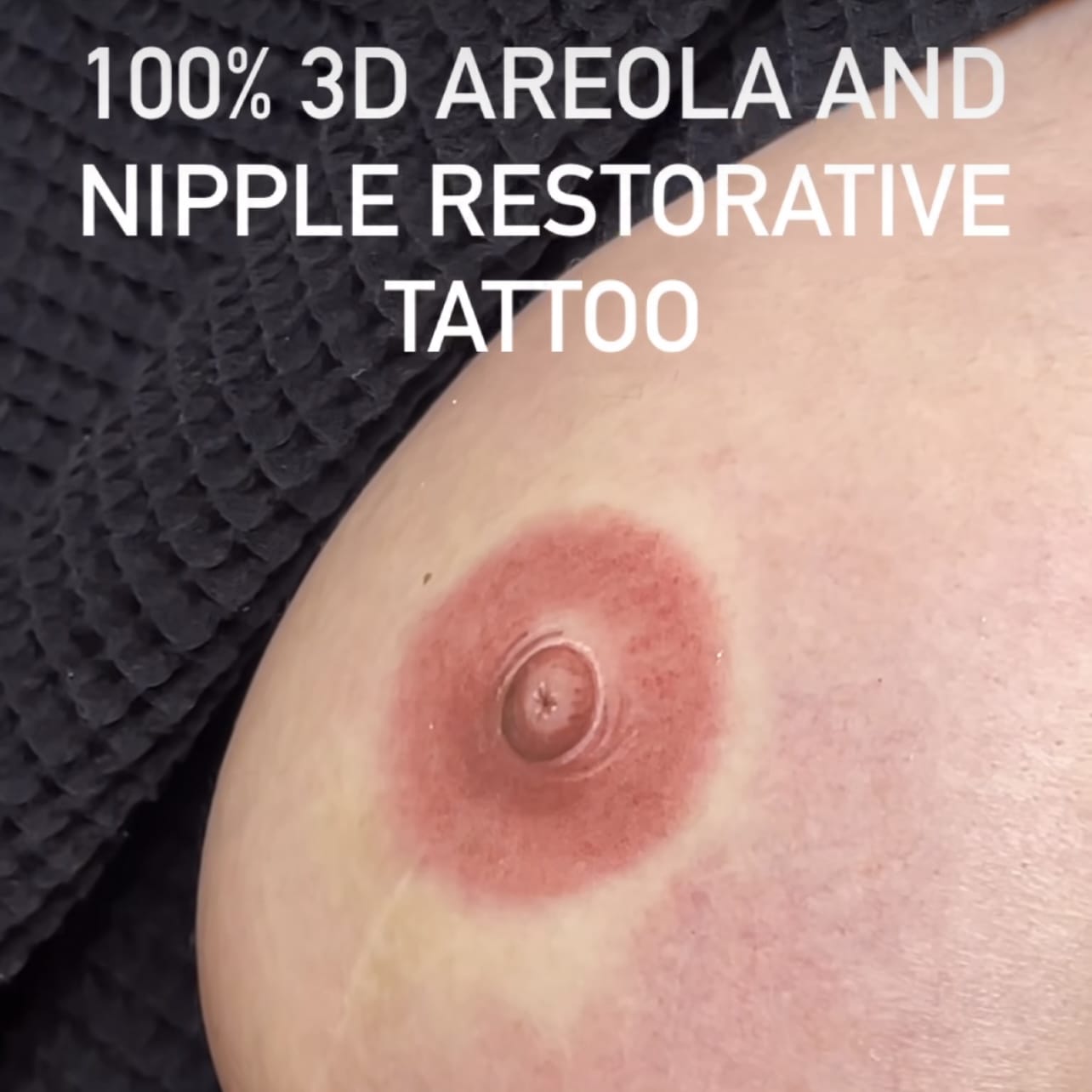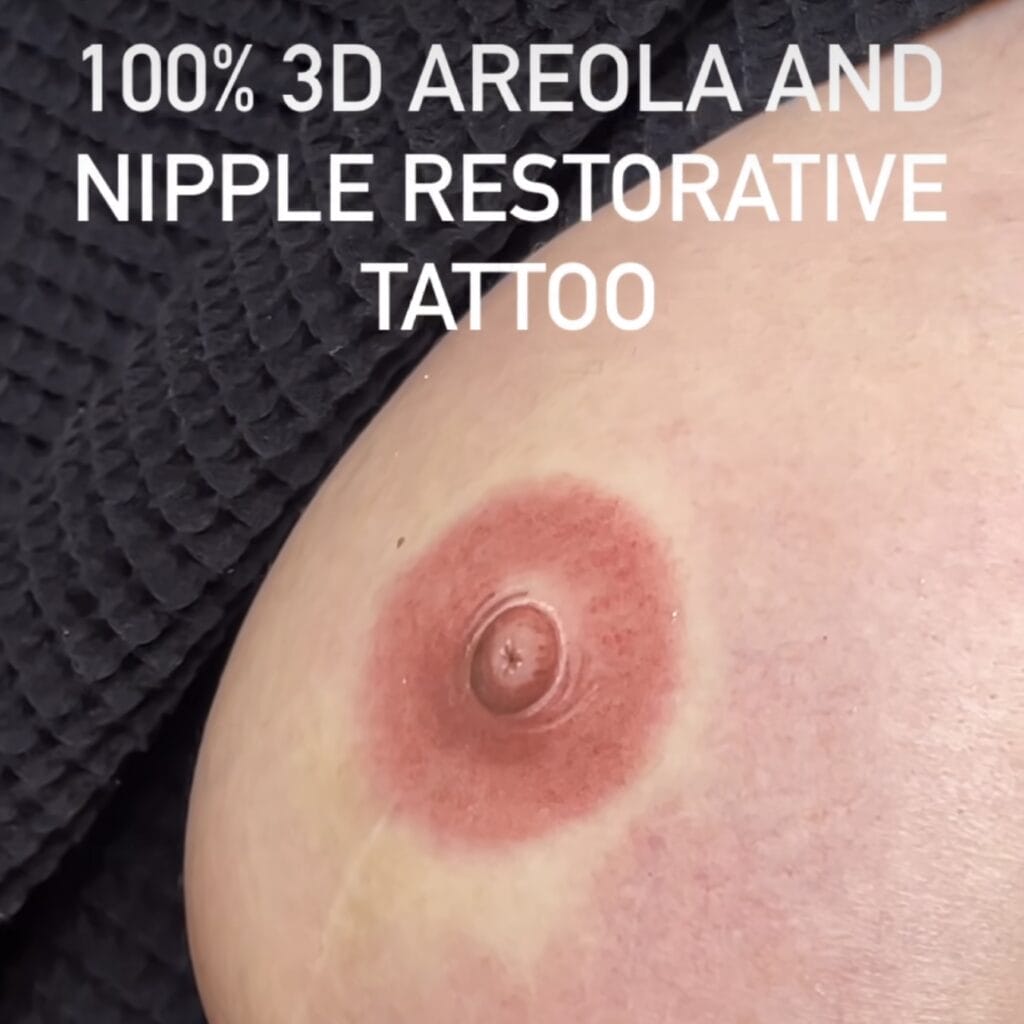 Does areola restoration tattoo hurt?
We are here for you.
There is sometimes no feeling after a mastectomy.
However, during the areola restoration process, a topical numbing cream can be applied to minimize discomfort.
This helps to ensure that the procedure is as comfortable as possible for the client. While individual pain tolerance can vary, many people find the sensation to be relatively mild and manageable.
It's important to note that the skin around the areola is delicate, and the tattooing technique used by skilled artists is designed to be gentle and precise. They will work with you to ensure your comfort throughout the procedure. If you have any concerns about pain or discomfort, it's always a good idea to discuss them with your tattoo artist beforehand.
Ultimately, the goal of areola restoration is to provide a positive and empowering experience for individuals seeking to restore the natural appearance of their breasts.
Can you match color to my existing areola?
Yes!
As experienced artists, we understand the importance of matching the color of the existing areola during the restoration process. Our goal is to create a seamless blend and provide natural-looking results. Whether you're looking to match the color of your existing areola or create a new one, we have the expertise to meet your specific needs. Our focus is on ensuring that you feel comfortable and confident with the final outcome.
Can you darken or lighten my natural areola?
Absolutely!
We have the ability to darken and enhance the color of an existing areola during the restoration tattoo process.
If you desire a darker shade or want to achieve a more defined look, our skilled artists can work with you to achieve your desired outcome.
Additionally, we can reshape or make the areola larger to suit your preferences.
However, it's important to note that we cannot lighten the color or make the areola smaller through this process.
Our goal is to provide you with a natural and satisfying result that enhances your appearance.
Who can have areola restoration?
Absolutely anyone!
Areola restoration tattoo is suitable for anyone who has undergone a mastectomy, whether with or without reconstruction, as well as individuals who have experienced irregularities in their areola or nipple.
It is also a great option for those who simply want to enhance or adjust the appearance of their areola for personal reasons.
Our services are inclusive and available to people of all genders and identities. We strive to create a safe and comfortable environment where everyone can feel empowered and confident in their bodies.
Can areola restoration help camouflage scars?
That's correct!
Scar camouflage is a technique used to re-pigment scars and blend them with the surrounding skin color, making them less noticeable.
In the case of areola restoration, we can use the existing color in the areola to re-pigment the scar, creating a more seamless and natural appearance.
It's important to note that scar camouflage works best when the scar has darker coloration around it, as it allows for better blending.
Our skilled artists are experienced in matching colors and carefully filling in the scar to achieve a harmonious result.
Is breastfeeding safe with tattooed areolas?
Yes!
But you can't be tattooed (anywhere on your body) while you are breastfeeding or pregnant.
You will have to wait for your tattoo until after!
How long after breast surgery until I can be tattooed?
12 Weeks
You should allow yourself to heal for 12 weeks post breast surgery.
If we are doing any scar camouflage, we require your scars are fully healed. This typically takes 6 months, but healing times vary from person to person.
You may send us pictures to [email protected].
How long until the areola tattoo heals?
10 Days
In 10 days your tattoos will appear healed, however, a tattoo is considered fully healed at day 30.