Living in a hot and sunny climate, like Scottsdale, Arizona, can be a dream come true, with its endless summer days and beautiful weather. However, it also comes with its unique set of challenges, especially when it comes to makeup. The constant battle against sweat, humidity, and the scorching sun can be a makeup enthusiast's worst nightmare. Fortunately, there's a sizzle-proof solution that's been gaining popularity in recent years: permanent makeup. In this blog, we'll explore the benefits of permanent makeup, including lip blush tattoo, microblading, nanoblading, eyeliner tattoo, and freckle tattoos, for those living in hot climates. Following are some pictures of awesome women who have had multiple permanent makeup services, shown full face!
Lip Blush Tattoo Solution for Hot Climates
Say goodbye to smudged and melted lipstick during those sweltering days. Lip blush tattoo is a semi-permanent cosmetic procedure that adds a natural-looking flush of color to your lips. Here's why it's perfect for hot climates:
a. Lip Blush Tattoo Offers Long-lasting Color:
Lip blush tattoos can last for years, ensuring that your lips stay perfectly tinted even in the heat. Even better, this type of permanent makeup tattoo allows for more frequent touchups if you want to update the color, make it more bold, darker or just refreshed. You can have your lips tattooed as often as every 6-months!
b. Lip Blush Tattoo is Smudge-Proof:
Unlike traditional lipsticks, lip blush tattoos won't smudge or transfer, no matter how sweaty you get.
c. Lip Blush Tattoo is Low Maintenance:
With lip blush, there's no need for constant touch-ups throughout the day, making it ideal for hot weather.
Microblading, Nanoblading, and Ombre Powder Brows for Hot Weather
Well-defined eyebrows can transform your entire look but maintaining them in a hot climate can be a challenge. Enter microblading, nanoblading and Ombre Powder Brows
a. Brow Tattoos are Sweat-Resistant:
Microblading, Nanoblading, and Ombre Brows create semi-permanent, sweat-resistant eyebrows, so you can stay confident and worry-free all day.
b. Brow Tattoos Have a Natural Appearance:
These techniques mimic the look of real hair, resulting in natural and beautifully shaped brows that won't smudge or melt.
c. Brow Tattoos are Time-Saving:
Forget the daily eyebrow routine; microblading and nanoblading save you precious time during your busy day. No need to apply brow makeup before or after your work-out or jumping in the pool!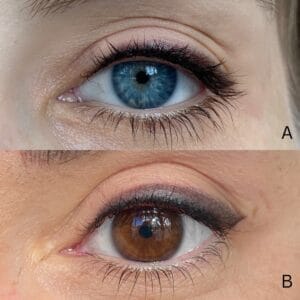 Eyeliner Tattoo for Hot Climates
Achieving the perfect eyeliner look can be tricky when the weather is working against you. Eyeliner tattoo offers several advantages:
a. Eyeliner Tattoo is Waterproof:
Eyeliner tattoo is waterproof, so you won't have to worry about raccoon eyes due to sweat or humidity. Feel free to jump in the pool, go for a long run or sweat your bum off at the gym.
b. Eyeliner Tattoo Offers All-Day Definition:
Your eyes will stay defined and vibrant, even on the hottest days, thanks to eyeliner tattoo's long-lasting effects.
c. Eyeliner Tattoo Enhances Natural Beauty:
This procedure can enhance the natural shape and color of your eyes, making them appear more striking and expressive.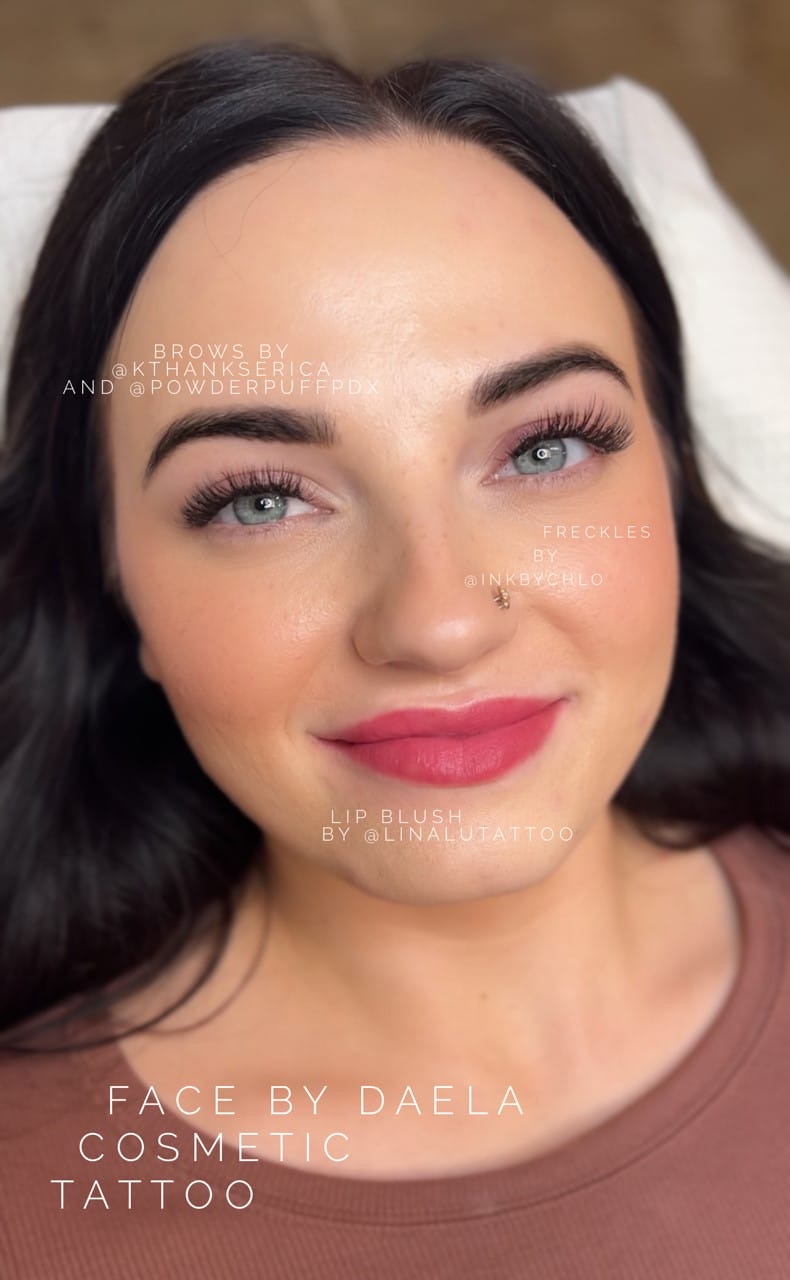 Freckle Tattoos
Freckles are a charming feature that many people desire, but they can fade in harsh sunlight. Freckle tattoos can help:
a. Freckle Tattoos Offer a Sun-Kissed Look:
Freckle tattoos add a sun-kissed appearance to your skin, even when you've been diligent about sun protection.
b. Freckle Tattoos are Customizable:
You can choose the size, color, and placement of your freckles, allowing you to achieve your desired look.
c. Freckle Tattoos are Low Maintenance:
Freckle tattoos require minimal upkeep, making them perfect for individuals living in hot climates.
Aftercare is Easier in Hot Climates
Hot climates are the opposite of warm climates, where everyone spends every moment outside. In the true summer months of climes like Scottsdale, Arizona, Phoenix, Arizona, and Tempe, Arizona people tend to hibernate inside during the heat of the day.  This offers great healing protection for your cosmetic tattoos. For the first 10-14 days after you've had your lips, brows and eyeliner done, just plan on basking in nice cool spaces and go out at night, like everyone else. Or wear a great large, brimmed hat to protect those glorious tattoos when you do go in the sun. If you do dip in the pool, just keep your head above water. Aftercare is crucial for the longevity of your cosmetic tattoos.
Another benefit to permanent makeup: You can have multiple services done in one day. The pain level is minimal and downtime almost non-existent, so if you want to get brows and lips or eyeliner and lips done on the same day, not a problem! You will want to space brows and eyeliner to allow the first to heal because the artist's work closely in the same area.
Permanent makeup is also a time-saver for professionals around the globe, no matter the climate. Here are a few professions that benefit greatly from permanent makeup: Health care professionals (ugh, masks), schoolteachers (running around after kids all day), fitness professionals (say no more), and anyone else who'd like to shave time and energy away from applying brows, lip stick and eyeliner in exchange for more favorable activities.
In hot climates, permanent makeup offers a range of benefits, including lip blush tattoo, microblading, nanoblading, eyeliner tattoo, and freckle tattoos. These procedures can help you stay sizzle-proof, ensuring that your makeup remains flawless, even in the scorching sun and high humidity. With long-lasting results and minimal maintenance, permanent makeup can be a game-changer for anyone seeking to enhance their natural beauty and beat the heat. So, say goodbye to makeup meltdowns and hello to a more effortless and radiant you!