The permanent makeup industry is among the top income-earning careers in the US. Permanent makeup artists can earn just as much as doctors, architects, and lawyers. But not all PMU artists make a lot of money.
Like any career field, there is a wide range of incomes, bringing the average down, but those who become the best at their craft also become the highest paid.
Another reason for some lower posted income ranges is that a lot of permanent make-up artists have to start their own small, independent business, limiting their income to their own ability to market, manage and work on clients.
But still, if you've got drive, determination, and skill, you can enter this career field with a lot less investment and more upside than other careers.
Unlike other mainstream professions, cosmetic tattoo artists typically work a 3 to 4-day work week (on clients), which offers an amazing work-life balance.
You can also choose your specialty, including, but not limited to, eyebrow microblading, lip blush tattoo, eyeliner tattoo, and Ombre Powder Brows, scar camouflage and areola restoration.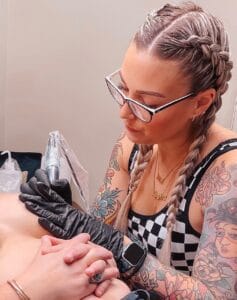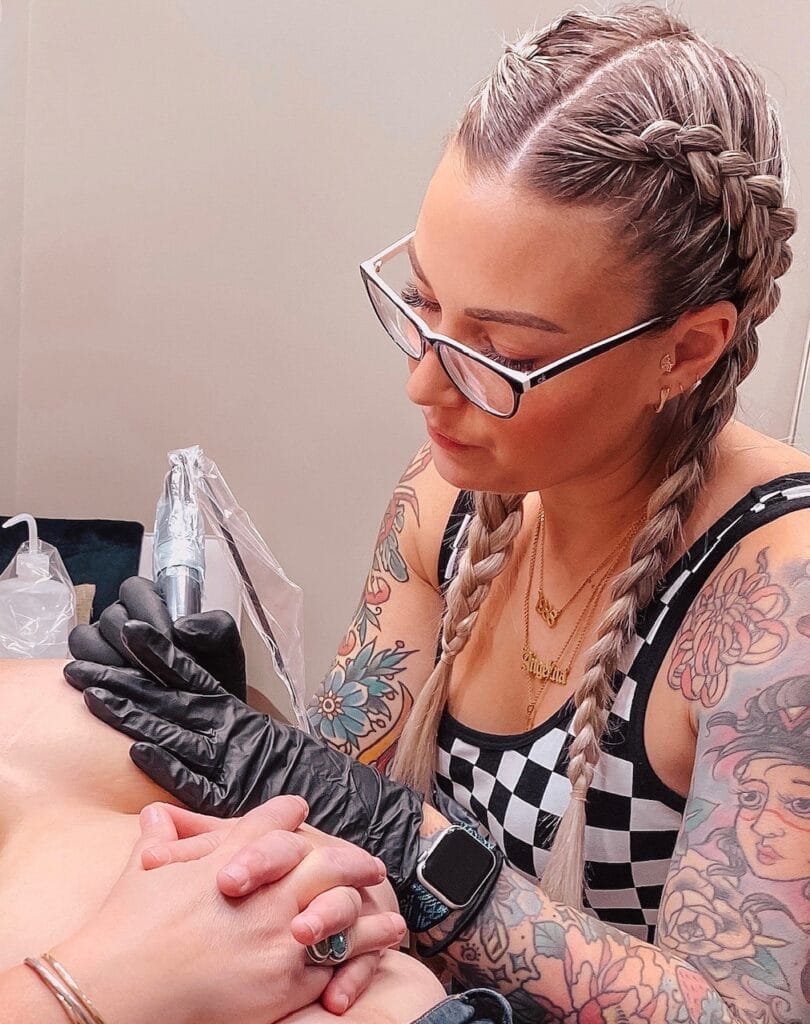 How do you know if you'll be good at cosmetic tattoo?
Not everyone is cut out for cosmetic tattoo, it takes artistic ability. Here are some other qualities you should possess:
Natural ability to see symmetry
Desire to provide natural results through great attention to detail
Committed to perfection
Have great people skills
Willingness to constantly train and improve skills
Desire market yourself appropriately with social media.
Is there room for more cosmetic tattoo artists?
Yes! Permanent makeup is a growing part of the lucrative beauty industry. Consumer adoption is high and master artists are booked months in advance; consumers will wait for the great ones, and there aren't enough great ones.
Here is where the rubber hits the road.
While it might be surprising how much a cosmetic tattoo artist can make, there is a reason for the strong income and an even bigger reason why, if you want to be an artist, or if you already are and want to improve your skills, that you should strive to be the best in your field.
Why? Because you are doing permanent work on someone's face and, just like all professions, not all cosmetic tattoo artists are great, or even good, and in this field (just like lawyers and doctors) the result is critical.
A person who strives to become a master in this field will be financially successful all while providing excellent results for their clients, it's a win-win.
Cosmetic Tattoo varies from other career fields in one major way
Other professions involve lengthy, expensive college educations, tough board exams and long internships. For better or worse, cosmetic tattoo is different. You can become a permanent makeup artist, in most states without any training.
Very few states impose strict standards on cosmetic tattoo, offering easy to get licensing mostly focused on health and safety protocols. Oregon is the only state that requires a lengthy tattoo school diploma to be able to practice cosmetic or common tattoo in the state.
Disturbing but true, permanent work is being done by people who may not have had a lengthy training or practice period. Therefore, if you are or want to become a cosmetic tattoo artist, you must do it right.
Learn from the best, spend hundreds of hours practicing on fake skins, hone your skills as well as your 'bedside manner' and create a powerful presence on social media.
How does a cosmetic tattoo artist learn and prove their skill when there is no required accreditation for schools?
You will spend between $3000-$15000 learning a single service category in permanent makeup. How do you sift through the marketing blitz and figure out who the true artist trainers are? Do some research and find the best!
The treasured cosmetic tattoo artists that also teach are prevalent on social media. They are superstars, sought out by consumers and other artists alike. They proudly display their work and share their secrets.
Seek them out and see how their work is compared to others, how strong is their personal business, and how are their customer reviews?  Are these people you want to learn from and people you want to emulate?
What should you look for in a class? Small class sizes may be more expensive, but they offer one-on-one time with the master artist whereas larger class sizes often mean that the master artist is unapproachable, or not even there.
Do they offer ancillary methods of teaching, like online courses and lifetime support for questions?
Do they share their stroke techniques and shape design?
Do they teach people how to practice on fake skin and how to implement in real life on real models?
Do they share the vendors they use for product and supplies as well as how they approach social media marketing?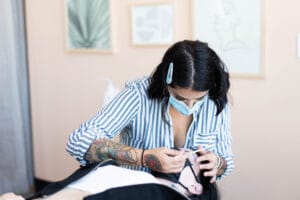 The best teachers love the craft; they are the pioneers who have brought cosmetic tattoo mainstream and they want the craft to thrive.
Once you do the work to become a cosmetic tattoo artist you are going to have some business decisions to make: Do you want to be an independent contractor, or do you want to be an employee? Do you want to work alone, or do you want to work with other artists?  There is no wrong answer but knowing the result you'd like will help you start down the right path.
A little-known fact: Not everyone is cut out to be an independent business owner. An artist can make the same take-home income working for a large studio, while working less days per week than if they operate as an independent.
You can choose the path that best fits you and you still have the same income earning potential!
Kim Orr
President Daela Co.
Learn more about Daela Cosmetic Tattoo's Services