Eyebrow Tattoo Before Care:
DAELA Cosmetic Tattoo is pleased to offer this comprehensive guide encompasses all types of permanent eyebrow tattoos, including Microblading, Nanoblading, Ombre Powder Brows, Ombre Combo Brows, and Nano Machine Brows. To ensure a successful eyebrow tattoo experience, consider the following criteria and steps:
Eligibility: You must not be pregnant or breastfeeding, and you should be 18 years or older to undergo eyebrow tattooing.
Previous Tattoos or Skin Conditions: If you have prior eyebrow tattoos or specific skin conditions like heavy scarring, textured or bumpy skin, or very thin skin, a consultation is required for tailored advice.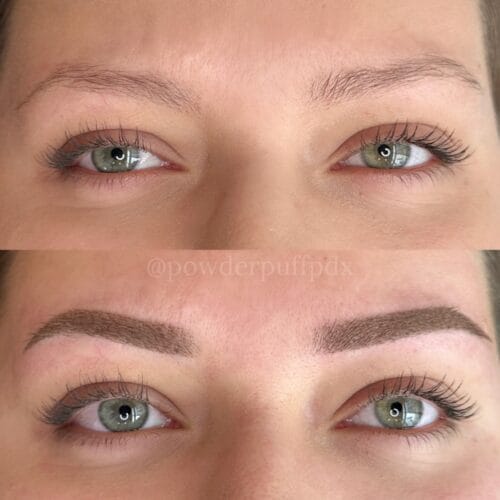 Prior to Your Brow Tattoo Appointment:
Two Months Prior:
Avoid taking antibiotics within two months of your appointment.
Six Weeks Prior:
Refrain from using retinol products, acne treatments, or salicylic acid on the brow area for four weeks before the procedure.
Three Weeks Prior:
Avoid getting filler or injections in the brow area for three weeks leading up to the procedure.
One Week Prior:
Stay clear of sauna sessions and tanning.
Discontinue the use of fish oil and Vitamin E.
For those on prescribed blood thinners, consult your doctor and follow their advice. Refer to our FAQ for guidance on stopping blood thinners.
24 Hours Prior:
Avoid consuming alcohol and painkillers.
On the Day of:
Arrive with a clean, makeup-free face.
Do not consume caffeinated products.
Eyebrow Tattoo Aftercare:
Cleansing:
Day 1:
Allow your brows to rest; do not wet, apply moisturizer, or touch them on the first day.
Days 2 to 7:
Gently cleanse your eyebrows twice daily using water and an antibacterial soap like Cetaphil or Neutrogena. Use your fingertips to cleanse the area gently.
After washing, apply a small amount of aftercare ointment using a cotton swab. Avoid over-application.
During showers, limit face exposure to water for 5-8 minutes and avoid excessive rinsing and hot water on the brows.
While Your Eyebrow Tattoos Heal:
Refrain from wearing makeup on the brows for 10 days.
Avoid scratching or picking the brows.
Limit showers to 5-8 minutes and minimize water exposure to the brows.
Do not use acid or manual exfoliants on the brows.
Stay clear of sweating in the brow area for 10 days.
Avoid swimming, saunas, UV exposure, tanning beds, acne products, hydroxy acids, laser light therapy, facials, threading, waxing, or removal products.
After Your Eyebrow Tattoos Have Healed:
Eyebrow tattoos typically last 1 to 3 years, depending on your lifestyle, skin type, and aftercare.
Apply sunscreen with an SPF of 50 or greater to the brow area once it has completely healed.
Avoid using chemical exfoliants on the brows.
Do not undergo laser treatments near the brow area, as some lasers may alter the ink color.
Any additional brow makeup application is entirely at your discretion to perfect your desired look!