DAELA Cosmetic Tattoo: Empowering Artists with Online Training Courses
Are you interested in learning tips & tricks shared by our DAELA Master Artists & Trainers? Do you want to brush up on your education or decide if PMU is for you? get your toes wet with our online training courses, providing artists with an opportunity to enhance their cosmetic tattoo skills from the comfort of their own homes. The best news is that the online courses are included in our in-person trainings. If you want to take an online course first, then later take the corresponding in-person course, we will credit you the online course cost.
Erica Johnson, co-owner of DAELA Cosmetic Tattoo and a master microblading technician, explained their motivation for adapting to the current situation: "We realized that many aspiring tattoo artists prefer online training options. While we offer in-person courses, we wanted to meet the needs of those who would benefit from remote learning. That's why we've designed these video training courses with them in mind."
5 Online Courses Available:
The online training courses cover a range of popular cosmetic procedures, including microblading, areola restoration and 3D nipple tattooing, velvet lip blush, eyeliner tattoo and brow lamination. Each course consists of multiple modules that delve into various aspects such as technique, tools, color theory, dermatology and anatomy, aftercare, small business marketing, live demonstrations, and more. Led by the experienced team at DAELA Cosmetic Tattoo, including Erica Johnson, Lina Anderson (co-owner and master cosmetic tattoo artist), and Master Artist Angela Vice for Eyeliner Foundations, and Haley Wight for Brow Lamination, these courses provide comprehensive knowledge and insights into the industry.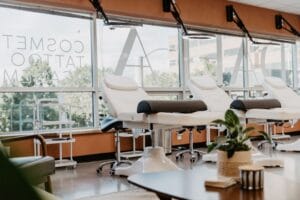 6 In-Person Courses Available:
The in-person courses include the corresponding online course. If you purchase the online course first, and later decide to take an in-person course, the online tuition will be credited to the in-person course cost! We are adding new courses throughout 2023 to our online training platform and our in-person curriculum.
Lina Anderson, passionate about sharing their expertise, expressed their vision for these online courses: "We believe in giving back to our industry by sharing our extensive experience gained through years of practice, travel, and training. We don't want to keep our master techniques a secret. Instead, we aim to elevate and empower the cosmetic tattooing industry and the clients it serves."
DAELA Cosmetic Tattoo's commitment to excellence is evident in their award-winning studio, and now, with the launch of their online training courses, they are expanding their reach and impact. By providing accessible and high-quality education, they are enabling artists to master their skills and stay up to date with the latest advancements in the field.
If you're a tattoo artist looking to enhance your cosmetic tattooing skills, DAELA Cosmetic Tattoo's online training courses offer a valuable opportunity for growth and development. Embrace the convenience of learning from industry experts, and join the ranks of artists who are taking their craft to new heights. Discover the power of online education and unlock your artistic potential with DAELA Cosmetic Tattoo.
For more information about DAELA Cosmetic Tattoo and their online training courses, visit their website at www.daelacosmetictattoo.com.
About DAELA Cosmetic Tattoo
DAELA Cosmetic Tattoo Academy is offering eyebrow microblading, velvet lip blush tattoo, 3D areola restoration, ombre powder brows, eyeliner tattoo, and scar camouflage. Led by internationally trained co-owners Erica Johnson and Lina Anderson, DAELA Cosmetic Tattoo features a team of master tattoo artists dedicated to making their clients look and feel their best.