Unlock Your Artistic Potential: Explore DAELA Cosmetic Tattoo's In-Person Training Courses
Ready to level up your skills and become a hero of the cosmetic tattooing world? DAELA Cosmetic Tattoo, the ultimate hub of creativity and awesomeness, is here to empower you with our incredible in-person training courses. Are you a tattoo artist seeking to expand your skill set and offer your clients a wider range of services? Look no further than DAELA Cosmetic Tattoo, a renowned studio that prides itself on providing exceptional training opportunities. In addition to our online courses, we offer an array of in-person training courses that are designed to elevate your artistry and help you master the most sought-after cosmetic tattooing techniques.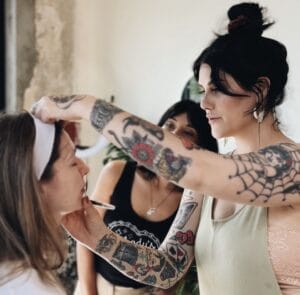 Let's take a closer look at the courses:
Areola Restoration Tattoo: For those interested in supporting breast cancer survivors or individuals who have undergone breast reconstruction or top surgery, the Areola Restoration Tattoo course is a perfect fit. This course focuses on creating realistic areola and nipple tattoos, helping clients regain their confidence and complete their breast reconstruction journey. With a maximum of six students per class, you'll receive personalized attention from the instructor to ensure you gain the necessary skills.
Microblading: Microblading, AKA nanoblading, has become increasingly popular due to its ability to enhance eyebrow shape and create a natural-looking appearance. DAELA Cosmetic Tattoo's Microblading course will teach you the art of creating precise hair-like strokes and achieving symmetrical and beautifully defined eyebrows. With hands-on training and live models, you'll have the opportunity to practice and refine your technique under the guidance of an experienced instructor.
Borderless Ombre Powder Brows: If you're looking to explore a softer, more diffused brow effect, the Borderless Ombre Powder Brows course is a must. This technique creates a gradient effect, starting from a light shade at the front of the brow and gradually transitioning to a darker shade at the tail. With the small class size guaranteeing individual attention, you'll learn the secrets to achieving stunning and long-lasting results.
Eyeliner Tattoo: Offering permanent eyeliner can save your clients time and effort in their daily beauty routine. DAELA Cosmetic Tattoo's Eyeliner Tattoo course will equip you with the skills needed to create precise and flawless eyeliner tattoos, enhancing your clients' eyes and giving them a captivating gaze. Under the expert guidance of the instructor, you'll learn how to create various eyeliner styles, tailoring them to suit each client's preferences.
Scar Camouflage Tattoo: Scar camouflage tattooing can be life-changing for individuals with scars from surgeries, accidents, or other traumatic experiences. In this course, you'll learn techniques to effectively blend scars with surrounding skin, creating a more natural and even appearance. With a focus on individualized training, you'll have ample opportunities to practice on live models and refine your skills.
Velvet Lip Blush Tattoo: Achieving perfectly defined and beautifully colored lips is now possible with the Velvet Lip Blush Tattoo course. This technique enhances the natural lip color and shape, providing clients with a soft, natural-looking pout. With one-on-one training and a maximum of six students per class, you'll receive personalized guidance to master this in-demand procedure.

The DAELA Difference: In-Person Training: Elevated
What sets DAELA Cosmetic Tattoo's in-person courses apart is our commitment to keeping class sizes small, ensuring that each student receives focused attention from the instructor. You'll have the opportunity for one-on-one training, allowing you to address any questions or concerns directly with the expert. Furthermore, every student will work on a live model, gaining invaluable hands-on experience in a real-life setting.
To support your learning journey, DAELA Cosmetic Tattoo provides each student with a comprehensive bound manual, ensuring that you have access to the information even after the course ends. Additionally, every course includes a valuable kit that contains high-quality tools and products, enabling you to start your cosmetic tattooing career with confidence. We also offer lifetime support: If you have questions…just drop us an email.
Your in-person class may also include an online training, designed to prepare you with a wealth of color theory and practice before you set foot in your training.
If you're ready to take your tattooing skills to the next level and expand your repertoire of services, DAELA Cosmetic Tattoo's in-person training courses are the ideal choice. With their small class sizes, personalized attention, live models, comprehensive manuals, and valuable kits, you'll gain the knowledge and expertise needed to excel in the world of cosmetic tattooing. Embrace this opportunity to unlock your artistic potential and join the ranks of skilled artists who are making a mark in the industry.
To learn more about DAELA Cosmetic Tattoo's in-person training courses and to secure your spot, visit DAELA Academy. Elevate your artistry and embark on a rewarding journey in the world of cosmetic tattooing today!